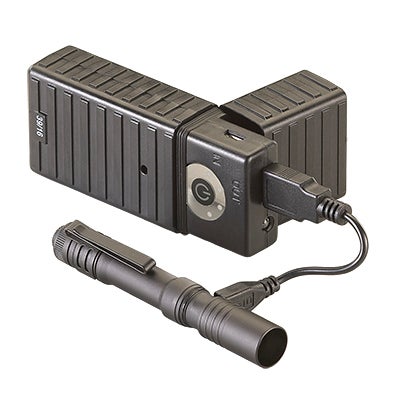 Streamlight is an interesting company in the flashlight market. They have always sold well, their build quality is impressive, and their reflectors are very good, but they have never really answered the call of bleeding edge tech. Fifteen years ago when Surefire was king of the production flashlight world, Streamlight was right there with them, a cheaper alternative and a bridge between the Maglights of the world and Surefire's high end stuff.
When Surefire was knocked off the top of the hill by a slew of high tech import brands like Fenix, Streamlight stuff became less compelling for enthusiasts. Their loyal customer base of security and law enforcement folks remained intact, but for an enthusiast the purchasing calculus made little sense. For the price of a Streamlight you could get a Fenix light that outperformed a Surefire. That makes decisions easy to make.
But when Surefire fired back, started using up to the minute emitters, and incorporating new tech, the purchasing calculus shifted a bit, with Streamlight seeming even more out of place. On one hand you could buy a Fenix for cheap and deal with a slightly worse build quality and warranty hassles associated with an overseas company or you could plunk down a chunk of change and get a Surefire. The rationale to purchase a Streamlight just wasn't there. And when Surefire kicked in to high gear three years ago, dropping its first sub-$100 light (or three actually), it seemed light Streamlight was confined to a Maglight-like market niche (albeit smaller).
In all of this Streamlight has had some good solid features that attract people. Their build quality is just a smidge behind Surefire, if at all. These are really solid lights. Their emitters, now that they have full embraced the LED revolution, are decent (a bit tinty for me, but okay in terms of brightness). Their reflectors have always been excellent, making clean beams and giving you the right throw/flood ratio depending on the light's intended use. And then there are their classic models–the Stinger (aka the Police Officer light) and the Microstream. Lots of flashoholics, even those with tastes that tend towards exotic lights, still have a soft spot in their heart for the Microstream. It is small, simple and can take a beating. It is a great light. But it was hard to justify it when Surefire's Titan and Titan Plus were on the market with much higher lumens counts.
Well, Streamlight is starting to move into the enthusiast market again. The Microstream has received an update and it is now a true contender in the EDC world. Its still the same size and shape, but it is not a rechargeable with a built in micro USB port. That is a good thing, as the oLight S series has shown us. But it doesn't stop there. The Microstream USB has a high of 250 lumens, brighter than all but the best flamethrowers in the 1xAAA class. Its not exactly in step with the market–it still lacks a moonlight low (the low here is 50 lumens), it uses Type II anodizing instead of Type III, and finally it is water resistant to IPX-4 and not IPX-8 as most high end production lights are. But the Microstream USB is also less than half the price of the Surefire Titan Plus.
The Microstream USB is important because it is good light. It is also important because it shows that Streamlight is trying to get into the EDC market–heck, even the product announcement referenced EDC use. Let's hope this trend continues. Streamlight could be a real contender and as a Made in the USA company, I'd be delighted to send them some of my money for good torches.
Important Info:
What: Streamlight Microstream USB
When: Out now
Where: Flashlight web retailers and Wal Mart
Cost: Around $42 street price
Made in the USA: YES!
Highlights: Rechargeable, competitive output, good price