Top 5 Vintage Firearm Ads
Rachel 04.11.18

I am a woman who loves just about everything from the 1930's through the 1950's – advertising in particular. In fact, I collect old magazines and advertising and appreciate the thought that went into each piece of advertising during that time period.
So today, I thought I'd share my favorite firearms ads (and the copy that goes with them) from days of old…
I'll share the copy and then post the ad (some are hard to read otherwise). Hopefully you enjoy these as much as I do!
Colt Cobra
Smart gals know what it takes to be confident around a masher:

Colt Cobra  for that strange, depraved creep who won't leave you alone.

Some lunkheads just won't go away. You change your schedule, you wear a hat, you even try the old false beard gag, but no, he's still there – breathing through his mouth, leering at your bosom with those droopy, lifeless fish eyes. Face it girls, there are times when subterfuge isn't enough – you may need to take fast action, FAST!

That's why a girl couldn't find a finer new friend than the Colt Cobra .38 Snub Nose. You'll enjoy the modern styling as you draw it from your purse. You'll sense the velvet smoothness of hte action as you cock the hammer. You'll appreciate the crispness of the trigger pull, designed with your long nails in mind, as you fire again and again.

Oh, you'll finish things, by God, and then maybe "Creepy" will finally understand why smart girls carry the stylish new Colt Cobra .38 Snub Nose.

East for a gal to carry, but with enough power to stop the creepiest hophead!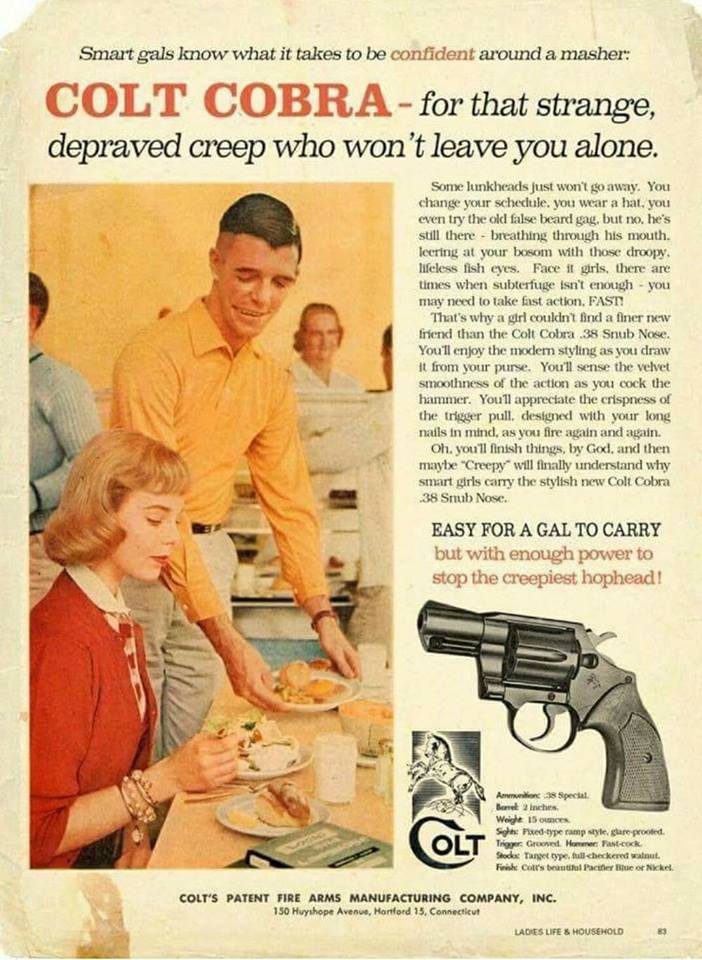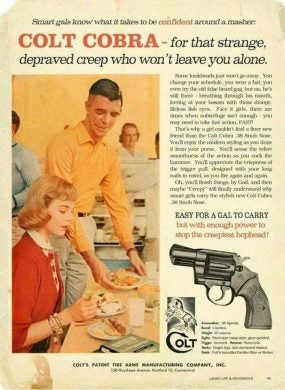 Savage Arms Model 6 Deluxe
Some Fellows Have the Nicest Dads

They want to give their sons something pretty special for Christmas. And a Savage or Stevens .22 is just that. It's been the traditional "first gun" of young Americans for generations. Chances are it was Dad's first gun, too.

Take the Savage Model 6 Deluxe in the picture – an accurate 3-in-1 rifle that shoots as fast as you can pull the trigger. It operates as an auto-loader with .22 long rifle cartridges…or it may be used as a bolt action repeater or single shot with short, long or long rifle cartidges. Large capacity tubular magazine holds 15 long rifles, 17 longs or 22 shorts. Reasonably priced at only $42.75.

All Savage Deluxe .22's feature Monte Carlo stocks witht cheek piece and raised comb for either iron sight or 'scope shooting. And all Savage and Stevens .22's (except Model 15) have grooved receivers for instant 'scope mounting. They're at your dealer's now.

There are Savage, Stevens and Fox shotguns and rifles for every shooter and every kind of shooting.
Colt
Once in Every Man's Life
What Happened to Him May Happen to You – The Automobilist's Story

Just as we came over the hill, two thugs with murderous looking clubs sprang out of the darkness, but when I flashed my Colt they disappeared in a jiffy. Of course that saved us, but believe me, the Colt is a mighty necessary part of an automobile equipment nowadays. I wouldn't be without one in my car.

You're liable to have the same experience at any time. Why not equip your car with a Colt?

See a Colt at your dealers or write for free booklet, "How to Shoot" and Catalog No. 29

You can't forget to make a Colt safe
Crosman Pellguns
Give EVERYDAY Shooting Fun!

Suddenly the thrills and skills of shooting become part of the whole family's everyday fun life. Your gift of Crosman Pellguns with controlled range and power makes it possible…safer, accurate shooting, right in and around the home, all year long. Clean and quiet, too. No powder. No explosion. Power is provided by odorless, non-toxic CO2 gas or compressed air. For gifts that really hit the mark…rifles, pistols, a home shooting range…ask your sporting goods dealer about Crosman Pellguns.

FREE! New, colorful, 32-page Gun Book.

Shooting's 3 Times MORE FUN with Crosman Pellguns (Power without Powder)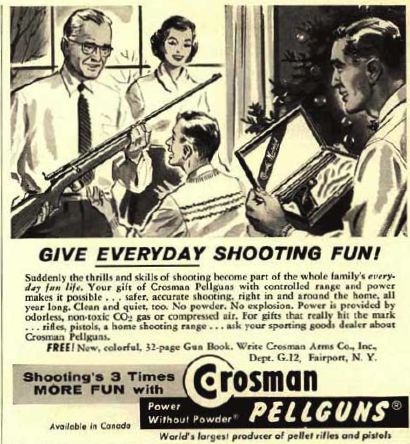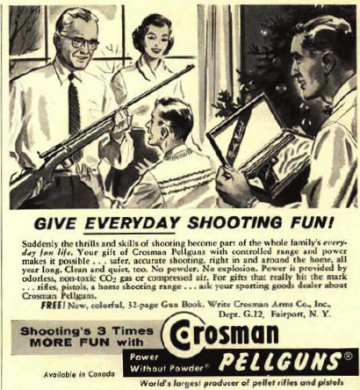 Savage Arms Protector
Is Your Wife Helpless – or Dangerous –
in these times when more idlers make more brutes and more thugs?

These times make more idlers. More idlers mean more brutes and thugs. Brutes and thugs break your house; shock your wife into permanent hysteria and mark your children with a horrible fear for life.

Give your wife the solid assurance of a  Savage Protector that she knows she can aim as easy as pointing her finger. That shoots lightening quick at each crook of her finger. That checks the vicious degenerate and heartless criminal.

Fathers, it is your serious duty in these times to arm your home by day and by night with a Savage Automatic – the one arm which every brute and thug fears. They fear it's ten lightening shots vs the 6 or 8 of other makes; they fear the notice's power to aim it as easy as pointing your finger. Therefore, take pains that you get the Savage – the one brutes and thugs fear.

As harmless as a kitten around the house, because it is the only automatic that tells by a glance or touch whether loaded or empty.

Take home a Savage today. Or at least send to us for information.