Facebook to Gun Owners – You Can Talk About Guns, Just Don't Buy Them
Rachel 04.25.18

In the wake of Facebook owner Mark Zuckerberg's recent legal woes over the release of private content, the company released a 27-page Content Moderation Guide on Tuesday, elaborating on what is and isn't allowed on it's social media site. In fact, Zuckerberg was quoted as saying, "At any given point in time, there isn't just one version of Facebook running, there are probably 10,000." 
The site's policies on what content will and won't be allowed have come under fire by it's users in recent years, especially on firearms-related topics. Out of curiosity, we decided to peruse the Guide to find out what content would be removed if posted, and what could cause someone to have their account suspended.
Facebook's Content Moderation Guide
The obvious indicators – no child exploitation, no nudity, no bullying – were all there with good reason. Of course, as an FFL/SOT as well as a journalist, we actually wanted to see Facebook's official stance on firearms, in writing.
Listed under the Violent and Criminal Behavior section under the subhead "Regulated Goods", the site said:
To encourage safety and compliance with common legal restrictions, we prohibit attempts by individuals, manufacturers, and retailers to purchase, sell, or trade non-medical drugs, pharmaceutical drugs, and marijuana. We also prohibit the purchase, sale, gifting, exchange, and transfer of firearms, including firearm parts or ammunition, between private individuals on Facebook. Some of these items are not regulated everywhere; however, because of the borderless nature of our community, we try to enforce our policies as consistently as possible. Firearm stores and online retailers may promote items available for sale off of our services as long as those retailers comply with all applicable laws and regulations. We allow discussions about sales of firearms and firearm parts in stores or by online retailers and advocating for changes to firearm regulation. Regulated goods that are not prohibited by our Community Standards may be subject to our more stringent Commerce Policies.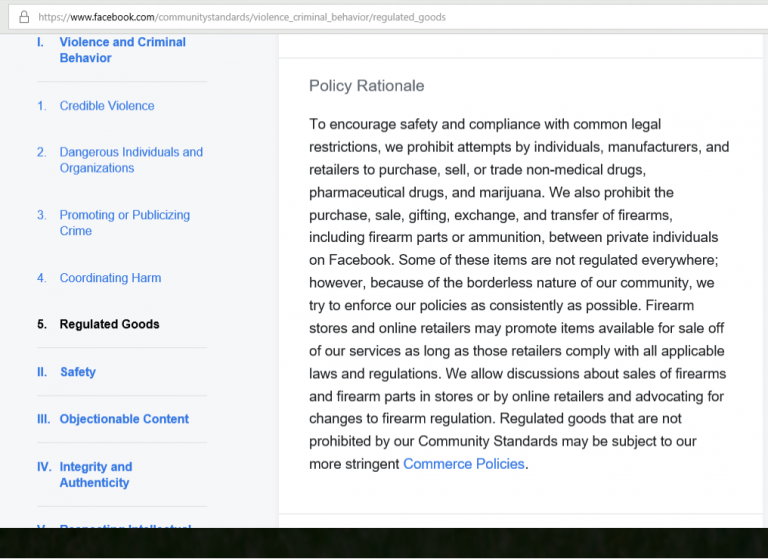 In light of the fact that Armslist was recently found to be potentially liable in the shooting death of a woman and several of her co-workers recently due to the private sale of a firearm on it's website, it's understandable that a site as large and far-reaching as Facebook would want to make it's intentions clear.
Out of curiosity, we wanted to see what "Commerce Policies" further instructed regarding the sale of firearms or firearm accessories. Facebook went on to explain:
Items, products or services sold on Facebook must comply with our Community Standards as well as the Commerce Policies. Sellers and Merchants are responsible for complying with all applicable laws and regulations. Sale of the following is prohibited on Facebook:

Illegal, prescription or recreational drugs;
Tobacco items and related paraphernalia;
Unsafe supplements;
Weapons, ammunition or explosives;
Animals;
Adult items or services;
Alcohol;
Adult health items;
Real money gambling services;
Goods, items or posts that we determine may be or are fraudulent, misleading, deceptive or offensive;
Items or products with overtly sexualized positioning;
Subscriptions, digital products, or posts without any intent to sell items, products, or services on Marketplace;
Products or items that facilitate or encourage unauthorized access to digital media.

Facebook insists that you comply with whatever they deem appropriate.
#10 – "…that we determine…" Did you catch that? Lest you think this is only about firearms and the improper handling or the discussion of them by Facebook or other social media, I wanted to draw your attention to that phrase.
Vote With Your Wallet
Now, I'm not saying they don't have a right to have such policies and procedures. THEY DO – it's THEIR site and they can say/do/post/police whatever they choose. Free speech doesn't apply to anything you have to be a member of in order to use. In fact, I'm not even suggesting that anyone boycott or delete their account on the social media site due to their firearms policy IF THEY DON'T WANT TO.
Just as with hunting regulations, the DMV, or whether concealed carry is allowed at a local restaurant, it's the consumer's job to know and follow the policies and procedures set forth by the companies or agencies that run them. It's part of being a responsible citizen.
Your Responsibility
It's also the consumer's job to vote with their wallet if a policy or procedure violates a belief they feel strongly about. The future of firearm sales online is as unsure as the future of any other commodity. But without knowing the beliefs and financial backings of the social media sites, celebrities starring in Hollywood roles, or even your local preferred bank or eatery, you cannot best judge where your hard-eared dollars are best allocated. Facebook can have it's Content Moderation Guide – but you can have your personal policies, too.