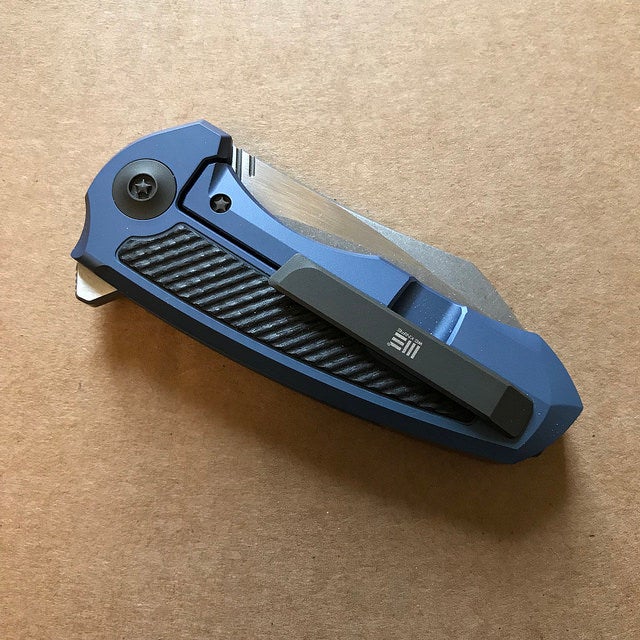 This review sample was provided by Blade HQ. If you are looking for quality cutlery, check out their site and see what they have in stock. If you are in Utah, they also have a storefront where you can, you know, handle knives before you buy.
WE Knives is the latest OEM (short for original engineer manufacturer) in China to switch from making knives for other brands to making its own knives. This wave of high end Chinese knives has brought us some of the best and most exciting knives on the market over the past few years. Kizer was the first prominent company to launch high end knives from China, pairing amazing fit and finish, great custom designs, and decent prices to almost immediately establish itself as a knife maker to be taken seriously. After Kizer it was clear–the days of $9 cheapies as the only knives from China was over. Then came Reate and they took the Kizer formula and added high end materials and incredible detail. These additions made Reate knives significantly more expensive than Kizer stuff. Kizer blades came in right around the same price as nicer Spydercos or Benchmades. Reate blades, on the other hand, started at the same price as a Sebenza. After Reate came WE Knives. They have taken more risks with their designs than either Kizer or Reate and the result is a brand with a very diverse catalog of designs, from something like the totally bonkers and totally awesome WE Knives Eschaton to the very conservatively styled WE Knives 703F.
For all of this variation, WE Knives has, historically, lacked a small knife. Their entire line ran blades 3.5 inches or bigger. There was nothing close to the magic 3″ mark. Then they released the Valiant 717. Let's see how this knife stacks up.
Description
The WE Knives Valiant is a titanium framelock flipper. It runs a blade of S35VN, the "cheap steel" in the WE Knives' line up (their high end steel is M390). The knife has a bearing pivot and the blade is a modified reverse tanto blade shape. The knife has a sculpted pocket clip and runs machined and textured carbon fiber inserts on the handle. The knife runs star screws much to the chagrin of those that like to disassemble their knives (Hi Nick!). Unusually, this knife has no stand offs or screws. Instead the backspacer holds the knife together with a screw that runs parallel to the blade edge. This is the only knife I have ever seen constructed like this.
Testing
I carried this knife for a number of months. During that time, I carried this knife and used it in general utility tasks common for an EDC knife. I used the Valiant for food prep, fire prep and kindling making, and I used it to open boxes and process recycling. Because of the inability to maintain the pivot I did not use the knife for hard use tasks outdoors where dirt and debris could get into the bearing pivot and cause problems.
Design
The Valiant is a knife with a short blade, but it is still a very big knife. While it is only a smidge longer than something like the Benchmade Mini Griptillian, it is more than twice as heavy, nearly twice as tall, and substantially thicker. The looks of the knife are top notch. The innovative single screw, backspacer construction is both innovative and effective.
I would love to see more designs like this, but with normal screws to allow for disassembly. The blade is quite tall allowing the thicker than necessary stock to be slimmed down significantly. Despite this being a bulky knife with chubby stock, a good design allows it to still be a very competent slicer. I am not a fan of the bulk, but there is clearly a great deal of thought that went into this design and some of these innovations would do well on other designs.
Implementation
Having handled three different WE Knives for an extensive time, I can tell you that they are all superior tools, crafted with care and attention. There is not a stray line, an uneven grind, or a wavy cutting bevel on any of the three blades I have handled. The Valiant's grinds were immaculate and lent the knife impressive slicing ability given the stock's thickness. The flipping action was incredible, a step above the action on flippers from bigger brands. WE Knives has their flipper set up–the pivot, the detent, and the flipper tab–really dialed in. The only stumble here, fit and finish wise is a truly dreadful (and unremovable) pocket clip. Thanks to its squared off shape and thick material, it both fails to have sufficient springiness and is a mega hotspot. During use it was impossible not to get poked by the clip and the corners were especially sharp. If the entire clip was rounded at the tip, the problems would be less, but even then, I'd still prefer a stamped or clip clip.
Conclusion
The Valiant is too thick for comfortable EDC. The pocket clip is awful and thanks to blind screw attachments (the clip is installed with screws that have faces on the inside of the handle) and proprietary screws in handle construction there is nothing you can do about it.
But if you are bigger person or don't mind bulky blades, the fit and finish, the cutting ability and the flipping action is all top notch. You'll still hate the clip, but the rest of the typical WE Knives goodness will speak to you. I would love to see this knife 50% thinner and I would love to see the construction method used here on other knives, sans proprietary screws. There is a lot to love with the Valiant, in both senses of the expression.  It is a very good knife, one that is fabulously well made, but just a bit off from great.  It also bears more than a passing resemblance to the CKF Peace Duke.