Oklahoma House passes 'Constitutional Carry' gun bill
Rachel 04.27.18

In a vote of 59-20 on Wednesday, the Oklahoma House of Representatives passed a bill allowing the open carry of a loaded handgun without a permit (constitutional carry) in most public places. According to a study found in the National Shooting Sports Foundation's 2014-2015 Industry Reference Guide, only 191,000 of Oklahoma's 2,904,000 eligible residents are active concealed carry permit holders (or 6.6% of the population).
Would it surprise you that the majority that have committed heinous crimes either have mental health conditions or the background checks have not been followed up?" Rep. Justin Humphrey said Wednesday. "We're failing on that end. We need to concentrate on that end and not hinder our law-abiding citizens.
Some restrictions regarding 'open carry' do apply. The bill also does away with training and background check requirements.The bill's author, Rep. Jeff Coody filed an amendment to allow concealed carry permit holders to carry in wildlife refuge or management areas.
Those who oppose the bill, citing the recent Parkland shooting among others, feel that the lack of training can potentially put law enforcement officials as well as other citizens at risk for bodily harm or death. "I do not support the rights of law enforcement to feel not threatened or safe to the detriment of my own constitutional rights," Coody said in response to the law enforcement argument, according to KFOR.
Public reaction to the bill are varied, but mostly positive. Of course, there are naysayers as well.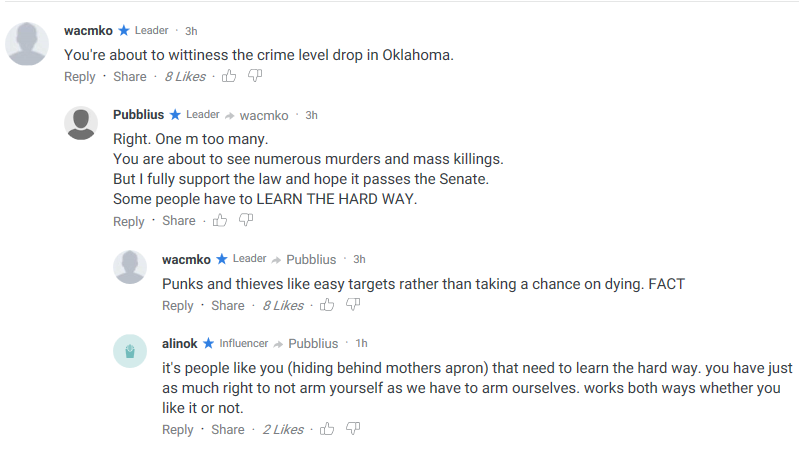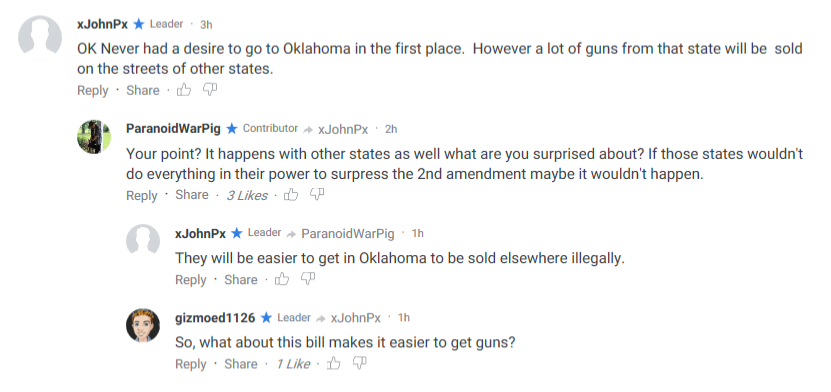 Read the entire bill as it was passed here. The Oklahoma Senate votes on the bill next week. If it passes, Gov. Mary Fallin will be presented with the bill for her signature. Representatives believe there's a high chance she'll sign rather than veto the bill.