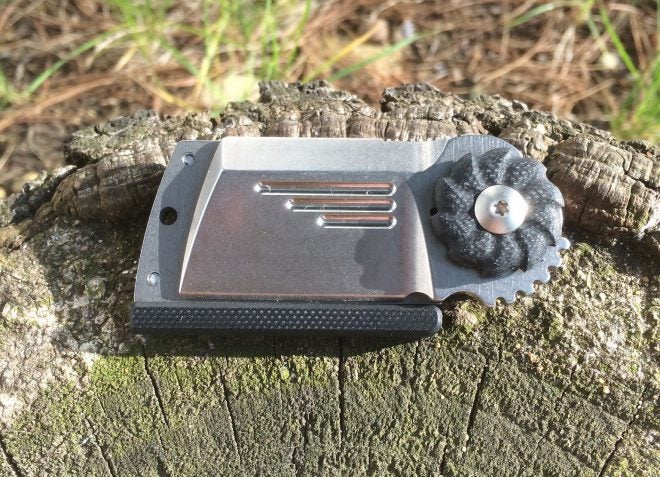 The knife market was hypercharged in the mid-90s with the release of Ken Onion's Speedsafe tech. Around this same time, Spyderco was hitting its stride with the Spyderhole designs. A few years later Benchmade bought the rights to the Axis lock and made it a mainstay of its product line. This was the first modern boom in the Gear World.
A few years later, aided by the spread of forums and social media, the gear world experienced a second boom. One key ingredient here was the advent of cheaper and more sophisticated machining tools and CNC. This boom coincided with an explosion of knife companies. We got high end Chinese brands like Kizer and Reate. We saw the rise of traditional brands like Northwoods and GEC. And the custom market flourished. Makers that used book systems were scheduled for work for years. Flashlights that were unimaginable only years ago were common place and McGizmo and Cool Fall produced lights that still are among the best ever made. This was the second modern boom in the Gear World, what I have called the Golden Age of Gear.
Massdrop
The concept of Massdrop is pretty simple–get a bunch of people to commit to buying something to lower the price. That was the initial conceit, but now things have changed. Massdrop isn't just group buying existing gear, they are creating their own stuff.
The Gent is an absolutely killer blade and it was made possible by Massdrop. Massdrop brought together the designer (Ferrum Forge) and the manufacturer (WE Knives) and allowed them a method to reach consumers. The power of Massdrop is the fact that enthusiasts select the gear for drops and by watching the market and their enthusiast forums Massdrop can better predict what to buy and what to commission for their own exclusives.
In addition to offering stuff cheap and commissioning their own gear, Massdrop is now commissioning sprint runs of existing gear. Right now they are offering a Delica and Endura in the exotic, high-end Japanese steel SG-2. With a splash of gold on the lockbar spine, the Massdrop exclusive of these two Spyderco classics is a real eye catcher. If this is part of a trend, then it might be possible for us to see something like a 20CV Dragonfly or a KaBar Becker in 3V (a guy can dream, right?).
Massdrop is not without controversy. Some makers in the pen world have complained that Massdrop stuff is offered at prices that retailers can't get at wholesale. This puts traditional retailers in a jam, as they can't offer something for less than the pay for it. This has yet to be an issue in the gear world, but the specter of a Massdrop undercutting all retailers is pretty scary.
Kickstarter
But now we see the shape of a third major wave and this one is spurred on not by inventions or production technology, but by crowdsourcing. If you have even a passing familiarity with the Pebble you know the story of Kickstarter. It is a website that allows folks to raise money for their brain child. If you wanted to invent a board game or a weird sleeping pillow that covered your head, Kickstarter offered you a showcase where people could support the project and if the funding goal was met, got a version of the product. It was a great bridge between garage start ups and full-scale production.
Alas, while there are a bevy of pens that debuted on Kickstarter and a few flashlights, knives were prohibited. Then a few years ago Kickstarter reversed its stance and knives could be subjects of Kickstarter campaigns.
Two knives shot out of the gate first–the DPx Urban HEST and the Darriel Caston Kadima (the intro picture). Both were excellent products and really delivered on the promise of Kickstarter–allowing companies to take a risk and make products outside their main focus or to launch a small scale maker into full-on production.
Now the the number of major pieces of gear to get a start on Kickstarter is huge. Right now, the Caswell Morphing Karambit is in the process of getting funded, having exceeded its funding goal by almost a quarter million dollars. Prometheus Lights (which now owns 47s) launched their 1xAAA to great fanfare and it has become one of the darlings of the EDC community. Quietcarry, a brand that has popped up on IG and curated sales sites, has their Chase knife with its poured resin handle, fully funded.
If you want to take a risk, do something a bit different, and try to launch a gear company or a knife company, Kickstarter is a good avenue for that.
SHOP NOW
Conclusion
The idea that consumers can pick what companies make or directly influence what gets designed is a new front. If this turns out to be a sustainable model, Massdrop and Kickstarter could usher in a new era in gear. It has happened in the stationary world, as Kickstarter pen companies are now major players in that market. Could someone emerge from Massdrop or Kickstarter to rival Spyderco or Benchmade? It is an exciting time to enjoy gear.