Bug Out Bags are a popular topic in the prepping community. In essence, there are two types of bags.
One type is used during or before a disaster. Let's say someone is evaluating before a hurricane makes landfall. They would grab various items, their bug out bag and head out the door.
The second type (and the one we are going to talk about in this article) is for people to walk out of an urban area after a complete collapse situation. This is a worse case situation where someone needs to leave a city or suburbs and walk to a bug out location.
AmazonBasics Internal Frame Backpack
Some of the readers may wonder what is AmazonBasics? AmazonBasics is the Amazons in-house brand name. Just as Kobalt is Lowes, Craftsman is Sears, Husky is Home Depot, and AmazonBasics is the Amazons product brand name.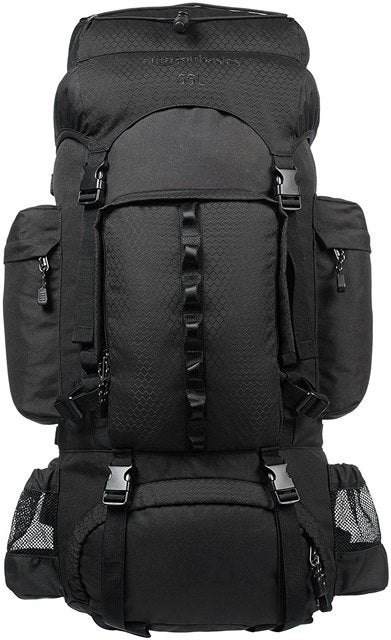 The AmazonBasics Internal Frame Backpack is available in:
55 L / 3,356 cubic inches
65 L / 3,966 cubic inches
75 L / 4,576 cubic inches
The three size options should provide most users with plenty of room for gear.
As for ratings, it has 4.5 stars out of 5 on Amazon.
SHOP NOW
Eureka Solitaire Tent
When it comes to lightweight, low cost, and low profile, few tents can compare to the Eureka Solitaire. On a personal note, the Eureka Solitaire is one of my favorite one person tents. This thing is small enough to fit in a large ALICE or large MOLLE pack.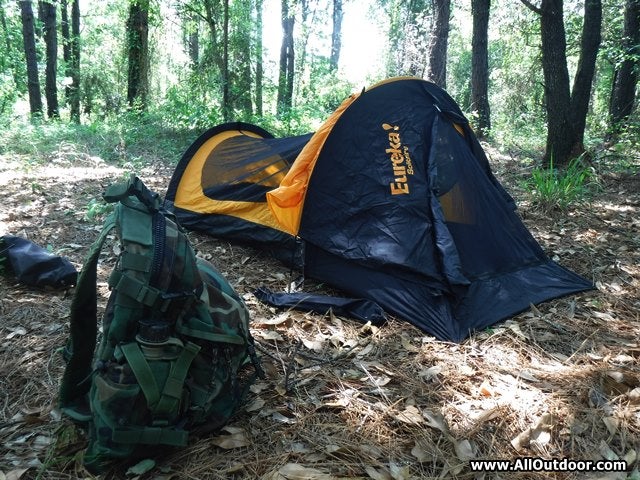 The rain fly can roll back to allow a cross breeze for those hot summer months. Unlike most tube tents, the Eureka Solitaire bug net can be unzipped and the person can get into the tent.  In the morning, just unzip the bug net, stand straight up and step out of the tent.
On Amazon, the Eureka Solitaire one person tent has a 4 out of 5 star rating with over 500 votes.
SHOP NOW
REDCAMP Outdoor Rain Poncho
Add some rain protection with the REDCAMP Outdoor Rain Poncho.  If there is one thing I do not like about the Eureka Solitaire is the yellow rain fly.  Simple solution would be to construct a poncho shelter over the tent.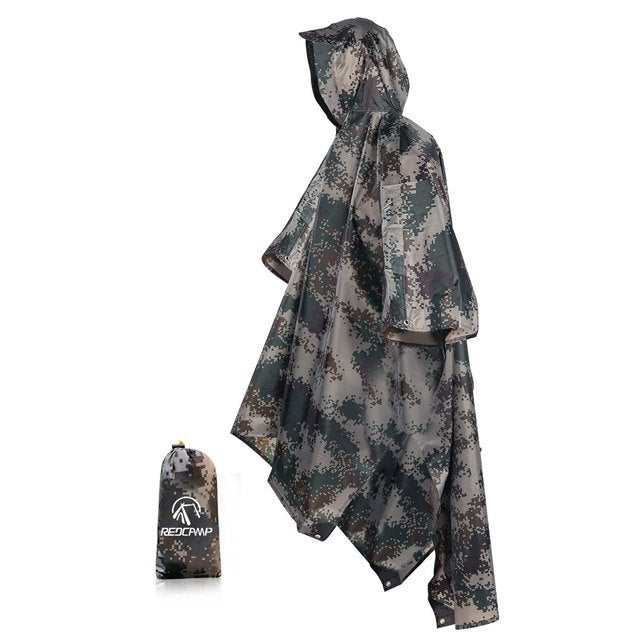 The REDCAMP poncho has a rating of 4.6 out of 5.  As of April 2018 is cost 15.99 and is eligible for Prime shipping.
SHOP NOW
ABCO Tech

Sleeping bag

The ABCO Tech sleeping bag an Amazon choice with over 2,400 reviews and 4.4 stars out of 5.  It comes with its own compression bag and is eligible for Prime shipping.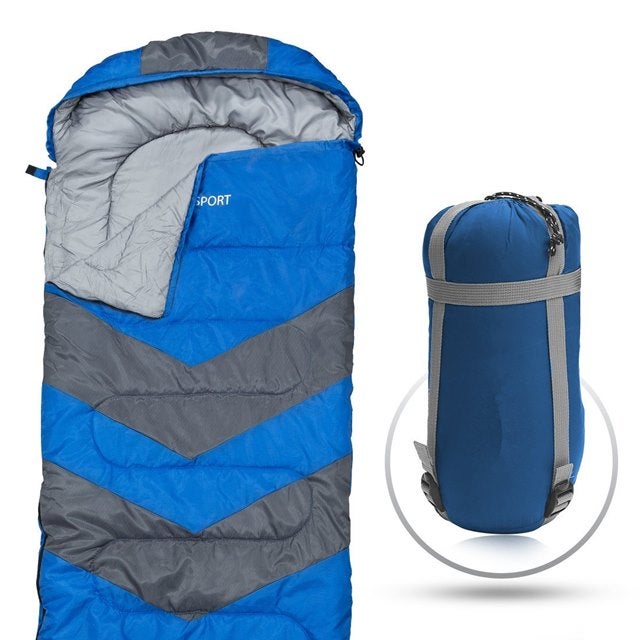 Specifications:
100% waterproof material
Lightweight and compact design
Ideal for all four seasons
Includes a compression sack with straps
Superior quality fiber with rich texture
Compressed size: 14″ x 8.5″ x 8″
Safe for machine wash
SHOP NOW
Therm-A-Rest RidgeRest Classic Sleeping Pad
A tent and sleeping bag are great, but we need some kind of insulation between us and the ground.  Without a sleeping pad the cold slowly creeps through the sleeping bag and into our bodies.
The Therm-A-Rest RidgeRest is an Amazon's choice with 4 out of 5 stars and over 400 reviews.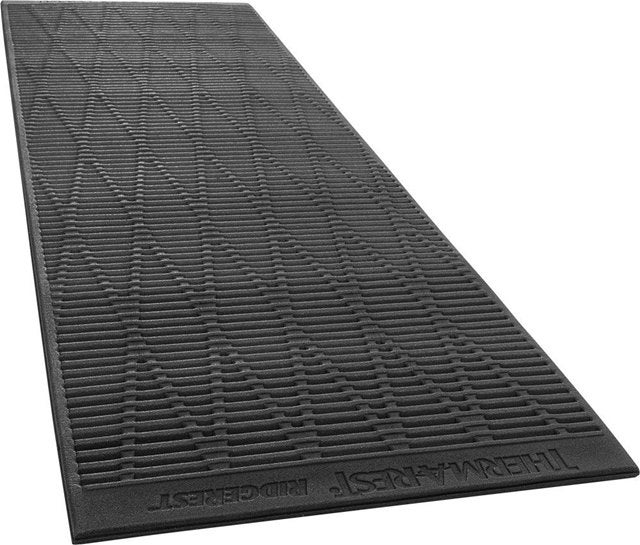 Available sizes:
Large – 25 x 77-Inches

Regular – 20 x 72-Inches
As of April 2018, the Therm-A-Rest RidgeRest cost $19.98 and is eligible for Prime shipping.
SHOP NOW
LifeStraw Water Filter

The LifeStraw water filter is probably the most lightweight and low cost water filter on the market.  It usually costs less than $20 and goes on sale from time to time.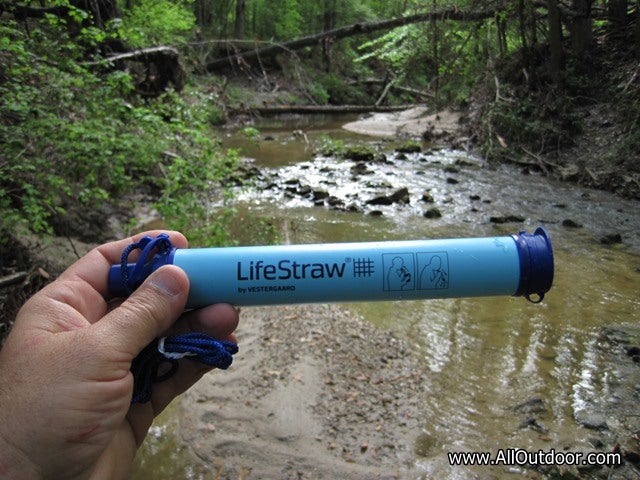 Specifications:
Provides an estimated 792 gallons (1,000 liters) of safe drinking water
Removes 99.9999% of bacteria
Removes 99.9% of protozoa
No shelf life, can be stored indefinitely even after use
When it comes to grabbing a lightweight water filter and heading out, very few filters on the market can compare to the LifeStraw.  I take my LifeStraw hiking on a regular basis.  Just a few days the dogs and I went on a hiking trip.  Rather than carrying a full sized filter such as the Katadyn Hiker, the LifeStraw was tossed in the pack and off we went.
SHOP NOW
BRS Camp Stove
The BRS camp stove has to be one of the lightest and cheapest stoves on the market.  It weighs less than an ounce and cost less than $20.  When this article was written, the BRS stove was eligible for Prime shipping.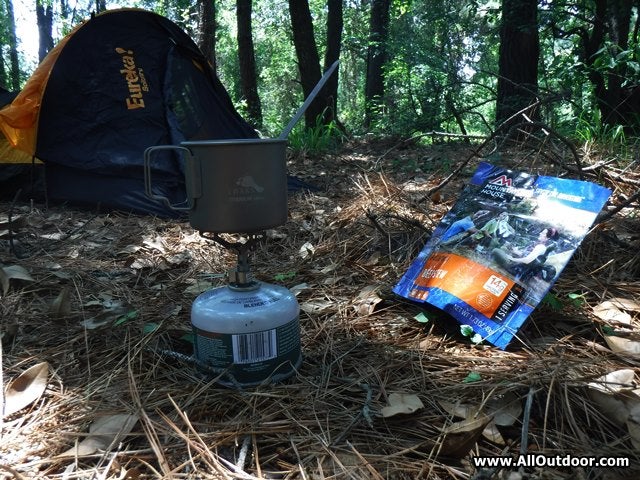 I have used the BRS camp stove on numerous hiking trips, and have always been happy with its performance.
For the price, size and weight, this camp stove is difficult to beat.
SHOP NOW
Toaks 750ml cook set
Toaks manufacturers a wide range of hiking and camping cook pots. The 550ml pot is a little small, as the pot has to filled all the way up. When the water boils it will sometimes overflow onto the stove. Because of that, the Toaks 750ml pot is recommended.
The Toaks 750ml pot is available in two different designs:
One with a handle to suspend over a fire, and handles on the side..
One with just the handles on the side.
So whether the person is cooking over a fire, or using a stove, there is a model to suit both needs.
Toaks is an Amazon's choice, and has a 4.5 out of 5 star rating with over 150 reviews.
SHOP NOW
TOAKS Titanium Long Handle Spork
After we get finished cooking a meal, we need a way to get the food from the pot to our mouth.  For this, it is the Toaks long handle spork.  Why a long handle?  A standard handle is barely able to reach the bottom of a Mountain House freeze pouch.
Also, those long handles come in handy when digging to the bottom of a cook pot.
I have the Toaks long handle spoon, and wish I had bought the spork.  Chances are I will order the spork in the next few weeks.
SHOP NOW
Morakniv Companion Heavy Duty
Mora sets a standard that even expensive knives have a tough time following.  The Morakniv Companion has a belt clip that also clips nicely on MOLLE webbing.  This make sit easy to move from backpack to backpack.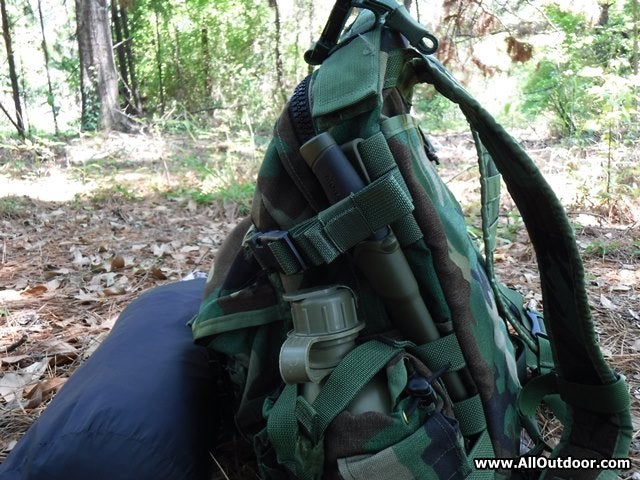 On a recent excursion into the woods, my Morakniv Companion was attached to the outside of the three day assault pack.
Morakniv Companion is another Amazon's choice with a 4.7 out of 5 stars and over 1,800 reviews.
Specifications:
Fixed blade 4.1-inch long high carbon steel blade
Extra-large ergonomic handle with patterned
Blade Thickness: 0.125 inches
Blade Length: 4.1 inches
Total Length: 8.8 inches
Net Weight: 4.8 oz.
Color-matching plastic sheath with belt clip
Limited lifetime manufacturer's warranty; Made in Sweden
SHOP NOW
Final Thoughts
Those ten items should be enough for now, and hopefully will provide the reader with some idea.  First aid kits were left out, as well as multi-tools.  We could go on for a long time talking about this and that, but those ten are good enough for now.