Keeping Electronics Charged While on the Trail
Kevin Felts 05.02.18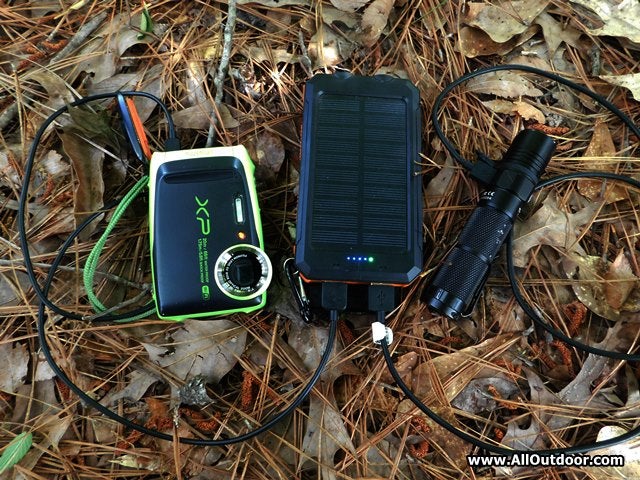 One of the great things about USB rechargeable electronics, is they can be charged with a portable battery pack.
Before USB rechargeable devices became wide spread, must people heading into the wilderness packed AA batteries. Sometimes, I would carry  four or eight AA batteries, plus the ones in the camera. That gave a total of eight – twelve AA batteries.
Over the years things slowly changed. Now, just about everything is rechargeable through a USB port.  My one piece of electronics which is not USB rechargeable is a Garmin Etrex GPS, and it was made sometime around 2002.
If portable battery packs were not enough, now there is a wide selection of them on the market which have a solar panel. However, the solar panel provides a very small charge and would take days to fully charge the battery pack. Then again, the solar panel is providing some type of charge, though very small.
This gives the option to hang the battery pack on the outside of the pack and let it charge all day. On a camping trip? Place the battery pack in direct sunlight.
The battery pack can charge:
Cell phone.
Camera.
Flashlight.
A lot of people use their cell phone as their GPS. So in effect, the phone can serve as dual purpose device.
Things To Look For
Some of the things I look for when shopping for a battery pack.
At least 10,000 mAH. This should be enough to charge most phones and cameras several times.  Number of charges will vary. For example, my Fujifilm camera has a 700 mAH battery. So a 10,000 mAH battery pack should charge the camera at least 10 times.
Some of the battery packs will have gimmicks on them, such as a compass. What happens when a compass is next to a battery and electronics? The compass will be off. Ignore stuff like a compass on the battery pack.
How much weight does the reader want to add to their pack? My personal 10,000 mAH battery pack weighs 8.55 ounces.
Final Thoughts
Technology has made some great leaps and bounds over the past few decades. I remember buying my first handheld GPS in 1992. It was heavy, cost over $300, and would drain AA batteries in no time.  Here we are over 25 years later and just about everyone has a GPS on their phone.
Rather than carrying a bunch of AA batteries like we did in the 1990s, we can carry a battery pack which has a solar panel and can recharges several devices.
Ain't technology grand.