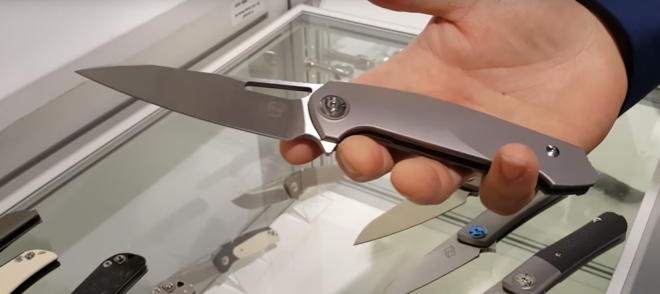 CRKT makes a lot of high value knives; meaning that if you want to spend $40 or less, they have a bunch of really stunning options.  But there are few high-end knives in their lineup, such as the S2 and the Hi Jinx. Those knives were clearly aimed at a higher market.
In between the release of those two knives was the Liong Mah Eraser, his first collab with CRKT. It ran AUS-8 steel, which is nothing extraordinary, but the fit and finish were superb. The design, a classic Mah take on a big folder, was also superb. And finally, the flipping action, thanks to great washers and a masterfully-designed flipper tab, was excellent. It was a sneaky great knife and one that many people passed on. Many in knife circles called it the "Poor Man's Tilt," a bit of praise referencing Kershaw's amazing flipper produced around the same time.
In Germany in March of 2018 at IWA, Liong Mah showed off his sequel to this criminally underrated knife, which he calls the Slim Line Eraser. The knife is produced by Reate for Mah and will be available through his site. The overall look is quite stunning, though not as radical a departure as the original (or maybe it is and we are just more used to Mah's unique style by now).
The knife runs a fully-sculpted titanium handle. It also has a sculpted clip and a sculpted backspacer.  There are no slabs or flat surfaces on the handle. The Slim Line Eraser was shown in two styles: a solid titanium piece and a piece with a black handle and bolster, very reminiscent of the CRKT original.
Aside from looks, Mah has emphasized the slim approach with a very thin blade — a sliver of M390 stock. With the knife's substantial blade length and tall blade height, starting with thinner stock should give the knife insane cutting power. Having seen this in a few knives recently (the Chaparral and the LT version of the Bark River Bravo 1), I can tell you this small trend towards "slicier" knives is just great for users.
Maybe it was the maker. Maybe it was due to a crowded field. Maybe it was held back by the AUS-8 steel. Whatever the reason, a lot of folks slept on the original Liong Mah Eraser, which is a shame because that knife was killer. Now, with a new maker and top-shelf steel, there is no reason to miss this knife a second time around.
Important Info:
What: Liong Mah Slim Line Eraser
Cost: Unknown
When:  2018
Made overseas by Reate Knives for Liong Mah
Highlights: Unique design, high end production quality, super thin blade stock