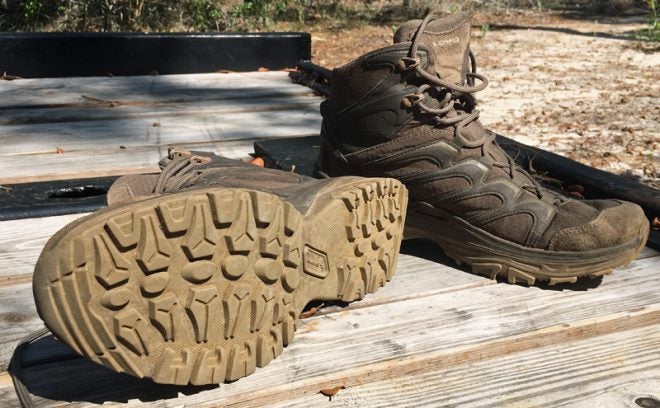 Sometimes you need a nice light boot, offering a good sole and ankle support but without the added weight of insulation or thick fabric. The LOWA Innox GTX Mid TF is that boot.
The first thought I had when I saw the Innox GTX at the SHOT Show was, "This is a running boot!" It has a running shoe's look and light weight, as well as the upturned front sole tip. And while I'm not one to run unless there's a heck of a good reason to, I can certainly appreciate the value of a lightweight boot that doesn't weigh you down.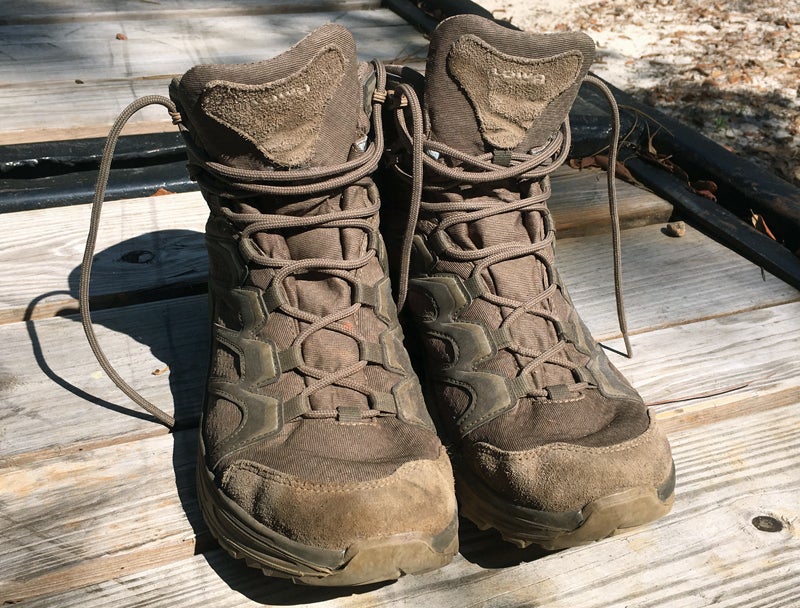 Here's what LOWA says about them:
A supportive, lightweight, multifunction boot for moving fast. Built on our injected DuraPU™ midsole and a PU MONOWRAP® frame construction for support and stability, it features a rugged NXT outsole for traction and durability. Named by Field & Stream as "Best Hunting Gear for 2017" for its running shoe feel and hiking ease. Durably waterproof/breathable.
Specs
Brand: LOWA
Model: Innox GTX Mid TF
Colors: Coyote tan and Black
Height: Above the ankle (about 6″)
Upper Material: Synthetic
Construction: Slip Lasted – Injected PU Midsole
Lining: GORE-TEX®
MONOWRAP® Stability Frame
Insole: Removable, ATC Footbed
Midsole: Double Injection DuraPU™ with DynaPU® shock absorbing zones
Sole: LOWA NXT
Stabilizer: Soft
Lacing: Fabric and metal eyelets
Weight per pair (manufacturer specs): 2.02 pounds
Weight per pair (size 12, measured by author): 2.45 pounds
Resolable: No
Made in Slovakia
MSRP: $230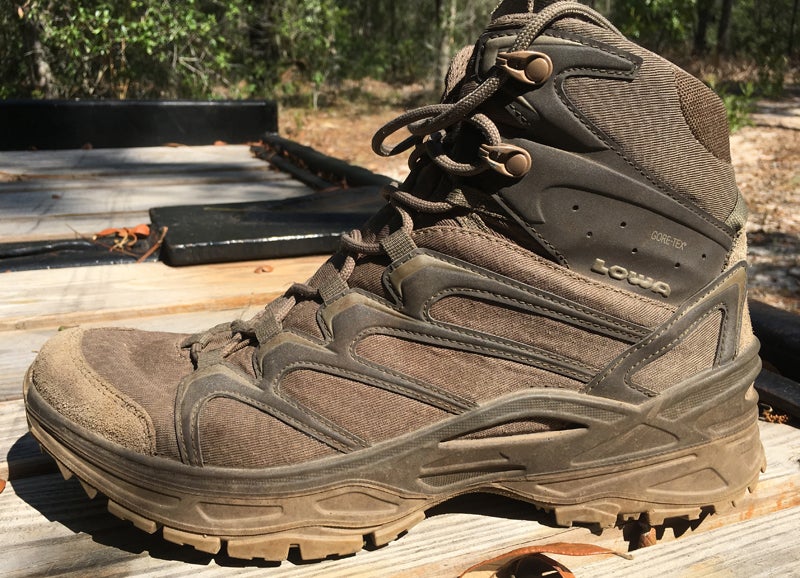 Light But Supportive
As noted, these boots don't weigh much, and the mid height (about 6 inches) provides good ankle support. In fact, I found it easy to give myself too much support by overtightening; pulling the boot laces as tightly as I usually do with other boots caused them to cinch at the top and partially cut off my circulation. After minor adjustments, they were comfortable and supportive during many tasks — including a re-roofing project which involved a lot of ladder-climbing and other footwork.
Don't let the light weight fool you; these boots have some substance.
Protection?
These boots are light and flexible, and I feel my feet are fairly well-protected in them, but they're not my first choice for things like tree cutting etc. Activities like that might see hunks of tree falling near your feet, and I would want footwear with a bit more structure, such as the LOWA Renegade.
That said, the sides of the Innox GTX are pretty tough, and should do fairly well to protect against sticks and rocks while hiking.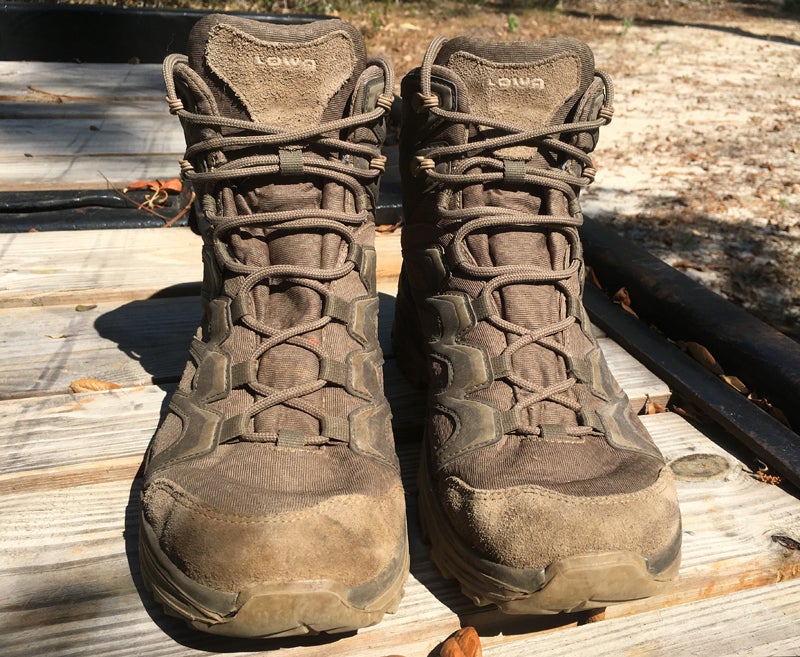 No Speed Lacing
My main complaint about the Innox GTX Mid T is the lacing system. Most of the "eyelets" are fabric loops, and the laces don't exactly slide through them as freely as they do in the top two pairs of eyelets, which are rigid metal. The result is that you need to loosen the laces a good deal when it's time to take off the boots or put them on, and they're not nearly as easy to don as something like the LOWA Renegade or even the 8″ Danner Vital, both of which offer speed lacing "hooks" above the first 4 sets of eyelets.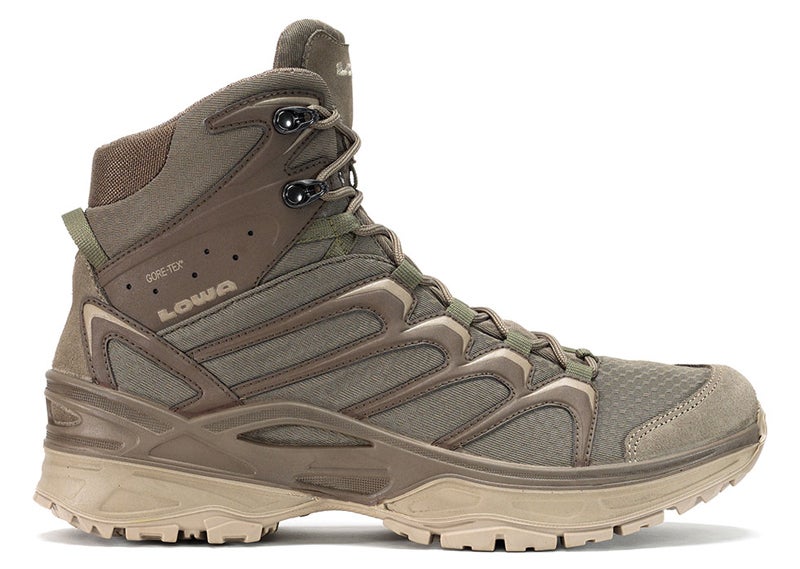 Comfort
I've found my Innox GTX Mids to be comfortable, as long as I leave the laces just a little looser than I usually would. Arch support is sufficient, even though the removable insole doesn't have any arch built into it — so it would be easy to add some if need be. But it's plenty good enough for me, and I need arch support in all of my footwear.
Conclusion
I like my LOWA Innox GTX TF boots, and I'll reach for them anytime I need a good lightweight boot. They're comfortable, offer a good stable sole with a supportive heel cup, are made of durable materials, and they look good doing it.
Disclosure
A review sample was provided by the manufacturer. This doesn't affect my review, which contains my honest opinion of the product.