When the time comes to pack for your next outdoor adventure, consider bringing along a solar battery charger. They're the perfect way to charge all your devices on the go by harnessing the power of the largest energy source available: the sun! Below are some of the best portable chargers available in today's market to make sure your electronics stay loaded no matter where you are.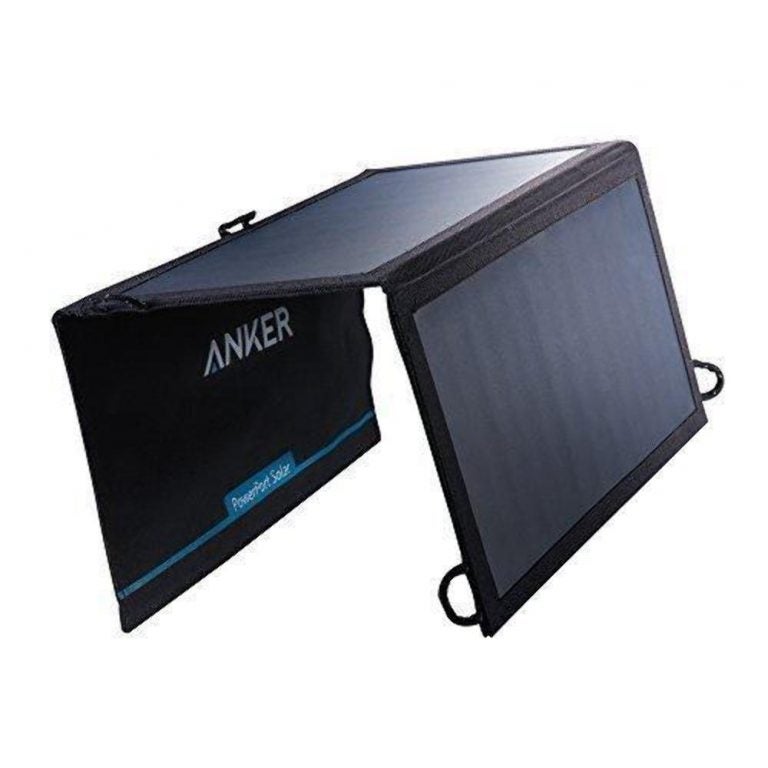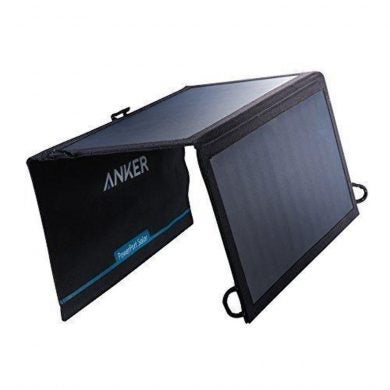 Joining Anker's ever-growing family of smart devices is a dual-paneled solar-powered battery charger. Weighing less than a pound, it delivers 15 watts to simultaneously charge up to two devices (including iPhones, iPads and Android phones) thanks to its dual multi-layer charging panels. It provides 21.5 to 23.5 percent of transitional efficiency and reviewers have reportedly obtained a full charge after just two hours of direct sunlight. The Anker PowerPort solar charger also features four elastic hooks on each corner to make charging easy whether you're hanging it from a tree branch or hooking it to your backpack while hiking.
Anker PowerPort Solar Lite 2 Ports, Amazon

This adjustable single-paneled solar charger is yet another BioLite product built to make camping and backpacking that much easier. This particular solar panel works best placed on a stationary surface like a tabletop, secured to a tent or resting on the ground, as it can be adjusted to capture as much direct sunlight as possible. The BioLite power light solar panel boasts five watts of USB output to charge devices like cameras, tablets and phones in real time or you can opt to store the power in the included 4,400 mAh power bank. This solar battery charger also features a 250-lumen torch as well as a 200-lumen lantern to light up your way.
BioLite PowerLight Solar Kit solar panel and lantern bundle, Amazon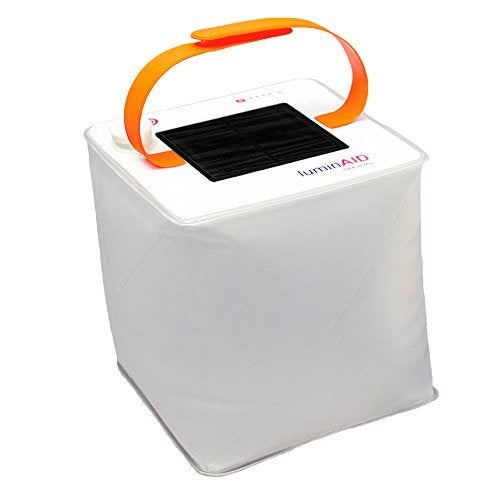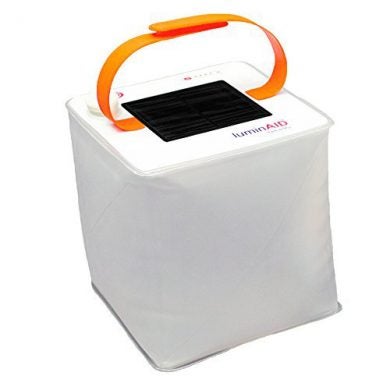 Perhaps one of the most backpack-friendly of the bunch, the LuminAid solar charger collapses into a tiny one-inch thick square and inflates into a six-inch lantern when in use. This solar panel boasts a 2,000 mAh lithium-ion battery that charges in 14 hours of direct outdoor sunlight or one to two hours via USB. It provides 150 lumens of LED light when inflated and provides a whopping 50 hours of light if on "low" mode (one of five brightness options) when fully charged. Its convenient carrying handle makes it easy to hang it on a tree branch, inside your tent or even on your backpack. Due to its collapsible nature, it is nearly impossible to shatter — plus it is 100 percent waterproof and dustproof.
LuminAID PackLite Max phone charger and lantern, Amazon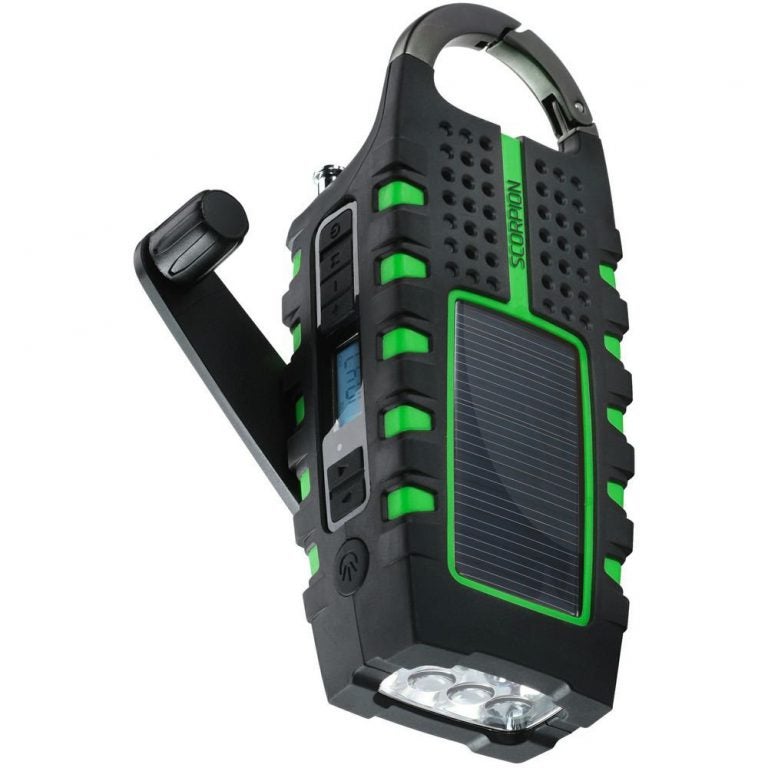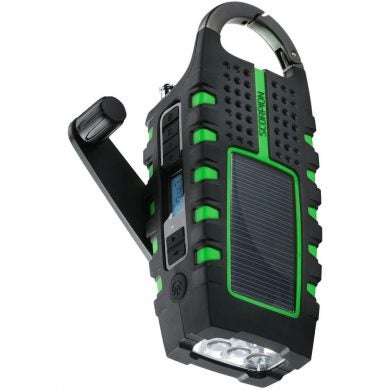 The Eton Scorpion II can be charged three ways: via a solar panel, USB or a manual crank. Its rugged body is ideal for on-the-road adventures or emergency situations, and unlike other battery chargers, its rubber exterior casing makes the Scorpion II drop-proof from a height of 3.3 feet. Features include an AM/FM tuner, an NOAA Weather Band receiver, a half-watt LED flashlight and a bottle opener in case of emergencies. While not completely waterproof, this device is IPX4 splash-proof and boasts an 800 mAh rechargeable lithium battery to charge small devices such as cell phones.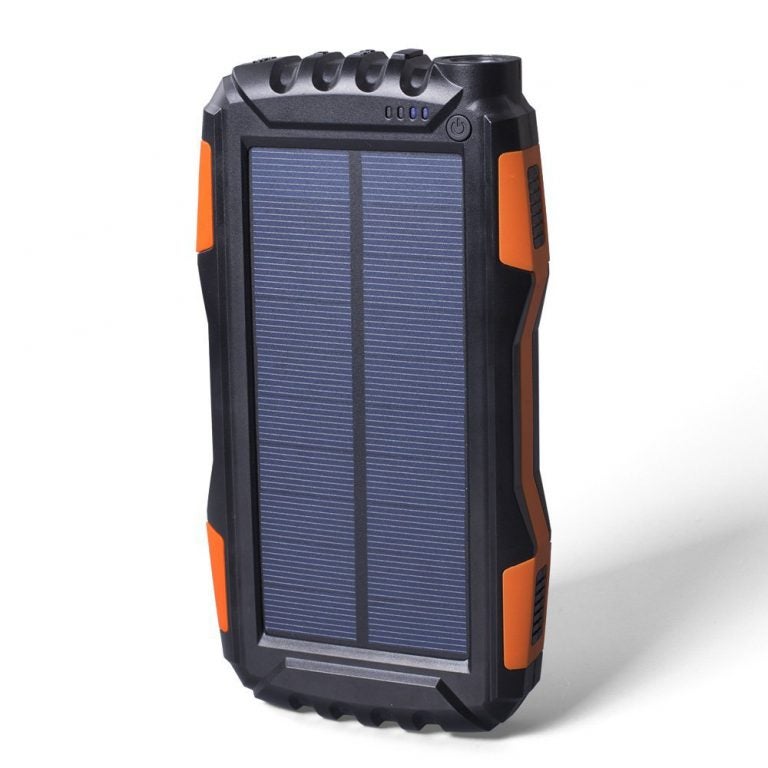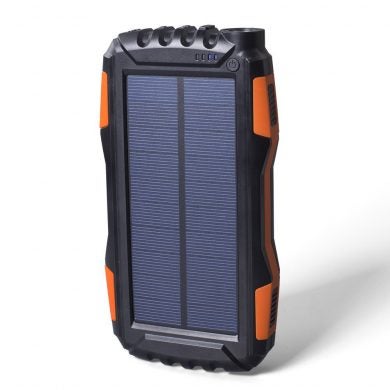 Fitting in the palm of your hand, the Elzle solar-powered power bank holds an incredible 25,000 mAh of power — enough to fully charge an iPhone 6 or 7 almost 10 times over. It weighs just under a pound, has an LED light with three modes (steady/SOS/strobe) and indicates its charge status using a series of lights. Its tough outer shell (made of silicone, polycarbonate and ABS plastic) promises shock resistance and the dust plug ensures the protection of the micro USB input as well as its dual 2.1 amp USB outputs. Lastly, the Elzle power bank's intelligent design protects from over-voltage and automatically stops once your device is fully charged so you can rest assured no electricity goes to waste.
Elzle 25,000 mAh portable solar power bank, Amazon
---
This post is sponsored by Amazon and brought to you by WiseGuide. WiseGuide exists to help readers navigate the vast e-commerce marketplace. We write about things we think you'll like, introducing you to great products, services, and special deals. We'll update the links whenever possible, but please keep in mind that deals may expire and prices are subject to change. We may earn affiliate commission if you make purchases through our links. For more follow WiseGuide on Twitter @WiseGuide_.