Everglades National Park Will Pay Hunters to Kill Pythons
Russ Chastain 06.04.18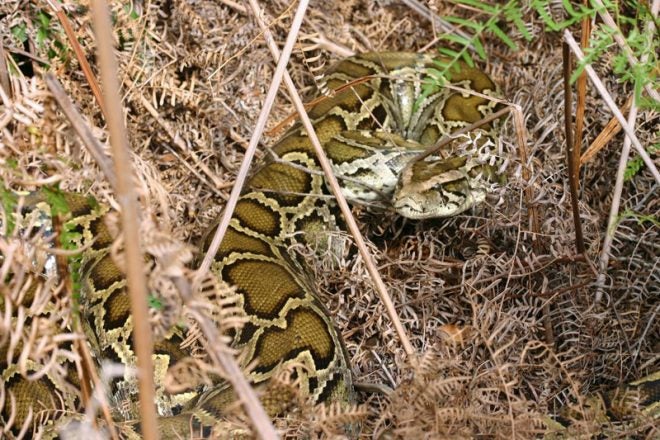 Want to kill a big snake — and get paid to do it? Well, this could be your chance. Everglades National Park is reportedly opening its borders to "paid hunters" in hopes they will put a serious dent in the population of invasive Burmese pythons which has devastated many native populations in the park. That is to say, the state of Florida will pay hunters to take these snakes.
Faced with an unrelenting spread of invasive Burmese pythons that have mostly wiped out marsh rabbits, bobcats and other small mammals, Everglades National Park is doing something for the first time in its 70-year history: opening park borders to paid hunters.

On Thursday, Superintendent Pedro Ramos announced plans to team up with state wildlife officers who last year began hiring hunters to kill the voracious snakes.
History has proven that hunting is the best way to manage any given wildlife population, and this is no exception.
'We've been chasing this problem trying to find a solution and frankly we ran up against a wall over and over again,' [Superintendent Pedro Ramos] told the Miami Herald. 'That history requires us to be open-minded and flexible.'
Crybabies apparently thwarted an earlier hunt back in 2015, which was slated to be open to the public was was later severely limited so that only "authorized python trappers" could participate. But snake harvest is way down, and something needs to change.
In the last year just 70 or so snakes were caught inside the park compared to about 200 snakes during each of the previous two years, said chief biologist Tylan Dean.

After years of failed efforts — including snake-sniffing dogs and tagged Judas snakes — Ramos said it's time for more aggressive tactics.
But he says it's not really hunting so much as population control.
'This to us is clearly not hunting in a national park. This is a serious effort to bring people who want to help us with this problem get these things out of the park,' he said. 'It is a program aimed at removing an exotic species that is having some very deep negative impacts on this landscape.'
It seems unlikely that the Burmese pythons will ever be eradicated from the realm they've invaded… but snake hunts might be the perfect way to dent the population.
South Florida may never be free of the snakes, but managed hunts in recent years have shown promise. Last year, the wildlife commission and the University of Florida brought snake hunters from India for a month-long pilot project that bagged 14 pythons in two weeks, including a 16-foot female carrying dozens of eggs. The water management district's paid hunt topped 1,000 last week.

In order to participate and earn their fees ("minimum wage plus $50 for every four-foot snake and $25 for each additional foot"), snake hunters must meet certain requirements:
Eligible applicants must:
Have captured and removed at least three Burmese pythons from the Everglades ecosystem while working under a valid FWC Python Removal permit, as an Everglades National Park Authorized Agent, or from private lands with landowner permission (pythons removed from private lands must be documented by photographs and must have been euthanized at the time and site of capture or deposited with the FWC).
Have no violations on any FWC issued permits, or other animal-related citations.
Have sufficient time to conduct self-directed surveys using the predetermined routes and to efficiently respond to survey requests.
Possess personal communication capabilities, including a cell phone and valid email.
Assume personal liability for health, welfare and safety of themselves and anyone assisting them.
Project a positive image at all times.
More from the article:
Hunters will be given access to almost every corner of the park at all hours, but will not be allowed near visitors, including the Coe Visitor Center and Anhinga Trail, while the park is open.

The park hopes to get hunters started as early as July and eventually have up to 120, which would triple the number of volunteers now trapping snakes.
Here's hoping this turns out to be a great success. I hate knowing those big snakes are out there devastating the native animal populations.