Father's Day Gift Guide 2018: Five Suggestions for the Taciturn Pop
Tony Sculimbrene 06.07.18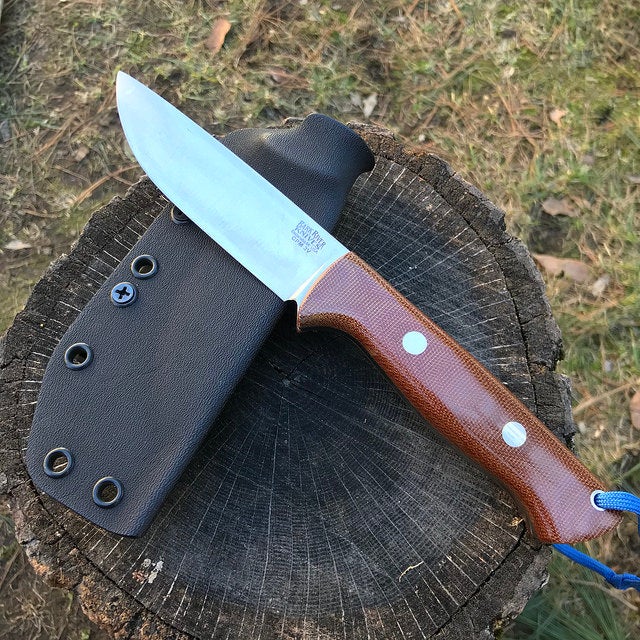 Dads tend to be stoic. We get up at 5 AM and shovel out the driveway in January. We stay up late gluing tiny toy parts back together after promising to do so in exchange for an end of tears and sleep.  When things go bump in the night or there is an intimidating bug, we get deployed. Part janitor, part plumber, part carpenter, part IT guy, Dads get the grunt work around the house. But we like it.  Especially when mowing the grass means 45 minutes of utter peace and neatly lined biological carpet out front.
But Dads aren't great at saying what they want (or going to the doctor–seriously though, if you are over the age, go get that one thing looked at, you know). Every year we smile as we open another tie or another BBQ accessory or a new electric razor. So if you are looking for something to buy a Dad, and you know they have a passing interest in gear, let me do some translating for you.
What Dad Says: "Oh, I don't know, a nice tie would be fine."
What He Wants: AG Russell Light'n Bug
If this particular Dad is a tie-wearing fellow then he probably would deeply appreciate a fine little gentlemen's folder. Sure you could opt for a Chris Reeve Mnandi, but that's about $300 more than the Light'n Bug. And it is a full ounce heavier. The Lightn' Bug is a gorgeous jewel of a knife with contoured carbon fiber handles and an elegant drop point blade. Thank to AG Russell's mastery of knife design it crams in a ton of blade in a tiny and ultralight space.
The only real drawback is the steel–8Cr13MoV. But it is coated and in this application, the limitations of the steel are unlikely to come up.
What Dad Says: "Well, I guess I could use another set of pliers."
What He Wants: Leatherman Skeletool CX
Maybe this Dad really does want another set of pliers. If that's the case, I have always liked Channel Lock. But if you think he is just tossing this off as a stand in for a tool, the Skeletool is a great multitool. It is the longest owned piece of gear I have and it still sees regular use.
Multitools are never substitutes for actual tools, they are either step savers when you are working outside your main work area, or a tool you carry when you are unsure of the work you will be doing. In both scenarios, a lighter, less complicated tool serves you well. Under those circumstances there is nothing better than the Skeletool (the CX has carbon fiber accents that save no weight, but it does have a better steel in the blade; 420HC v. 154CM).
With a very competent blade (so good in fact that it was made into its own knife, the KB), a great carabiner/bottle opener, a bit holder that works with all Leatherman 2D bits and decent pliers, the Skeletool has every tool a person would realistically need without a bunch of fiddly stuff that packs on the ounces. Lighter than the Wave and more capable than a knife-based tool like a Swiss Army Knife, the Skeletool carries like a knife and works like a multitool. And since its Dad, get the nice stuff–CX.
What Dad Says: "Money's tight this year, I am all set."
What He Wants: Ruike p801
There are a lot of cheap knives out there, many more than can ever warrant a second thought.  Most are more worthless than the packaging the came in (Pro Tip: If the steel is not listed or called "surgical steel" don't bother). But we are a boom time for knives and while that does include kilobuck customs and $500 production knives, it also includes a bevy of excellent budget blades.
The Ruike p801 is a superstar of the budget blade world. Made by the same company that produces Fenix flashlights, the p801 sports a framelock, a bearing pivot flipper, and Sandvik's ultra value steel 14C28N. You get all of this for around $30. Even the Dad that keeps the thermostat at 64 in winter won't balk at $30 for a knife this good.
What Dad Says: [with a wistful look in his eye] "A whole house generator, running on natural gas, with its own concrete pad…"
What He Wants: A whole house generator, running on natural gas, with its own concrete pad, but in case you can't swing that–the Streamlight Pro-Tac 1L-1AA.
The 1L is a very capable single cell light. It outputs a very decent 320 lumens on high with a CR123a cell. It has a high and a low and basic programming that is easy to do using Streamlight's 10 Tap programming. The light is well built (but for the friction fit clip) and its a decent size–small enough to pocket but big enough that it's hard to lose. The real trick here is that this is a light that can run on both 1xAA and 1xCR123a. There are a few dual fuel lights out there but this is the best.
These lights make excellent emergency lights because they are both simple to use and run on the best battery and the most available battery. If the stuff hits the fan, you will almost certainly be able to find one of the two cells that powers the 1L. And if the whole house generator is too much, at least you know you helped out with preparedness with this little gem.
What Dad Says: "Something I can use outdoors."
What Dad Wants: Bark River Bravo 1 LT in 3V
Buying for Dads can be hard because Dads can be…um…not specific. Yep, its hard to pin Dads down sometimes because, well, they have to go fix the boiler.  But if you have little direction other than it needs to be good outdoors, look no further than the Bravo 1.
This is about as close to the Platonic idea of "knife" as it gets and it is not just simple. It is refined in its simplicity. The convex grind is amazing and takes a beating like a punching bag. The LT designation thins out the steel a bit, but don't worry, the 3V makes up for the loss in heft with high end metallurgical magic. He'll love the neutral unfatiguing handle. The only thing that might irk Dad is the sheath, but with a knife this good even Mr. Practical will probably see the merit in a custom made sheath (bonus points if you go that route for him).
SaveSave
SaveSave