Review: Noogie "Brass Knuckles" Tactical Bottle Opener
Russ Chastain 06.13.18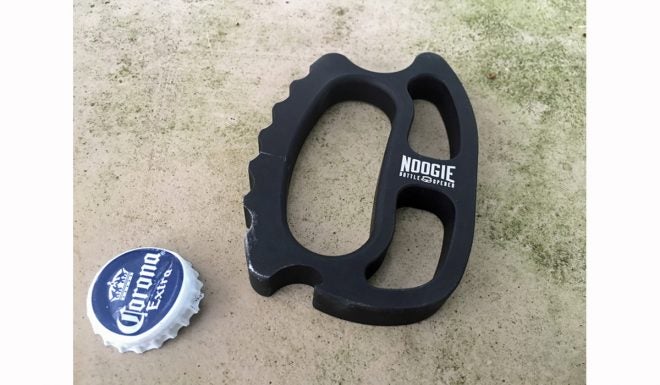 If you're interested in cool stuff, tactical stuff, and stuff that can (theoretically) be used for more than one purpose, I might just have the bottle opener for you. It's called the Noogie, it's made by DoubleStar, and it will be right at home with your anodized aluminum AR accessories — or just in your pocket to pop open a cold one at day's end. Oh, and it just happens to be sorta-kinda shaped like brass knuckles.
This seems like a good time to mention that the Noogie is not meant to be a weapon. Instead, it's simply a cool-looking bottle opener that may or may not be confiscated if you try to take it into a bar.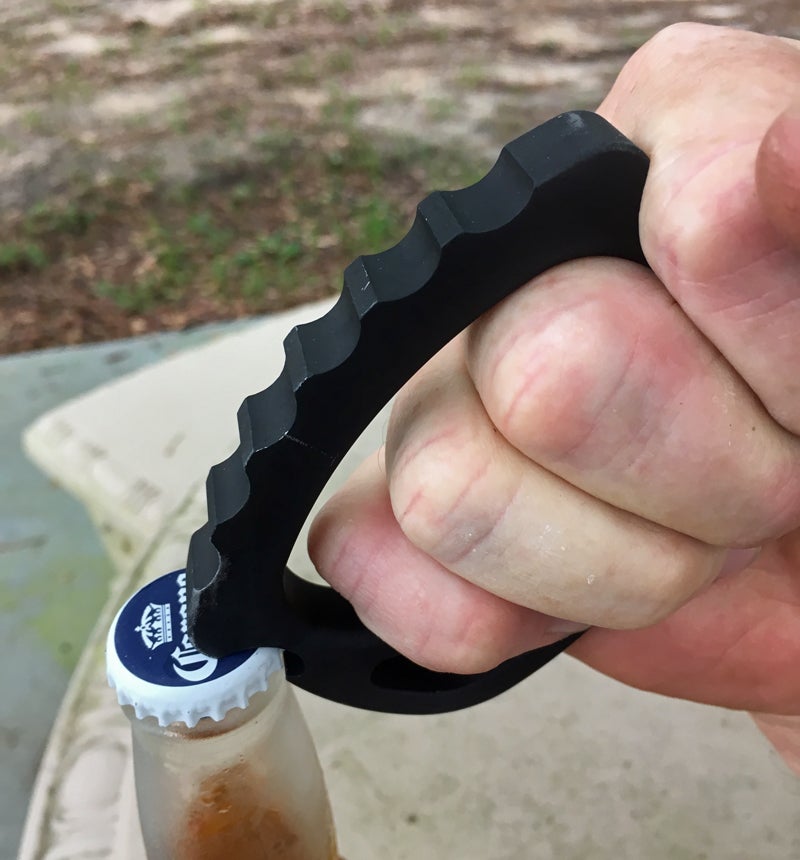 From the manufacturer:
Whether you are tailgating, attending a family barbecue or tending bar, the need for a comfortable yet sturdy bottle opener often presents itself. If you have been looking for a tough bottle opener with attitude, the Noogie™ is the answer. The Noogie™ Bottle Opener is built from .5" thick 6061-T6 aircraft aluminum for strength and is hard coat anodized for durability.

DISCLAIMER: This is a bottle opener and is not meant to be used as a weapon or to cause bodily harm in any way. DoubleStar will not be held accountable for the use, misuse or abuse of the Noogie Bottle Opener. To see if you can carry or own suspected items or for any questions, please contact your District Attorney's office.
Manufacturer Specs
Material: T6061 Aluminum
OAL: 4.25"
Width:2.75"
Thickness: 0.5"
Weight: 3.6oz
Handle opening: 2.75"
Finish: Grey or Black Type 2 anodizing
Noogie Does the Job
Noogie will open your bottles just fine. Here's a short video from DoubleStar to demonstrate its use.
After watching that, you might think it's a tad awkward to use the Noogie, and you'd be correct. It's not the easiest or fastest bottle opener around. And if a flat bottle cap is important to you for any reason (I donate my caps to a local artist who uses them for sculpture), you'll be disappointed. The Noogie bends the caps pretty good.
Because you're moving the Noogie sideways rather than lifting it, you also need to hold your bottle a bit differently during opening. I find it best to hold the bottle down securely against a stable surface like a countertop or pool deck.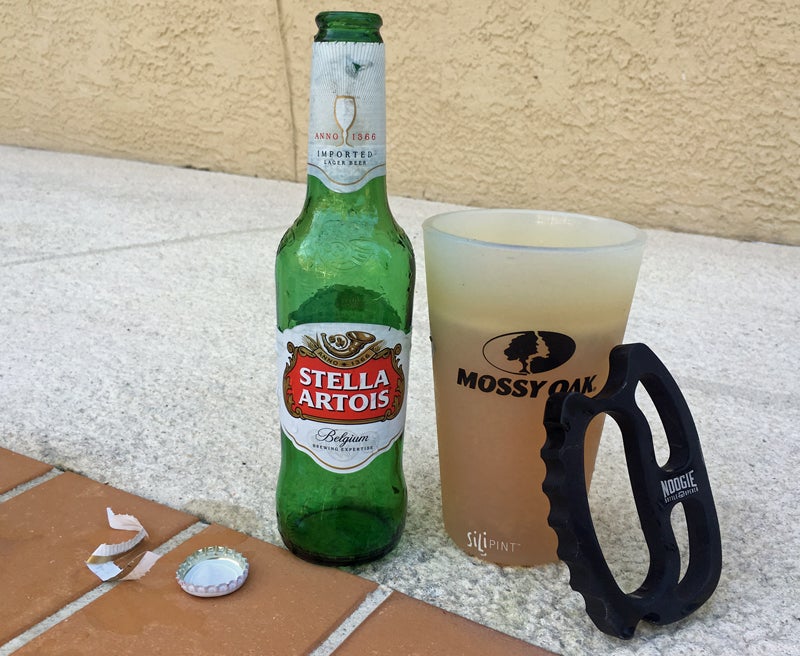 You may have read the caveats above and come to the conclusion that I don't like my Noogie. Incorrect! It's by far the coolest bottle opener I've ever owned, and the perfect conversation piece during a party — as long as your guests aren't brawlers with an itch to see what a set of machined aluminum knuckles can do to a man's skull.
At $39.99 MSRP the Noogie ain't cheap — you gotta pay up for the cool factor — but it ought to last just about forever and will leave your buddies wishing they had one too. You can order one by clicking this link.