Recently a very significant donation was made to the National Wild Turkey Federation (NWTF) down at their southern headquarters in South Carolina. The founder and CEO of Bass Pro Shops, Johnny Morris, had once made a pledge to donate $1 Million to the NWTF and now that amount has been donated in full with Bass Pro Shops' most recent and significant contribution.
Bass Pro Shops Director of Conservation, Rob Keck, stopped by NWTF headquarters on June 6th to deliver a $250,000 donation on behalf of Johnny Morris and Bass Pro Shops. He had these words to share with everyone:
On behalf of Johnny, whose heart has been with this organization for so many years, we just want to say thanks to the NWTF for what the organization has done through the conservation leadership it provides as well as the restoration of the wild turkey. It certainly has created a huge impact on this country.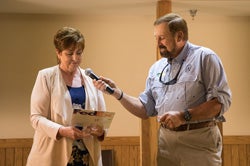 Becky Humphries, who is the NWTF CEO, was overwhelmingly thankful and expressed her gratitude along with the rest of the NWTF's staff and volunteers for the generous contribution. This most recent donation and Johnny Morris' cumulative donations over time have truly set him and Bass Pro Shops apart. They are now the all-time highest contributors to the NWTF ever.
Becky Humphries further commented on her and the NWTF's gratitude for the not only the contribution from Bass Pro Shops, but the culture that they foster:
Many thanks to Johnny, Bass Pro Shops and Rob for continuing their unending support of conservation work across the country. Bass Pro Shops' culture of promoting habitat and wildlife conservation is something that all outdoor companies can aspire to emulate.
One way in which Bass Pro Shops finds to contribute to the Save The Habitat… Save the Hunt… cause is by donating a $25 Bass Pro Shop gift card to every person who signs up or renews online through the NWTF's website. Another way in which Bass Pro Shops donates is through their Round-Up months. During select months, customers will be asked to round up their shopping totals to the nearest dollar and have that small, but valuable amount be donated to the NWTF. Then, Bass Pro Shops will match 50% of that cumulative, monthly total. All-in-all, this can make for some very significant contributions which the NWTF, and all turkey hunters, are extremely grateful for.