Review: Bushnell Trophy Cam HD 20MP Trail Camera
Russ Chastain 06.20.18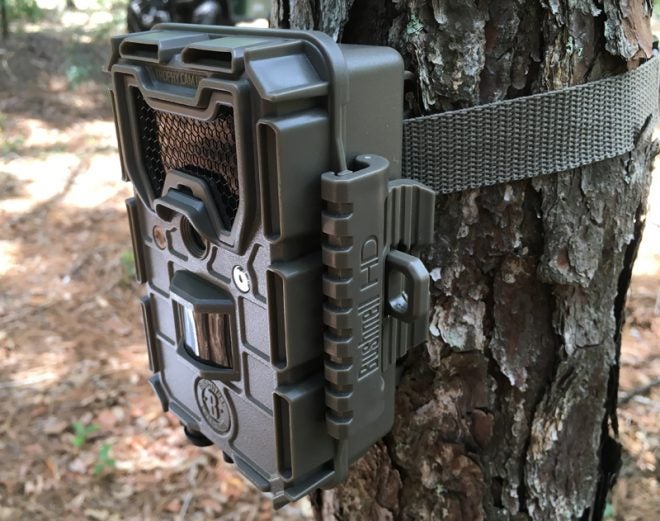 One of the best parts of my job is that I sometimes have the opportunity to try outdoor gear so I can tell you folks about it, and I've really enjoyed testing this Bushnell game camera. It's the Trophy Cam HD Aggressor 20MP No-Glow. It's easy to use and hasn't given me a lick of trouble in the months that I've been using it.
Even though the black LED flash is "no glow," deer and other animals sometimes appear to take notice of it, but as far as I can tell, they don't seem as concerned about it as on full-glow or even low-glow cameras.
Here are some highlights, according to Bushnell:
0.2s trigger speed
0.5s recovery rate
100 Feet Detection Distance
Pre-set menus and backlit 5-way buttons for easy setup
Dynamic video
True one-year battery life for all season scouting
Unparalleled night vision distance and brightness
I've gotten plenty of pictures from this camera, and most are quite clear. The exceptions are only blurred due to animal movement.
Manufacturer Specs
Model: 119876C
Wireless Connectivity: No
Resolution: 20 MP
PIR Sensor: Low/Med/High/Auto
Night Vision Flash: 48 Black LED / 80ft
LCD Display: B&W Text LCD
Date/Time/Temp/Moon Stamp: Yes
GPS Geotag: Yes
Power Supply: AA (4-8)
Solar Compatible: Yes
Batteries: 4 or 8 AA, Energizer lithium recommended
Battery Life: Up to 1 Year
Video Resolution: 1920x1080p
Video Length: Up to 60s
SD Card Capacity: 32 GB, Sandisk brand recommended
Field Scan 2X: Yes
Audio Record: Yes
Hybrid Capture: Yes
Shipping weight: 1.2 pounds
This camera is easy to set up, and I had no trouble getting it running. Strapping it to the tree is simple enough, although I would prefer not having to thread the strap through the buckle every time. The menu is not the most intuitive I've ever used, but it's not difficult to maneuver.
I like the latch. It's large enough to use with gloves on, and the fact that it's a draw type latch makes it easy to open in relative silence without jolting the camera.
Once open, controls are easy to find and operate. The backlit buttons and LCD display are nice, helping you do your setup in low light, and the 4 or 8 AA batteries are easy to access without fighting with another compartment door.
The SD card is also easy to access. The slot is a push-to-eject type, so even with clumsy cold fingers, swapping the SD card is easy to accomplish.
Each of my game photos from this camera feature the temperature in F and C, moon phase, date, and time.
You can use location presets to tell the cam where the cameras is: feeder, trail/scrape, or food plot. Auto exposure settings help eliminate "white out" photos. Will record 1080p HD video with audio for up to 2 minutes, as long as motion is detected. Hybrid capture mode will take a full-resolution photo followed by a full-rez video each time the camera is triggered.
If you're looking at a large field where some activity may be out of range, you can use a time lapse setting to automatically take photos, and you can set two "windows" of time for this (say at dawn and dusk).
Final Thoughts
The Bushnell Trophy Cam HD Aggressor 20MP No-Glow camera is a good trail camera, in fact I think it's the best I've ever had. Menu setup was easy enough, and I had it set up and taking photos of nocturnal predators in no time. At the hunt club, deer and turkeys were easy to capture on camera.
It's easy to use and does a good job. What's not to like?