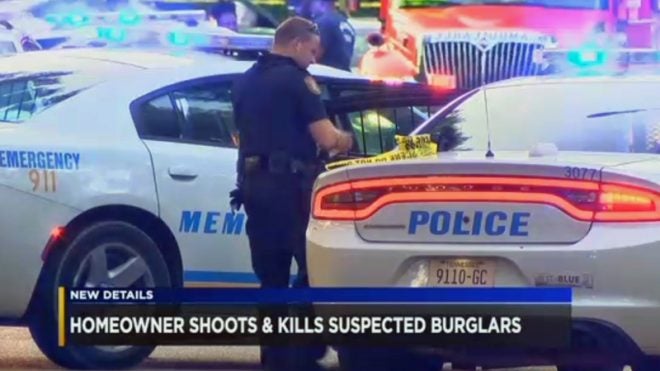 Memphis, TN — When a homeowner reportedly returned home from the barber shop to find his door hanging open and two men rooting around inside, he knew he was in for trouble, especially when they drew their firearms and tried to shoot him. One of the bad guys fired at him, but one of the guns apparently malfunctioned. That's when the anonymous good guy headed for his own shootin' iron as the crooks ran towards his kitchen.
'I'm assuming they were trying to go out of my back door,' the homeowner said, 'so as they go through there I jumped in the closet and get my AK-47.' He then found them on his patio, aimed his rifle and opened fire.

The two men, identified by authorities as 28-year-old Azell Witherspoon and 17-year-old Demond Robinson, were dead by the time police arrived.
Thankfully, he wasn't charged with any wrongdoing.
The homeowner was brought in for questioning but released after he reportedly offered footage from his home surveillance system to back up his self-defense story. The District Attorney General's office determined that no charges will be filed at this time.
WMCActionNews5 reports that although the homeowner did what he had to do, he isn't happy about it.
"These boys need their father and need some type of discipline. They're out here without any fear," the homeowner said.

He said he did regret the loss of life, but "it was either me or them."
He wished to remain anonymous for his own safety, saying that retaliation is "a possibility. You never know how someone else's family might perceive the situation, but I mean, I just have to take it one day at a time."
Don't we all.