BulletSafe's New AR/AK Rifle Ultralight Bulletproof Shield
Russ Chastain 06.29.18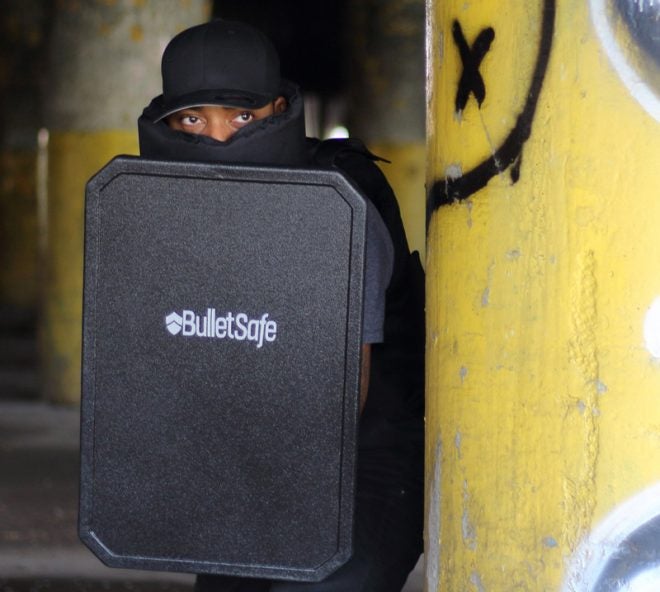 BulletSafe — the same company that sells a Level IIIA bulletproof vest for $299 and even a bulletproof baseball cap — has just launched an "ultra-light" ballistic shield rated to stop 5.56 NATO/223 Win, 7.62×396, and even 308 Win/7.62 NATO. Dubbed the ARAK Shield, it sells for $749.
Manufacturer Specs
NIJ Level III (3) protection: Stops AR-15/AK-47 Rifles
Ultralight Weight: 11.2 lbs.
Price: $749
345 Square Inches (15″ Wide, 23″ Tall)
Material: Ultra-High Molecular Weight Polyethylene (UHMW PE)
This new product purportedly offers a greater value than others on the market, which are naturally marked WAY up because people are generally willing to pay a premium when it comes to safety — whether the price is actually reasonable or not. And from what I've seen, the BulletSafe rifle shield is priced well below its competition, which, after all, is what BulletSafe does. Their claim to fame is offering the lowest prices on bulletproof stuff.
In the video below, company owner Tom Nardone expounds on the new shield and what's so great about it. Sadly, he doesn't come across as knowing that much about ammo. He starts out giving a "lesson" by referring to a handgun cartridge as a "bullet." Um, nope. That's a cartridge. The bullet is just the projectile.
In short, his "ballistics lesson" ain't much, so you can feel free to skip the first 2:30 or so, to where he begins describing the various technologies used in bulletproof materials.