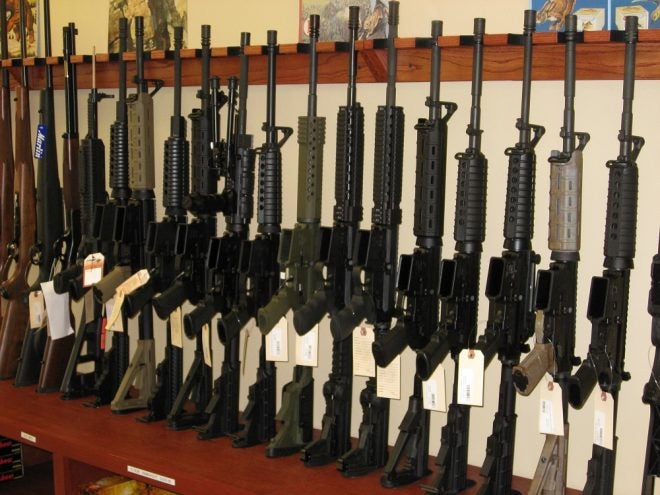 As a prep advisor, among the many questions I get the top inquiries are which AR-15s are the best ones to buy for the money. Working gun shows every month, I am on the front lines of being able to inspect a limitless number of models of AR-15 rifles of every brand and configuration. I also get to monitor the pricing as costs for these rifles fluctuate on a regular basis.
First of all, let me say, right now is the best time to buy an AR that I have seen in several years. We have discussed the apparent downturn in gun sales, but that too will soon change. Wholesalers had been fully stocked up anticipating that Hillary might win the White House, but now they are trying to dump excess inventory of all kinds of firearms and ammunition. Now is the time to buy.
As to the best AR rifle to buy for a top value, this becomes a question of personal choice and exactly what you want to buy in an AR rifle. Sales are being offered now at major big box retailers for basic AR-15 rifles. They are strictly Plain Jane versions, which is certainly fine for someone just starting out or wanting a first AR-15 rifle. These models usually just have open sights and one 30-round magazine.
Recently I have seen these types of ARs for sale in the $500 range. This price is a good benchmark as the least expensive available now, but it does not always imply quality or the best value. So, how do you know which of these lowest price ARs are decent enough to buy?
First, if you find such a sale on an AR rifle, then get the brand name, exact model number, and the designated configuration. Then crack open the brand's official web site to get the exact specifications of that specific rifle model. Make certain that the model being offered for sale is the same one on the factory web site. Start by looking for any designation that says "Mil-Spec" as this is the manufacturing standard. All rifles that follows these standards should be relatively equal in quality.
What brands to shop? This is my opinion, but you'll get quality and value from Ruger, Colt, Anderson, Bushmaster, Diamondback, and DPMS. There are others but prices push closer to $1000 with more features and options, which you may want. Shop accordingly.