Review: Primos Proof Generation 2 02 Game Trail Camera
Russ Chastain 07.11.18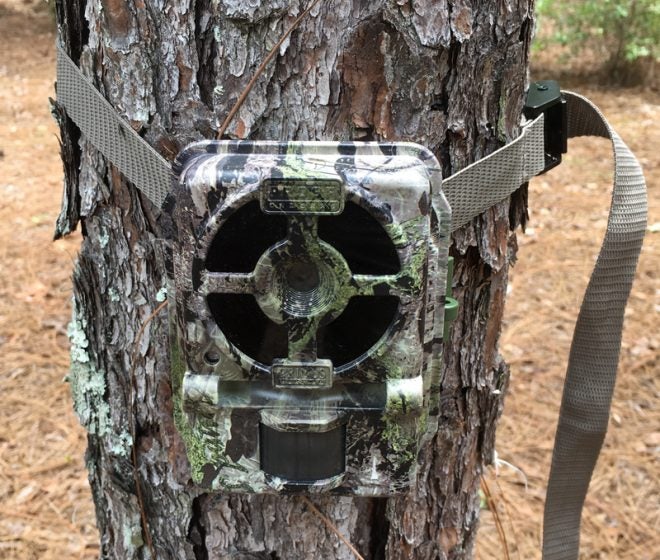 I've had the pleasure of using a handy little game camera for a few months now. It's the Primos Proof Gen 2 – 02, Model 64055. This might be the easiest camera I have ever set up, and its small size makes it easy to tote in my pack.
Here's what Primos says about this little jewel:
We build every Proof Cam with all the functions that really matter and none of the extras that don't. The Proof Gen 2 line offers faster recovery, better detection distance, and best in class performance. With a faster 1-second recovery rate you'll get more pics with fewer blanks. The auto exposure feature means better light detection with no more whiteouts. Illuminated sliding switches, 720 HD video and timelapse, plus a 1 year battery life.
And the specs:
Accepts SD Cards up to 32GB
16 megapixels
0.3 second trigger speed
1.0 second recovery rate
100-foot range (night)
Auto exposure to reduce whiteouts
Simple setup
Illuminated sliding switches
48 low-glow LEDs
720P HD video and timelapse
1 year battery life on 8 AA Batteries
Port for external 12v DC power source
Set up to accept a cable lock
MSRP: $162.95
The size is about 5″ high, 3.75″ wide, and 2.65″ deep.
Deer may notice this "low glow" camera, but it will certainly not bug them like a full-on regular flash, which can at times change a buck's entire travel patterns.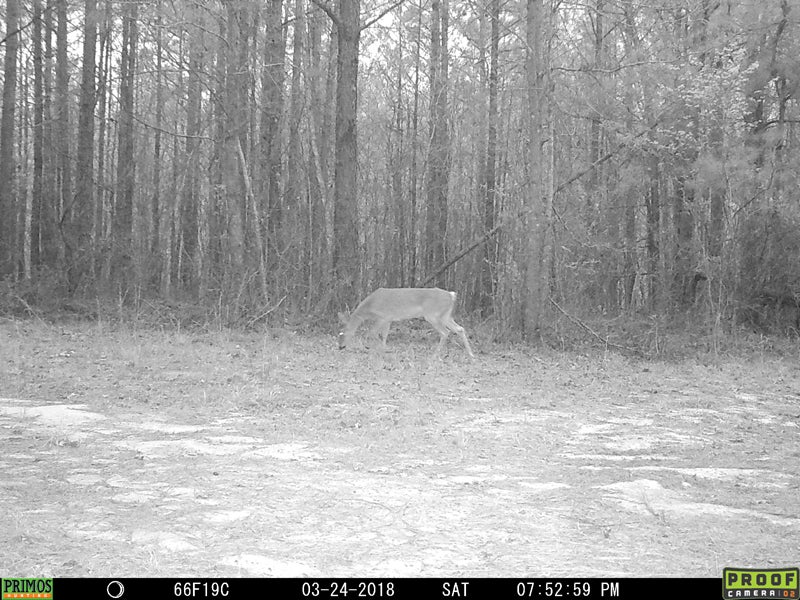 Most of the photos I've gotten with the primos are clear, but many of the night shots have blurred animals and a lot of whitewash. Sometimes it's difficult to tell what kind of animal it is, and it's kind of a bummer to see this in a higher-line camera like this one — especially when the package claims it has better light detection to prevent whiteouts.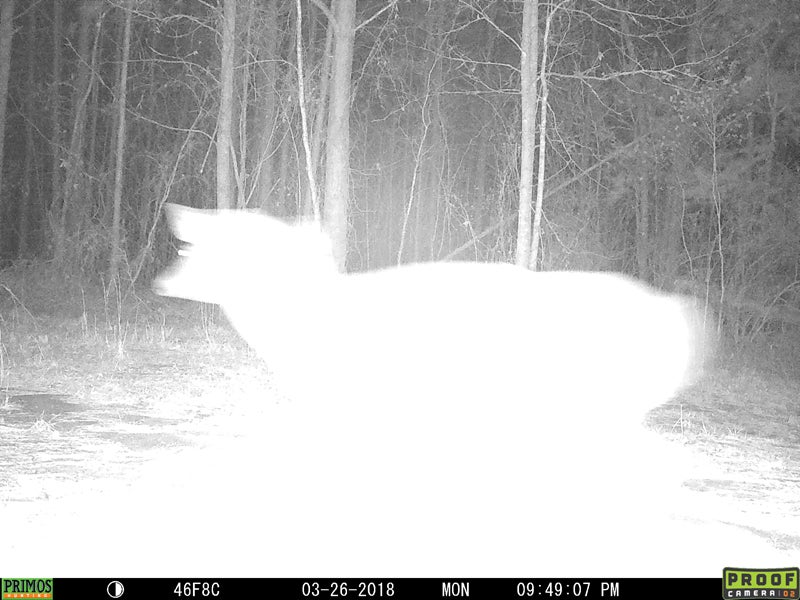 Setup has never been easier, especially on a camera with this many options. Instead of scrolling through a bunch of on-screen menus, you do most of the setup work by sliding switches with color-coded labels. Pretty straightforward, and goes like this: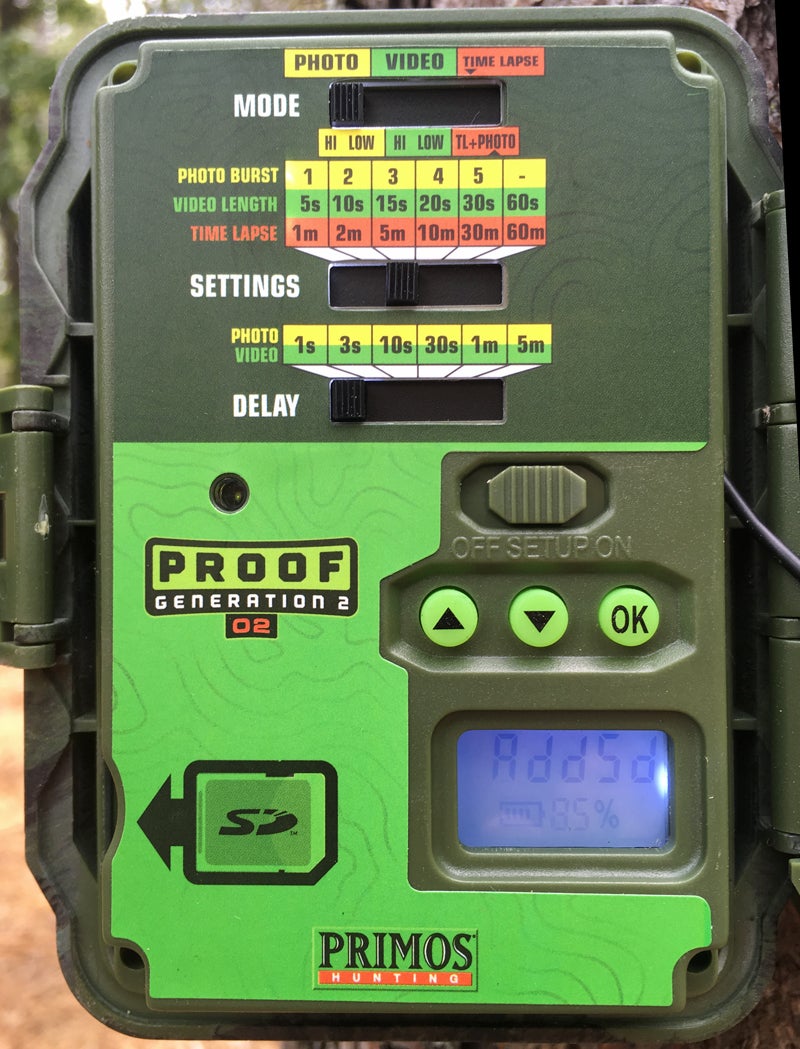 In the photo above, the camera is set to take hi-rez photos (top switch). Follow the yellow for the other switches. The middle switch says it will take a 3-photo burst each time it's activated, and the bottom switch sets a one-second delay between activations.
This allows you to set your camera up quickly and easily, check its settings at a glance, and easily make one or more changes without going all the way through a series of menus. I like it.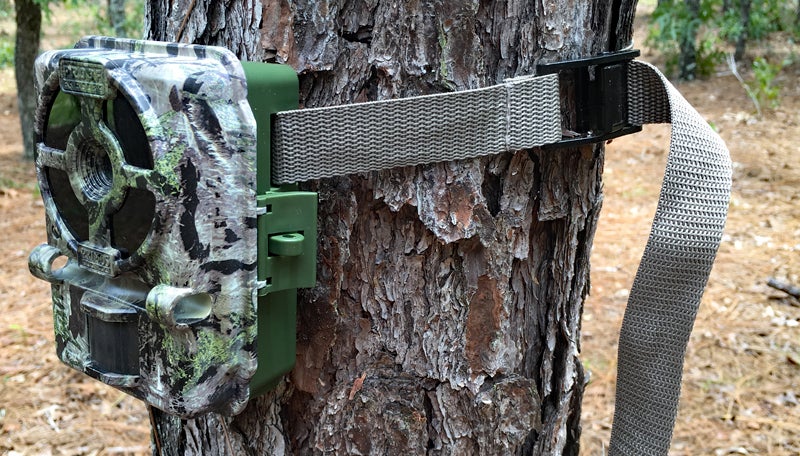 I'm not a fan of the latch on this camera. It's simple enough to use, but it's loud and opens and closes with a jolt, so it's tough to remain stealthy when you're changing your cam card — and it's likely that you will move the camera when you open and close the latch, so always check the aim afterward.
Strapping it to a tree is fast and easy, although you need to thread the strap through the buckle every time. There's a threaded insert in the bottom of the camera for using a dedicated camera mount.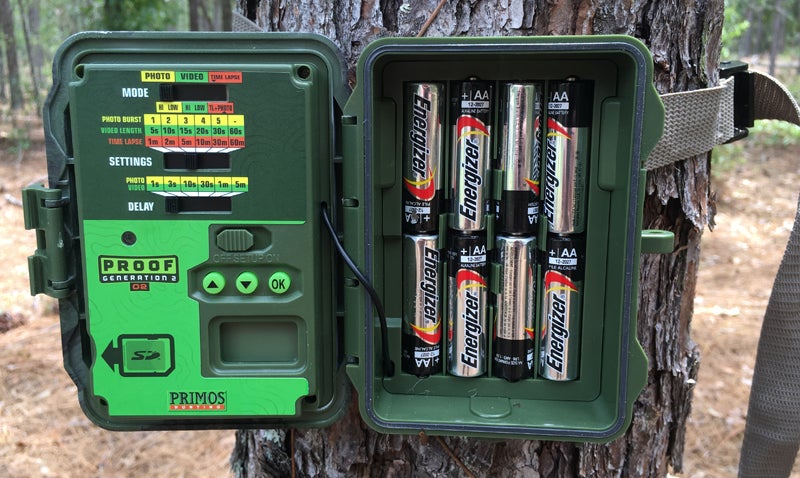 The SD card slot isn't convenient, and although it's a push-to-eject type, there's not enough room behind the ejected card for a finger… so I have to use a fingernail to pull it out of the camera. Not a huge deal, but awkward — and impossible while wearing gloves.
The battery compartment is easy to access, so you can easily get to the 8 AAs that make it run. When switched to "setup," the LCD screen shows how much battery life remains.
The info bar at the bottom of each photo shows the moon phase, temperature in F and C, date, day of week, and time.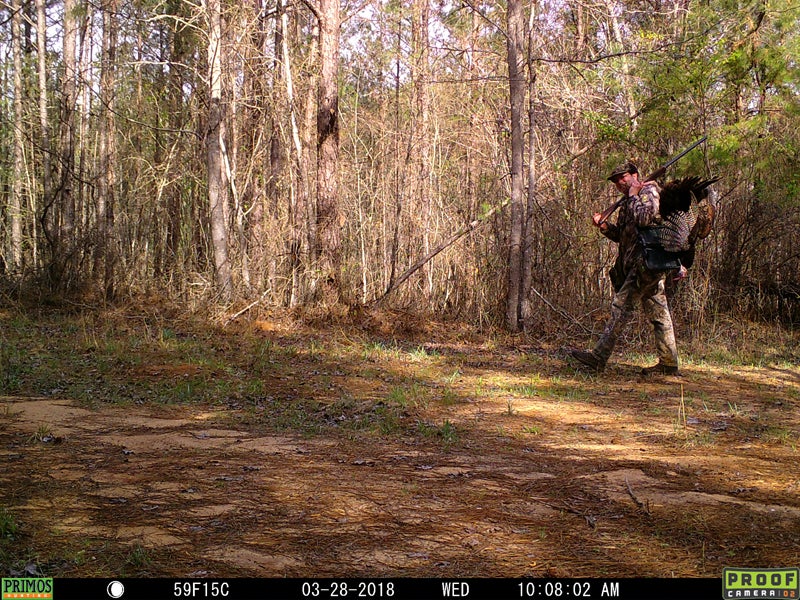 Daylight photos are almost always great, even when they don't show me toting a turkey.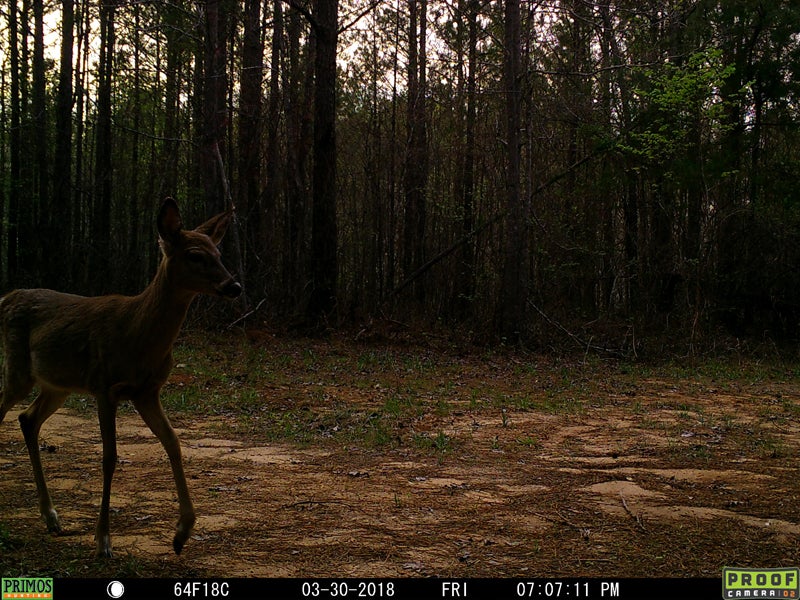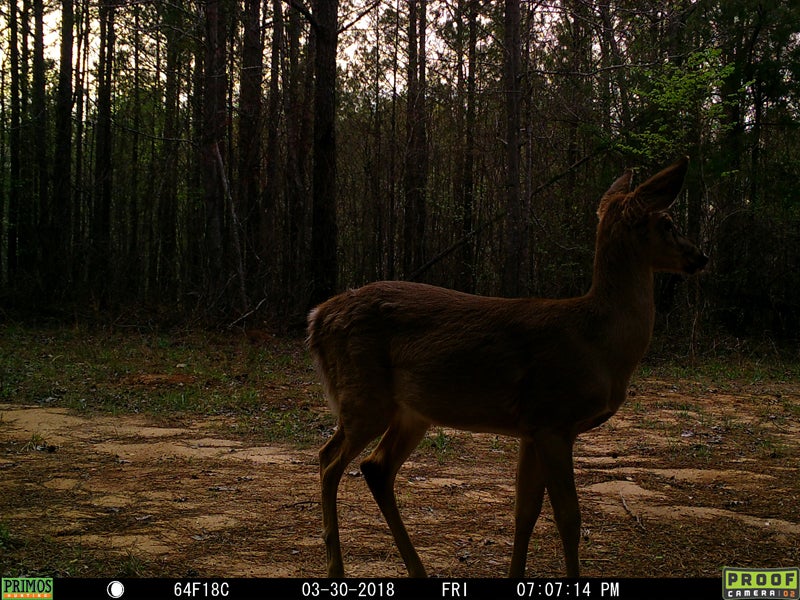 If you're looking at a large field where some activity may be out of range, you can use time lapse to automatically take photos at intervals of 1, 2, 5, 10, 30, or 60 minutes.
Final Thoughts
The Primos Proof Gen 2 – 02 Model 64055 camera is a good trail camera and I love its easy switch-operated setup, but it's not my favorite. Whitewashed night photos, clumsy latch, and inconvenient SD card slot are cons, but ease of setup, great battery access, and compatibility with exterior power source are all points in its favor. It takes great daytime photos, that's for sure.
MSRP is $162.95, but I saw it on Amazon for $112.81 with free shipping.