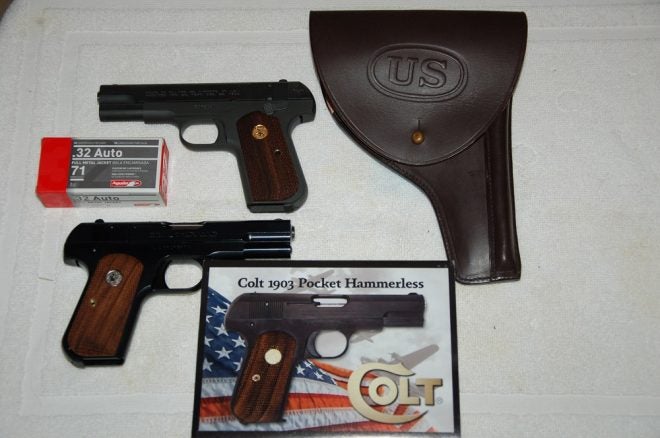 John M. Browning's final pistol design turned out to be one of his best. The Colt 1903 Hammerless Pistol was created in Belgium at the FN, Fabrique Nationale factory and some originally were at least produced there. Then the American gunmaker Colt signed an agreement to produce the 1903 Hammerless in the United States with a few modifications and enhancements. Thus began the history of one of the most all time popular handguns ever produced for civilians, military, and law enforcement.
Production officially began in 1903 and ended in 1945 roughly at the end of WWII. Some total of 570,000 were manufactured in several versions, changes, and further enhancements. Many were produced for the military in a Parkerized finish, but most came in a deep Colt blue or shiny nickel finish. True original military versions will have a serial number that begins with an "M".
History has it that Colt discontinued the manufacture of all pocket type pistols when it was revealed to the company that these guns had become very popular among the criminal element. In fact several notorious crime bosses, bank robbers, and others operating opposite the law used Colt pocket pistols. Thus Colt ended pistols in .25, 32, and .380 ACP at least for a time during the post war era.
As a testimony to the fondness to the Colt 1903 Hammerless as well as the Colt 1908 in .380 ACP, used gun sales for this model have remained vigorous all these years. Alas, most specimens I have seen at gun shows for 40+ years have been well used, highly worn, outright trashed, or demanding a King's ransom for purchase. I have rarely seen one sell for under $1000 in very good condition, while the very few pristine ones I have inspected were tagged at over $3000. It is tough to find a nice condition 1903 even on the available on line gun selling services.
Now fast forward to 2007 when a small company in Ephrata, PA began business making guns. Their ultimate goal is to produce historically significant firearms from the United States Military. Eventually they negotiated a license with Colt Firearms to once again produce the 1903 Hammerless Pistol in .32 ACP. The company also produces the 1877 Bulldog Gatling Gun and other machine guns, suppressors, and "collection worthy devices."
This company is the United States Armament Corporation headed by Curt Wolf. Their mantra is "Quality Hand Crafted Firearms" and they mean to produce the finest firearms of military significance. Among the first guns for them to produce under the Colt license is the 1903 Colt pistol. USAC has officially titled this newly manufactured pistol as the 1903 "Hammerless" General Officer's Pocket Pistol.
To add credence to this goal of producing high quality in their reintroduction of the Colt 1903, United States Armament Corporation hired Brent Turchi, the former director of the famous Colt's Custom Gun Shop that produced some of the finest guns to ever be offered for sale. Turchi has been charged with creating that same type of gun culture at USAC in the production of the 1903.
The development, design, engineering and production of the original Colt 1903s would make a great research hobby for gun enthusiasts. There are many really good books on the history of Colt to study sections on the 1903. Let me highly recommend The Colt Heritage by R.L. Wilson, and The Standard Catalog of Colt Firearms by Rick Sapp, among many, many other volumes.
If you really like guns, especially Colts, then start up a trace on the 1903s. As per usual, as I have often found researching the heritage of any gun that in many cases it reveals numerous versions and quirks of versions, standard models and more rare variations. That's the fun of it.
All of this even lends more credibility and delight to the new 1903s that are being manufactured today by USAC in Pennsylvania. When you closely inspect one of these pistols from USAC you'll find its specifications match the originals. This includes the .32 ACP chamber, standard blued, deep Colt blue, nickel, or military grey Parkerized finish (consumer option), 24 ounce weight, 6.5 inches total length, 3.75 inch barrel, fixed front sight with a rear windage drift adjustable sight.
The grip stocks on these Colts are checkered walnut with a gold Colt medallion. Early originals were black hard rubber grips with the "Rampant Colt" emblem. Nickel models came with real pearl grip panels. The black grips were changed to walnut in 1924. Thus fitting for the new 1903s.
The single magazine supplied carries 8 rounds making it nine total with one up the pipe. They come packed in a handsome old fashioned card box with a special graphic on the top cover.
These pistols are accurately stamped, too on the frame and slide. This includes a "US Property" roll mark on the right frame side as was official on the pistols delivered to various military services and units during WWII. This keeps with the USAC's goal of producing historically correct military arms.
You'll also find the original roll stamps for Colt Automatic, caliber .32, rimless, smokeless on the right side of the slide, and on the left slide Colt's patent dates, Hartford, CT., U.S.A. with the gun's serial number below on the frame. At the rear of the left hand side of the slide is the classic "Rampant Colt" stamp. Everything about these new versions are as the originals.
To check out these new Colt 1903s or to have your FFL dealer order one, review their web site at www.usarmcorp.com. But do they shoot? In a future installment, the range results and handling details will be revealed. Ammo is on its way now. Stay tuned.