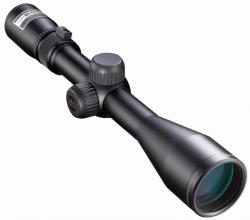 The revolution these days in the development of new optics for hunting and rifle shooting in general is nothing short of amazing. New scopes coming out all the time are not only pushing the cutting edge envelope on optical clarity through a complete range of power settings, but the durability has also increased. To top that, many new scopes are becoming more affordable all the time for the average hard working hunter.
Nikon needs no introduction here as a manufacturer of high quality optics. The Nikon name is legendary and fully recognized by anybody having used optics for any reason from scopes to binoculars to rangefinders. It is a top brand with a wide selection of options for any outdoors recreational use.
One of the newest Nikon's is their Buckmaster series riflescope model in a 3-9x50mm BDC in a most popular matte finish. They add this 50mm version to their Buckmasters II line that is already well established among hunters and hunting camps. This new model in 50mm will assuredly become a very popular configuration. In fact, the 3-9x50mm is my personal favorite riflescope balance in a variable magnification power range with a big 50mm objective lens.
Of course, the lenses on this scope are fully multi-coated which enhances the light gathering capabilities of the scope and greatly increases its optical clarity. This means when light hits the objective lens up front especially on this 50mm one, the user gets a view of no dark edges or blur whatsoever.
Sighting in this scope on any rifle is super simple. Nikon also offers their Spot On Ballistic Match Technology program which is a free app or available in an online program. This system matches the BDC reticle with the individual cartridge and load used with the rifle and scope.
Reticle adjustments on this Buckmasters 3-9x50mm scope are easy with the ¼ -inch at 100 yards set up. This scope also has spring loaded instant zero reset turrets, which means the scope can be returned to the -0- zero position after the sighting-in is complete. Parallax is also fixed at 100 yards plus it provides generous eye relief for the shooter. This scope is also rated waterproof, fog proof, and shock proof.
Added to such a high quality package is a suggested retail price of $179.95 that includes a Nikon limited lifetime warranty and their no fault repair or replacement policy. Check out this new scope at www.nikonsportoptics.com.