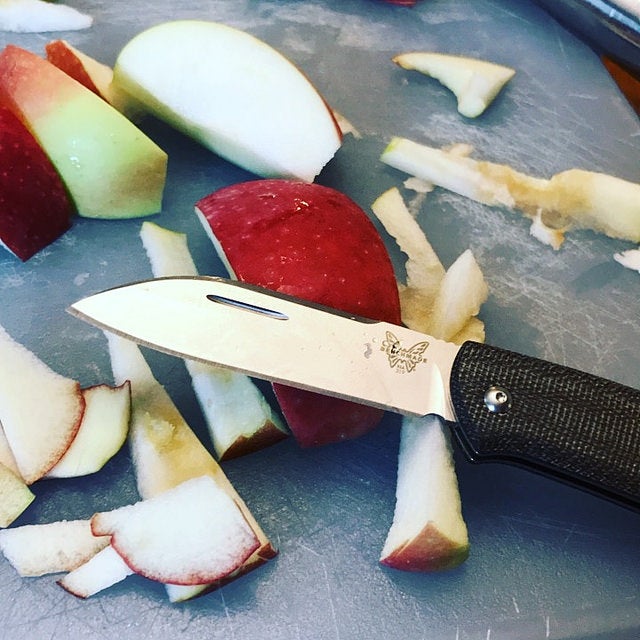 This is a long term review of an instant classic. I thought this was the best knife of 2017. The Benchmade Proper is Benchmade's most recent (first?) slipjoint. It is a traditional looking knife with a simple design and modern, powder metal steel. It is a knife that appeals to a wide range of audiences. If you are Case guy, this is your Benchmade. And if you sport the Contego most of the time, this can be your around town knife. Simply put, if you like edged tools you should own a Proper.
Description
The Benchmade 318 Proper is a classic "pocket" knife. It is thin, with thin blade stock, no lock, and no pocket clip. The Proper sold quite well the year it debuted (2017) and there are number of really compelling variants. Originally the Proper was released in maroon G10 and green micarta with a modified Wharncliffe blade shape. Later those same materials were used in a clip point blade version. Then earlier this year Benchmade released a blue G10 version in both blade styles with PVD black coated blades.
Finally, and as a sign that the design has truly done well, Benchmade recently announced a truly spectacular (or gaudy, depending on your perspective) Gold class edition with ivory colored G10 scales, a Mokume Gane bolster, and Hakkapella Damascus steel. The Gold class version comes in at a staggering $850 street price, but the other versions are quite affordable at $115 from Blade HQ. I have owned both the modified wharncliffe version and the clip point version, both in green micarta.
Testing
This is a pocket clip and so I didn't do anything stupid with it. Basically I did stuff with the Proper that my grandfather, growing up in the hollers of southern Ohio and northern Kentucky would have done with his pocket knife—light food prep, general utility tasks (I imagine, however, that he did not open boxes sent by Amazon), and some light fire prep. Because the knife lacked a clip it was bit different than most knives I review and it was too big to fit into the slipjoint slip cases I have. As a result, the Proper was carried as a true pocket knife and thanks to appropriately chosen materials and an uber thin design, it carried well during testing.
Design
Traditionally pocket knives decades ago were made according to patterns—Barlows, Canoes, Trappers, Elephant Toes, etc. From year to year, the makers—Schrade, Case, Queen, and others, would have gentleman's agreements about who made what pattern in a given year, thereby preventing the market from being flooded with a single pattern. As a result of these patterns and this gentleman's agreement traditional knives have a very set appearance, with the pattern more than the maker being the identifying element of a given knife. Thus, for traditional knives, everything is about the pattern. And here, despite the Proper's old timey appearance and feel, it is not a "pattern" of yore.
It absolutely looks and feels like it belongs from the host of patterns found on knives made in the 1930s but it is, so far as my research showed, a completely original design. And that is part of the genius of the Proper—it looks and feels like a traditional but performs like a modern knife. Other than an exposed rear tang (which is all but de rigueur for traditional knives), the design is total bulls eye.
Implementation
Among the Propers I have handled and the two I have owned the fit and finish has been superb. And unlike Benchmades of a few years ago, all of the Propers I have had came absolutely hair popping sharp. I would note that the clip point I have sports a significantly different detent (as a slipjoint there is no lock, just a detent holding the blade in place). It's not weaker or stronger, just different. I would note that the clip point I own is a production prototype and so I am sure Benchmade tuned the knife's design between the prototype phase and production.
Another note—if you want your knife to look super shiny and exactly like it was the day it slid out of the box, the green micarta is not for you. It will, over time, smooth out, going from a material that feels like blue jeans denim at the outset and more like G10 after about a year of use.
Final note, this might be the perfect use case for S30V. I have found that S30V was exceptionally chippy and in harder use knives it tends to chip out and be very hard to sharpen, much harder to sharpen than S35VN, CTS-XHP, and M390, all steels that are similarly hard. As a result I have not been thrilled with S30V blades, opting to avoid the steel when I can. But in a thin ground, medium use blade, there is absolutely no problem with S30V. In fact, its hardness actually allows for an even thinner than normal grind (a full flat ground Proper would be truly wicked). As used here, S30V provides as good performance as you will find.
Conclusion
The Benchmade 318 Proper is an outstanding knife. It is a compelling option for just about anyone that needs a cutting edge. Its appearance is 100% non-threatening, though it is bigger than many true pocket knives. I wish the nail nick was ambidextrous (as this is the only thing that prevents the Proper from being full ambi). I never like exposed rear tangs. But other than those two minute dings, there is nothing else bad I can say about the Proper. This is a truly superior blade.
It is also worth noting that this is a very reasonably priced knife for what you are getting. The steel, the fit and finish, and the design are all premium, but the price is pretty midrange for folders these days. That is all the more impressive given Benchmade's history of mysterious price premiums.
The Proper, even a year later, is still one of the most compelling blades on the market. If you haven't bought one yet, consider this review a friendly reminder.