Compound Bow Review: Mathews Triax + Video
Lucas Cooney 08.01.18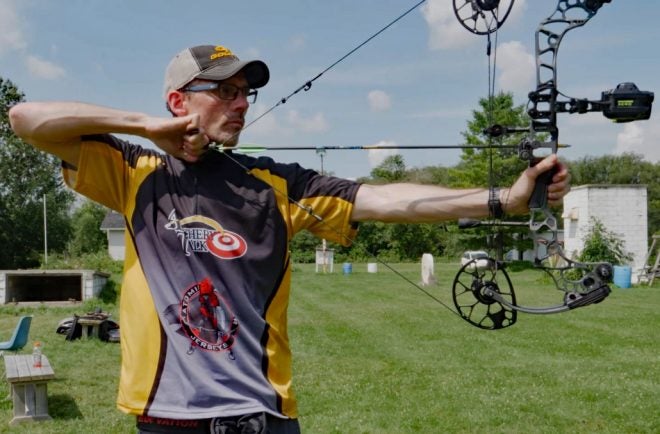 Several months ago I received a Mathews Triax compound bow in for testing for our sister site ArcheryTalk.com as part of its 2018 Hunting Bow Project
Specs on the Mathews Triax include an axle-to-axle length of 28 inches, brace height of 6.0 inches, mass weight of 4.4 pounds, and IBO rated speed of 343 feet per second. The bow carries a retail price of $1000.
Unlike any other Mathews bow I've ever tested, I have some issues with fit and finish on the Triax. The main culprit is some leftover junk in some of the cutouts, which I assume come from the machining process. These are a bit unsightly, but I'm guessing if you bought this bow and had a similar issue, Mathews would replace it no questions asked. I have also seen a bit of peep rotation on the string after a lot of shots through the bow. A few twists of the string sorted that out, but I'd consider buying a good set of aftermarket threads if I owned this bow.
When it comes to shooting, the Triax feels familiar, as it uses the same CrossCentric cam system found on the Halon series of hunting bows. The draw cycle is impressively smooth and has a generous valley.
Though I was concerned with how steady I could be with a 28-inch bow, the Mathews Triax has made a believer out of me. Even without a stabilizer, this bow feels every bit as steady as the Halon 32 I tested last year – even out past 70 yards.
While the Triax shoots great, this bow really stands out after the shot as it is quietest and dead in the hand bow I've ever tested.
To test out the speed, I shot a 350-grain Gold Tip Platinum Pierce arrow through a chronograph with the Mathews Triax set at 70 pounds of draw weight and 30 inches of draw length. I saw an average speed of 332 feet per second.
Anybody looking for a compact hunting bow would be wise to at least test out the Triax at your local dealer.
Learn more about the Mathews Triax here – https://www.mathewsinc.com/bows/triax