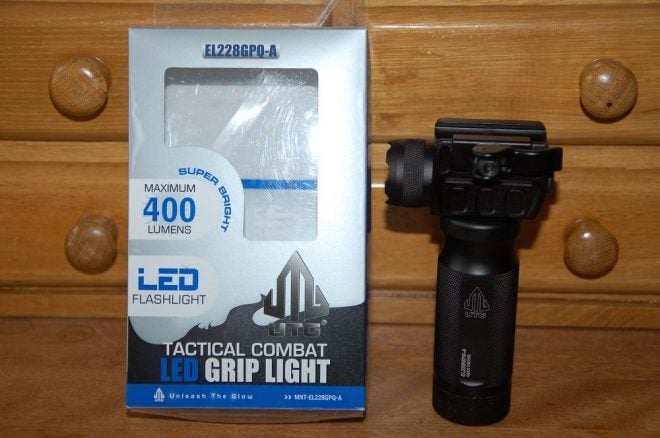 Leapers recently introduced another lighting device, this one designed to be an accessory attachment to any firearm Picatinny rail. The hand grip light could be easily added to an AR-15 rifle or combat/defense shotgun for private self-defense, or application to law enforcement needs.
Some may wonder the necessity of such a foregrip light fixture on a long gun. However, many tactical police operations or responses are conducted at night. This light feature provides an additional measure of safety for illuminating dark areas, alleys, streets, yards, or buildings. This gives the operator the advantage to light up a pathway or even to search out a hiding offender. This advantage also goes to the private citizen in need of light for similar situations.
The new Tactical Combat Grip Light is a double featured piece of gear. First when attached to a firearm rail under the barrel or multi-rail, it serves as a foregrip to add extra stability to aiming and shooting. Secondly, the device is an integral LED flashlight that features a CREE LED IRB or Integrated Reflector and Bulb with a pre-set flood focus. The light is rated at 400 Lumens.
The operator control is a single ambidextrous push button ON/OFF switch with a rubberized cover. The switch is situated at the rear of the light housing for easy reach from either side. The light uses two CR123A batteries with a constant burn time of 3+ hours. Insertion of the batteries into the grip cylinder is via a heavy knurled cap at the base of the grip/light. This cap has a rubber seal to prevent moisture or dirt contamination of the battery compartment.
The Tactical Combat Grip Light is manufactured of Aircraft grade aluminum with a total weight of only 12 ounces with batteries installed. The dimensions of the grip/light include a height of 5.17 inches. The grip surface is textured in a fine checkering type design for a firm, yet comfortable grip. The grip is finished in a black matte anodized finish to match many black gun finishes.
Easy and quick attachment or detachment is permitted by the built in quick detach lever lock with spring tension control. The quick detach lever can be adjusted for a tightness fit to a Picatinny rail via the supplied Allen wrench that fits into the integral lever Allen screw at the base of the lever.
The Leapers Tactical Combat Grip Light retails for around $50, but can be shopped cheaper. Check them out at www.leapers.com.