Compound Bow Review: APA Mamba 34TF + Video
Lucas Cooney 08.09.18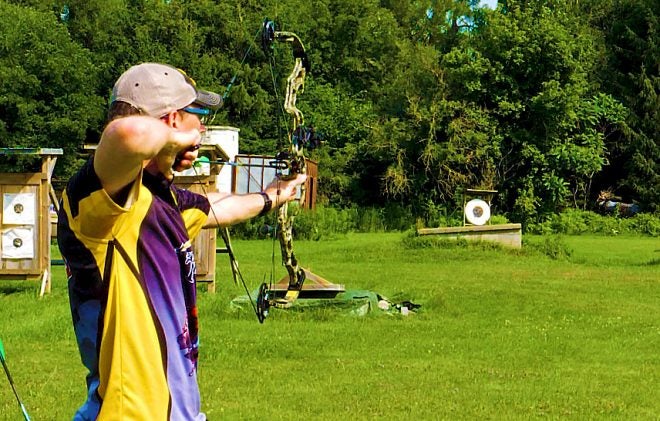 I have spent the past few months shooting the APA Mamba 34TF for our sister site ArcheryTalk.com as part of its 2018 Hunting Bow Project.
The APA Mamba 34TF is the longest bow in our project with an axle-to-axle length of 34 1/8 inches. Other specs include a brace height of 6 1/8 inches, mass weight of 3.9 pounds and IBO rated speed of 355 feet per second. The bow carries a retail price starting at $988.
This is the first APA bow I have ever shot and the Canadian manufacturer loaded it with features not seen anywhere else. It comes with a tree hanger built into the riser, broadhead sharpener, broadhead wrench (shaped like a maple leaf), and a carrying handle.
But the most intriguing feature is APA's cam lock system. Using the cam lock pin, you can work on your bow or even change out the string and cables without the need of a bow press. In my opinion, this adds an incredible amount of value. Imagine being at hunt camp and you accidentally damage your string – maybe on a broadhead. So long as you keep a spare set with you, replacing any damaged string or cable is a snap. It's something that could easily save a hunting trip.
My test bow came outfitted with APA's Rotating Draw Stop system, which is normally purchased as an option. This is a limb stop system and it allows you to make micro adjustments to draw length and the valley, depending on which direction you rotate the stops. Like all limb stops, the back wall is quite firm.
Fit and finish on the APA Mamba 34TF is generally quite good. The Desolve Wing camo seems well done and I like the soft-touch – almost rubbery finish. I did experience a good amount of string stretch, though, which made tuning the bow tricky, but the bow itself is holding up quite well.
Speaking of tuning, I had some trouble getting the cams properly timed on the Mamba 34 TF. I put a call into the APA and was told to try putting half twists in the top or bottom yoke cables to make micro changes and that really did the trick. However, if I owned this bow, I'd invest in a high quality aftermarket string and cable set.
When it comes to shooting the Mamba, the draw cycle is fairly smooth for a speed bow, though a bit stiff, which is to be expected. The valley is currently set up fairly short, but a small change in the RDS system will change that. After the shot, I do notice that this bow has a bit of vibration, but it's in no way out of line.
Grip is always a huge factor for me and I quite like what APA has done here. The grip is flat and fairly narrow and fits my hand well.
I'm generally happy with the accuracy of the APA Mamba 34TF. When I do my part, the arrow goes where it should. But I don't hold quite as steady with this bow as I do with some others. I'm guessing some of that could be cleared up with a stabilizer with some weight up front, as this bow runs pretty light at less than four pounds.
To test out the speed, I set up the Mamba with 70 pounds of draw weight, 29.5 inches of draw length and shot a 350-grain Gold Tip Platinum Pierce arrow through the chronograph. I saw an average speed of 329 feet per second, which is a bit lower than I'd expected out of a bow with an IBO rating of 355 feet per second. It's still a fast bow – just not quite as fast as I expected.
If you are in the market for a longer hunting bow packed with unique features, have a look at the APA Mamba 34TF