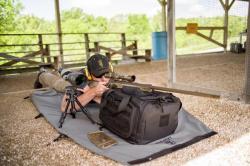 Browning Arms Company out of Utah has long been known for its exceptional quality firearms especially their long history of producing proven hunting rifles. The X-Bolt line of hunting rifles was introduced several years ago and has taken a strong position among hunters using bolt action rifles.
Recently announced, Browning is expanding its offerings of the X-Bolt rifles to include two new models. Also to be included in the rifle line expansion is the addition of some new caliber choices for hunters to select.
First up in the new lineup will be the X-Bolt Medallion Safari Grade rifle. Features of this model will be a new deep polished blued fluted heavy sporter barrel. The barrel will be enhanced with gold accented engraving. The rifle's receiver will also be engraved in a polished blue. The stock will feature a gloss finish, checkering, on a Grade IV/V walnut. The fore-end tip cap will be of rosewood as will the pistol grip cap. The rifle will be available in both short and long action calibers. Prices range from a retail of $1999.99 to $2049.99.
The second new X-Bolt will be a Hell's Canyon Long Range Rifle. Long range hunting rifles are growing in popularity and Browning is there to fill the void. Features will include a Cerakote Burnt Bronze finish, a heavy sporter barrel that is fluted, and a composite stock with textured gripping surfaces with a palm swell. The stock will be covered in A-TACS AU Camo that is a Dura-Touch Armor Coating.
The Hell's Canyon rile will be chambered in 6.5 Creedmoor, .270 WSM, and .300 WSM, the new .26 Nosler, 7mm Remington Magnum, .28 Nosler, and the .300 Winchester Magnum. Barrel lengths will range from 22 inches to 26 inches depending on the caliber. Retail pricing goes from $1229.99 to 1299.99.
Overall other features include steel receiver, drilled/tapped for the X-Lock System, a feather trigger, free float barrel, bolt unlock button, 60 degree bolt lift, rotary magazine, tang safety, an Inflex recoil pad, and sling swivel studs. This makes these new X-Bolt rifles field ready for heavy duty hunting.
Browning is also making available the .28 Nosler in its Hell's Canyon Speed Rifle as well as the ever more popular 6.5 Creedmoor to seven other models of rifles in the X-Bolt series. For complete details and more information check out Browning at www.browning.com.