Subscribing to a Gear Delivery Service
Kevin Felts 08.16.18

How many of the readers have considered subscribing to a gear delivery service?  In short, the company sends the customer a box of goodies every month.  Contents of the box can typically be targeted towards certain audiences.
A few weeks ago my son told me he had subscribed to a fishing service called "Lucky Tackle Box."  The service has three preset bundles:
Regular – $15.99 per month. Value is supposed to be over $26.
XL – $25.99 per month. Value is supposed to be over $40.
Tournament – $46 per month. Value is supposed to be over $85.
Each bundle can target a certain type of fishing, such as crappie or bass.
Why Subscribe To A Service?
Walk into a nation wide chain sporting goods store, and chances are the customer will see products someone sitting in an office decided will sell best for a certain area. For example, Wal-Mart stores close to salt water will typically sell more salt water gear than fresh water. Go to a Wal-Mart several hundred miles inland, and the store will probably only sell fresh water fishing gear.
Subscribing to a service can offer the customer a range of products they probably would not see in local sporting goods stores.
The boxes are not just for fishing:
Sportsman's Box – hunting gear.
Hunter Haul – hunting gear.
Bow Hunter Box Club
Man Crates
Reel Tackle Box
Rather than spending hours upon hours shopping for hunting or fishing gear, why not let someone else do the work for you?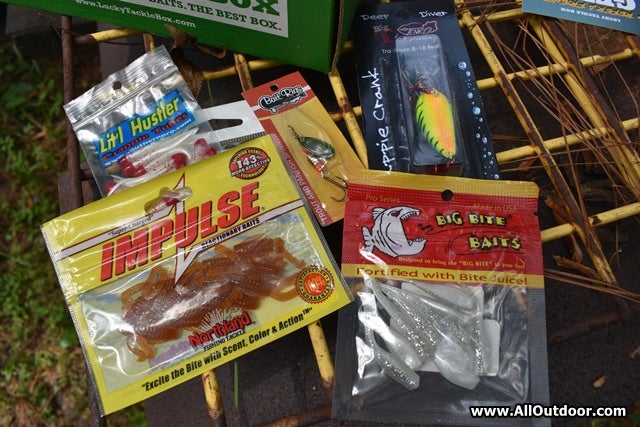 $15.99 Lucky Tackle Box Example:
10 – Lit'l Hustler crappie tubes
10 – Mustad size 6 hooks
10 – Big Baits 2″ Crappie Minnr Silver Glitter Pearl Lam
1 – Bait cloud
12 – Impulse Baits Water Bug Natural lure
1 – Jenko Big T crank bait
1 – Bait Rigs Trout and Panfish Spinner
Fishhound pamphlet – 4 baits to catch fish in any water
The above example is for crappie, perch, and pan fish.  If the customer wants to receive a different assortment, they simply log into their account and change the type of box they wish to receive.  Think you have enough crappie gear, change the next box to bass fishing.
I am not sure if everything in the box adds up to the advertised price of over $26.  However, the selection of gear seemed nice and varied.