Compound Bow Review: Hoyt Carbon RX-1 + Video
Lucas Cooney 08.17.18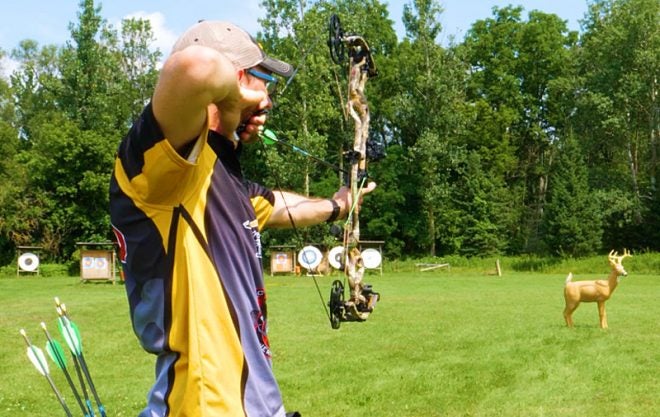 For most of 2018 I've been shooting the Hoyt Carbon RX-1 for our sister site ArcheryTalk.com's 2018 Hunting Bow Project.
Specs on the RX-1 include an axle-to-axle length of 32 inches, brace height of 6 inches, mass weight of 3.9 pounds and IBO rated speed of 340 feet per second. This bow has a retail price of $1,549.
When it comes to fit and finish, Hoyt takes a back seat to nobody and the RX-1 is no exception. The swooping design of the carbon riser looks like nothing else on the market. My test bow is dressed in RealTree Edge camo, which looks flawless, but I prefer the Buckskin finish I had on last year's Carbon Defiant. Fortunately, Hoyt offers six different finish options, eight different accent color options and four custom hunting finishes, so you have lots of choice.
Hoyt has a new X-Act grip on the RX-1 and it's a great change. It doesn't feel like it wraps around your hand like the grip on the Carbon Defiant, but it is comfortable offers up an easily repeatable hand position.
The draw cycle is nice with a minimal drop into the valley thanks to the new ZT Hyper cams, but I prefer how the DFX cams on the Carbon Defiant felt – at least a little. With 85% let off, the valley is very generous and it's easy to hold at full draw for extended periods of time. The back wall is on the soft side compared to some of the other bows I've tested this year, but I generally prefer a bit of give in the wall.
When it comes to holding on target, the Hoyt Carbon RX-1 is probably my favorite bow of the year. I've shot this bow out to well past 70 yards and it groups really well. Put a short stabilizer up front and give me target sight with a lens and a single pin and I think I could shoot this bow about as well as I can with my target bows. It is confidence-inspiring.
Tuning the Hoyt Carbon RX-1 has been pretty straightforward. It was grouping great for me straight away, but when I started testing fixed blade broadheads, I found it shot best for me with a bit of right cam lean. A Hoyt Pro told me he got the best tune with zero cam lean, so it's possible I'm adding some unnecessary torque. If I was going to hunt with this bow, I'd dig in a little further and try to find a way to straighten the top cam out.
To test out the speed, I shot a 350-grain Gold Tip Platinum Pierce arrow through a chronograph with the Carbon RX-1 set at 70 pounds of draw weight and 29.5 inches of draw length. I saw an average speed of 325 feet per second. That is pretty close to where a 340 IBO bow should be when you consider draw length and weight on the string from the peep and D-loop.
Overall the Hoyt Carbon RX-1 is a fantastic bow. The carbon riser makes for a lighter and stiffer bow and its much nicer to hold onto when it gets cold, but the price is a real obstacle. Fortunately, the Hoyt Hyper Force shares the exact same specs as the RX-1, but is a touch heavier, has an aluminum riser and costs $450 less.
But if carbon is what you want, the RX-1 is definitely worth checking out.