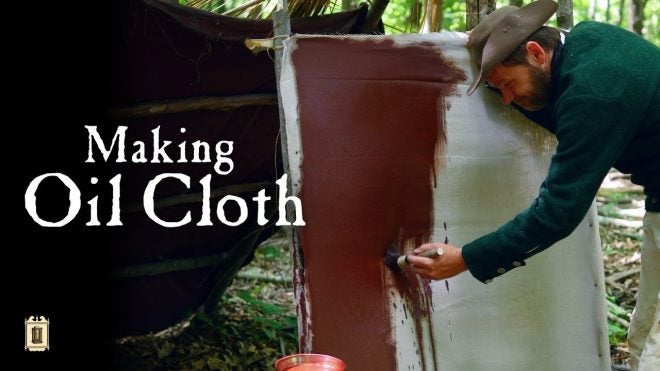 Most of us these days use plastic tarps for keeping things dry, but we forget that once upon a time, folks had to make their own waterproof materials… and you can too, even if you are living off the grid or just trying to live like the old-timers. In this video, Jon Townsend talks about how folks used oilcloth in the 1700s: As tent/tarps and ground cloths for camping, waterproof gear bags, water-resistant clothing, covering their costly hats in the rain, and for other water-shedding purposes… and then he gets right into showing you how to make oil cloth yourself.
Instead of boiling linseed oil with toxic lead oxide as the old-timers used to do, he starts with pre-boiled linseed oil. He adds some paint thinner to act as a drying agent, plus some iron oxide (rust). Mix those together, and then it's time to get busy!
Get busy doing what? Well, painting that stuff onto a stretched linen cloth, in order to saturate its fibers and fill all of those little square holes that are part of its structure.
During the course of the video, he shows some oilcloth that he made a few years earlier, which is in bad shape. Seemingly, the cloth itself has been destroyed by acids and all that remains is a weak coating of the oil paint that gives oil cloth its name. But he also talks about another one he made, which has lasted pretty well.
He also tosses in some CYA info, in which he warns folks that this stuff is flammable, and maybe they don't want to burn themselves to a crisp.
In the comments, he notes that a little more than a week later, the oil cloth was fully dry and ready to use. Pretty cool.