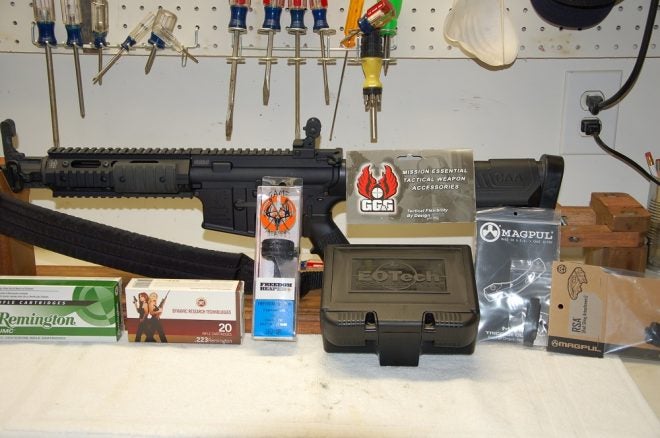 John J. Woods
Magnolia Outdoor Communications
BUILD A FRIENDLY AR RIFLE
Want to have a customized rifle built just for yourself? Easy enough done with the ever-so-classic AR-15 format. You pick a base model or a grade up and start to create the service rifle you have always wanted.
The easy part is starting with a platform like the AR-15 that is so easy to mold into just the exact rifle you want to perform the exact tasks you desire. The hard part is trying to decide what modifications to make to get the rifle just the way you want it.
The idea of a "friendly" rifle is simply to create a model with all the bells and whistles you want, but ones that are easy to reach and control virtually without having to think about it. So, how do you start?
The recommendation is to acquire a base model AR with at least some of the essentials to start the makeover. Get a rifle with a full fore end rail, 3 or 4-sided that has a Picatinny rail feature on top for optics, or the KeyMod or M-LOK options for adding accessories. If you are left handed, then get a rifle with the controls on the right side, or get an ambidextrous model so both sides function the same just in case you need to swap operator sides.
Opt for an M-4 type adjustable butt stock, not the old fashioned fixed slab stock. This will give you options for length of pull as shooting situations vary, but also for close quarters work or ease of carry.
Add a good set of adjustable open sights. There are many models on the market, but make certain they are fold down and flip up types. Look at Magpul, GG&G, Midwest, or other good brands. Scan the pages of Brownell's web site to see what is available.
Next look into a variety of ways to carry the rifle via a sling. A traditional two-point, front and rear is fine. Consider adding a one-point carry option via a loop, hook, or pushbutton sling attachment point. Check GG&G for the best built options.
Optics will depend on how or what you shoot. If you hunt, go with a variable glass optic. If you want a self-defense mode, then consider a good red dot or holographic sight. Look into EoTech, Aimpoint, SIG-Sauer, Firefield or others. Go with a quick detach mount.
Add other accessories as time and use goes on. Vertical grips, angle grips, lights, lasers, whatever. Customize the rifle as you want. Just make it friendly.