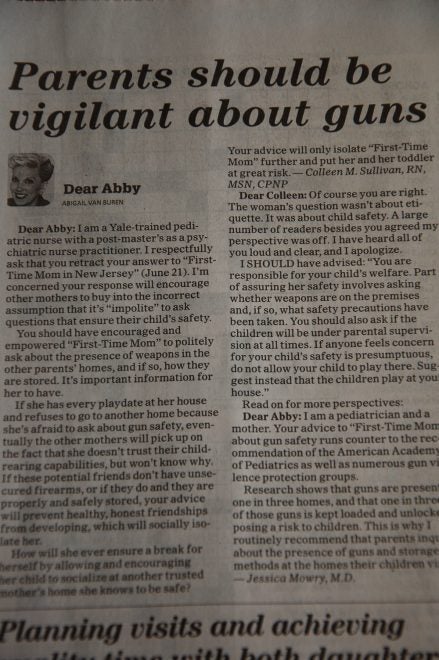 John J. Woods
Magnolia Outdoor Communications
DEAR ABBY FLUBS HOME GUN SECURITY QUESTION
Dear Abby's readership never misses a thing. Abigail Van Buren better known as "Abby" is a syndicated writer of a wide spectrum advice column in hundreds of newspapers all across the country. She offers good, common sense, practical words of wisdom to folks writing in questions or comments. She rarely misses the mark, but we all do sometimes.
Apparently in a recent column Abby offered advice about mothers sending kids over to other houses for a "play time" concerning their inquiries as to the presence of firearms in that house and their security. Boy, she caught heck on her response. I gathered she advised that it was no business of the mother to inquire about guns in the house where the child was going to play.
Her apology included that certainly parents have the right (or perhaps the obligation) to ask if firearms are at a house where her child is going to play, and what safety precautions are taken to safeguard kids playing there. Ok, that sounds reasonable.
However, for me, the bigger question is that if there are firearms in any residence regardless of the circumstances, they need to be guarded safely and fully protected from unauthorized access. This may not mean locked in a safe if in fact you have one or more household guns for personal protection, but they still need to be in a locked, quick, code access handgun case or otherwise put up in a place where only authorized people can get to them.
Though I see nothing wrong with anybody inquiring of friends or neighbors if they have a loaded gun in the house before their kids go over to play, it is really the basic responsibility of the homeowner to secure firearms on their property. That is just plain and simple common sense that should not be ignored by anyone having a loaded gun in their house.
In the state where I reside, just this summer there have been multiple cases of young kids being shot and killed by "accident." The kids found a gun in the house that was loaded and ready to fire. Sure, they were just "playing" with the gun when it went off killing somebody. There is no excuse, ever, for something like this happening. Adults and parents are responsible for this.
If you have or intend to have a loaded gun where you live, then secure it. Even if the firearm is meant to be available for protection, it should also be "protected" from others.