HydraPak Shape-Shift 3L Water Bladder Review
Russ Chastain 09.17.18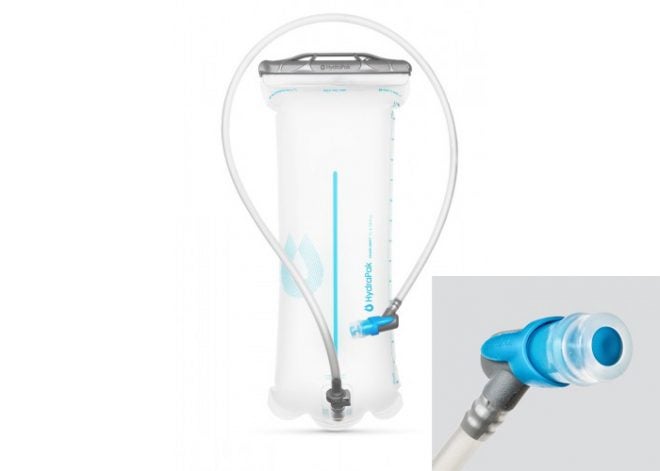 When it comes to water hydration bladders, most can leave something to be desired. They can be tough to clean, might be leaky, may not hold their shape, and the valve might be difficult to use. None of this is true of the HydraPak Shape-Shift 3L.
I'm no expert on water bladders, but I can attest that this thoughtfully-designed product works well and is quite flexible (in more ways than one).
Manufacturer specs/features:
Capacity: 3 L / 100 fl oz unlocked; 2.5 L / 84 fl oz locked
Weight: 152 g / 5.3 oz
Dimensions: 440 mm / 17 in x 165 mm / 6.5 in
Materials: Thermoplastic Polyurethane; HDPE; Silicone
Shape-Shift™ baffle locks for a slim profile and increased stabilization; unlocks for full volume and reverses for easy cleaning.
Slide-Seal™ top opens wide for easy filling and closes tight for a leakproof seal.
High-flow Blaster™ bite valve self seals after each sip and features a twist on/off bar to prevent leaks when not in use.
Plug-N-Play™ connect system lets you easily disconnect the drink tube (an auto shutoff valve prevents leaking) and remove the reservoir from your pack for convenient refilling.
Fully reversible for easy cleaning and drying, top-shelf dishwasher safe.
Made of ultra-durable, abrasion resistant TPU & RF welded seams for superior durability and elasticity.
Can be frozen or filled with hot water (max temp 60° C / 140° F.
Safe and reliable, 100% BPA & PVC free.
During a recent hot-weather deer hunt, I broke out this bladder along with a Slumberjack Pursuit vest pack so I could stay hydrated while hunting in 90+ degree temperatures. It worked like a champ.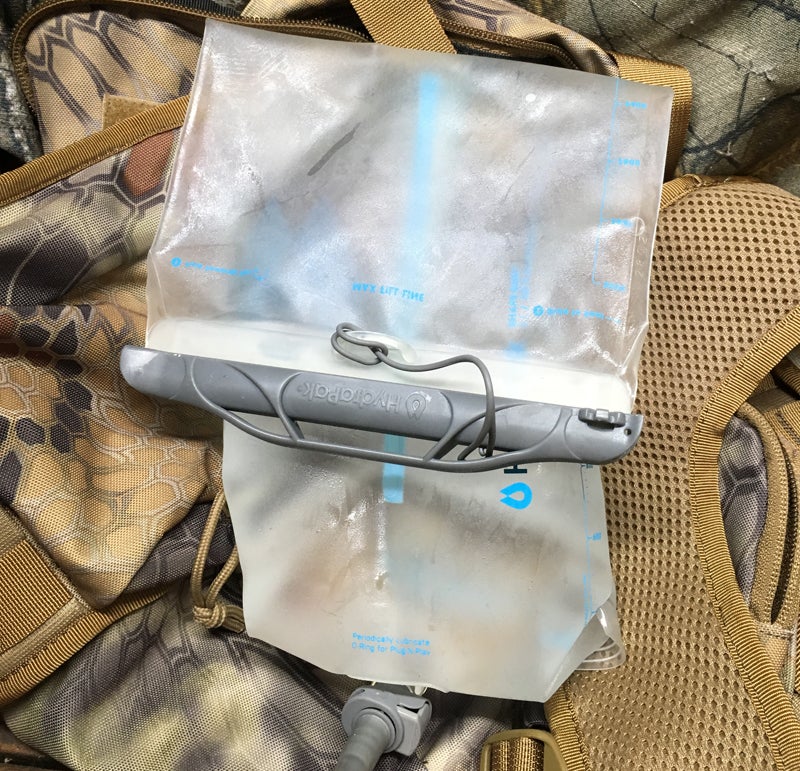 I started out as you always should with something you eat or drink from: I washed it. This HydraPak is designed to be fully reversible, which meant I could turn it inside-out and wash it. Problem: The internal Shape-Shift baffle was really locked together. This baffle holds the front of the bladder to the rear to help the bladder hold its shape. It connects in the middle by a super-heavy-duty ziploc-type connection.
I was hesitant to pull too hard on it, but that's what it took. After that I was able to fully reverse the bag and wash it with soap and water. After thoroughly rinsing it, I reversed it again. Getting the baffle back together was tricky but doable, and I filled it up to the line, removed the air, closed the top, and stowed it in the fridge so I'd have cold water for my next hunt.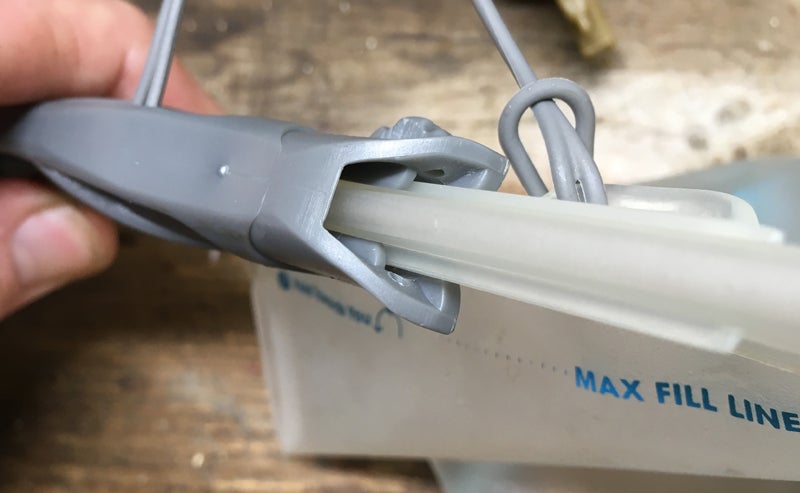 The top opening is heavy-duty and provides a great seal while being easy to open — wide — for easy filling. Re-sealing is just as easy.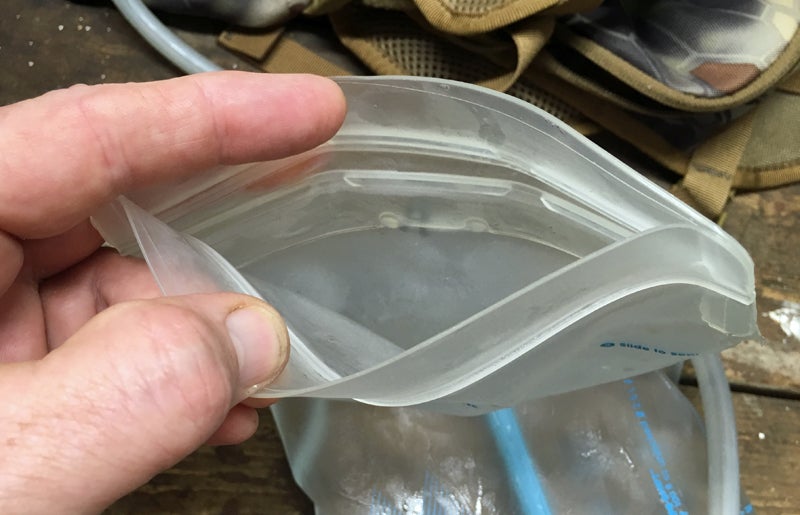 The hose is easily detachable, and the bladder will not leak when you remove the hose. The attachment point is self-sealing, which is handy. Simply slide the catch over to one side and remove the water hose. To install the hose, just push it in until it clicks in place.

The bite valve allows good free flow of water, and was easy for me to use… although I usually prefer to drink without suction. There's a twist valve that will completely close it, if you feel the need to do so during transport. I left mine open and didn't have any leakage.
The generous 3-liter/100-ounce size of this model is only attainable with the internal baffle unlocked. With the baffle in place, it holds 2.5 liters or 84 ounces. Still more than enough to get through most hunts, and almost more than my small vest pack could hold… but it did fit.
The HydraPak Shape-Shift 3L allowed me to stay hydrated while on the deer stand, without a bunch of extraneous movement… and although not insulated, the bladder kept my water cooler than my usual water bottle would have. Heck, you can even freeze this thing so it helps you keep your cool, and drink the water as it thaws.
If you need warmth, it can be filled with hot liquids, too — up to 140 degrees F.
Something tells me I'll be using this bladder quite a bit during the coming deer season. MSRP is $35.00 but Amazon currently has it for $28.78 with Prime shipping.