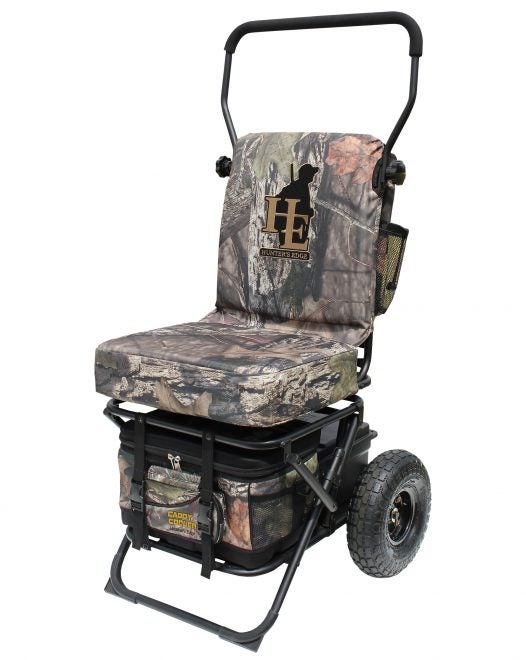 No matter how minimalist I try to make my hunting gear, it seems like I'm always needing (or at least wanting) to take more stuff with me. And when it comes to dove hunting, I really do need quite a bit of stuff. After all, I spend hours at a time on a dove field in 90+ degree weather, so I need shotgun shells, cold drinks, a cool place to store my doves, some way to carry extras like choke tubes, somewhere to stash my empty shells, and a comfortable place to sit.
The Mac Daddy Caddy might just be the solution we've been looking for. It's a swivel hunting chair with 300-pound capacity (you can lock it to prevent swiveling if you wish) with a backrest, a thick padded seat, and a passel of pockets — not to mention its own cooler and hard plastic storage box — and a set of wheels to help you get where you're going.
It folds up for transport in your truck or UTV bed (or car trunk), and aside from your scattergun it's about the only thing you need to grab before you head out to the field. And now it's available in Mossy Oak BreakUp Country camo pattern.
Here are some specs:
10-inch all-terrain air tires
360-degree silent swivel seat
3-inch density foam bottom cushion
2-inch density foam back cushion
18-can soft side camo cooler
Heavy-duty 12x9x5 plastic accessory box
4 separate storage pouches
2 water bottle holders
Large camo shell pouch
600 Denier water resistant fabric
Weighs 33 lbs.
Measures 21″x16″x34.5″h
Supports 300-lb static weight capacity
MRSP: $229.99
And the manufacturer's description:
The Mac Daddy Caddy is a revolutionary mobile hunting chair designed to take all the work out of transporting gear to and from your favorite outdoor adventure.

Whether you're pushing or pulling the Mac Daddy Caddy, you will have to marvel at how easy it is to maneuver, and how relieved you will be not having to carry all your gear by hand. The Mac Daddy Caddy can easily be placed into the back of a pickup truck, SUV, or trunk of any medium-size vehicle. Comfort, convenience, and mobility create the Mac Daddy Caddy by Hunter's Edge.
If you're interested, you can order one at the manufacturer's website, and there's an informative video on that page as well.