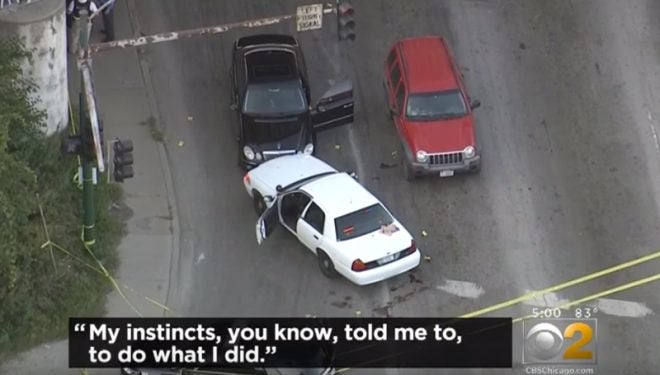 When a pair of Cicero, Illinois police officers stopped a car that had been moving erratically, the car's driver reportedly came out shooting. He hit one of the cops three times in the process — and a nearby armed citizen joined in the shooting to put an end to the fight.
Cicero police Officer Luis Duarte, 32, was shot three times Thursday on Cicero Avenue near I-55 in Chicago. He and his partner were in uniform in an unmarked squad car when they tried to stop a black Mercedes that was driving erratically.

The officers boxed in the car, prosecutors said, and Mageo got out shooting. The officers returned fire, but Duarte was shot in his shoulder, hip and leg before Mageo took off running, authorities said.
The helpful citizen fired three shots at the bad guy, hitting him once in the leg. Injured and with every cartridge in his pistol's "extended clip" (eyeroll) fired, the crook apparently asked police to finish the job.
Mageo then yelled at the officer that he should kill him, Lisuzzo said.
The bad guy was denied bail, had previously been convicted of human trafficking, and had outstanding warrants for a parole violation and a sex offense.
Although one report says the citizen missed, an interview with him (video below) says that he is the one who put the bad guy down. After the action, he rendered first aid to the injured officer.
The armed citizen was reportedly lauded by police.
'We were lucky enough to have a citizen on the street there who's a concealed-carry holder, and he also engaged in gunfire,' Cicero Police Supt. Jerry Chlada Jr. said

-+-+-+-+-

Cicero town President Larry Dominick commended the citizen shooter, who has not been named.

'He got out and started helping the police, which is something I've got to be proud of,' Dominick said.
Would you have done the same?