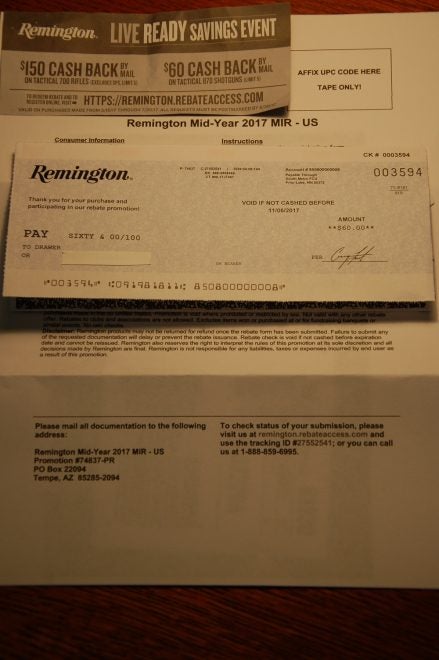 John J. Woods
Magnolia Outdoor Communications
PREPPER TIPS: TAKE ADVANTAGE OF REBATE COUPONS
Preppers are missing out if they do not take full advantage of manufacturer's rebate coupons or other sales specials for survival gear. Preppers need to be proactive when it comes to keeping an eye out for coupons and special product rebates that can save some extra bucks on gear you might be buying anyway.
Another check just came in the mail for a new shotgun. Just by accident when I was shopping around at a big box outdoors equipment retailer I happened to notice a tablet of peel off rebate coupons on the counter. These are a lot more common than you might think, but often the sponsors don't really advertise them that much. I shopped the gun at another outlet at a better price, but the rebate was still good.
An exception for these advertised rebates are with firearms manufacturers. They will run a series of full page ads in many of the major outdoor magazines featuring shooting, guns, and hunting. Most of the rebate details are then offered through their own web site or one set up just to handle the rebates.
Then, many times the retailers will have these rebate coupons lying around on the sales counters or in a special designated place in the store. I have seen some circumstances when the rebate announcement poster or placard in the store will say "See store management for details." This usually means the customer service counter has the coupons or necessary manufacturer's paperwork to fill out for a mail in submission.
How ever the rebate works, be sure to fill out the coupon or paperwork completely as instructed. Failure to do this properly may result in not getting the rebate at all or certainly causing a delay if they have to return it to you for correction, deletions, or additional information that was left off or otherwise submitted incorrectly. It's not like they are trying to trick you, but they have their procedures to get the money, and you have to follow them to the letter.
Most of the time the coupons will ask for the original dated sales receipt to prove the product was bought during the rebate campaign so be sure to keep that. Also sometimes the company will want a serial number sticker off the box or owner's manual, too.
Product rebates save you money. I have seen them for chainsaws, gasoline generators, tools, camping gear, and all types of firearms. Be sure to take advantage of such offers.