Review: The CAT S61 Is the Ultimate Outdoors Smartphone You Didn't Know You Needed
Jon Stokes 10.09.18

With the recent and very unpleasant exception of a year-long stint with the Samsung Galaxy S8+, I've been an iPhone user for most of the past decade. I don't really care that much about Android phones, and I don't generally read Android phone reviews.
But I kept seeing these CAT-branded phones come up in my feed, and when I finally looked at a review of the CAT S61 ruggedized smartphone I knew I had to try one. Here was a phone made not for the bling-obsessed "you ain't even up on this" crowd, but for the kinds of real-world use and abuse that hunters and outdoorsmen subject their gear to.
The CAT line of phones was originally made with the jobsite in mind; these are phones for people who work in harsh environments, and who typically have to wrap their smartphones in giant Otterbox cases to keep them from being destroyed. With this in mind, the S61's basic pitch is brilliant: instead of wrapping a giant case around a small phone, just ruggedize a state-of-the-art phone itself and pack it full of battery and extra sensors.
In other words, for about the same amount of space in your pocket that a heavily armored iPhone takes up, you get a bombproof, Leatherman-tool-of-a-smartphone with days of battery life and complement of specialized built-ins like a FLIR thermal sensor, air quality detector, and laser measuring device. Why has nobody thought of this before CAT?
I was originally drawn to the S61 as a prepper phone — this is the kind of device that you can stuff full of offline maps and books and add to your emergency kit. It has so much battery that it even doubles as a charger for other, lesser phones and gadgets. At some point I will review this phone from the standpoint of prepping, but for now I'm going to discuss its highlights as an outdoors phone.
Here's a look at my first couple weeks with the CAT S61 on T-Mobile.
Specs and Features
The S61's basic specs are solid enough to be competitive with the current crop of smartphones. You can find an extensive spec sheet, here, but below are the highlights:
Screen: 5.2 inches, 1080×1920 pixels, 16:9, 424 PPI
Storage: 64GB internal, 4GB RAM, microSD card slot up to 256GB
Cameras: 16MP main camera with built-in FLIR thermal imaging, 8MB secondary camera
OS: Android Oreo
CPU: Octa-core 2.2 GHz Cortex-A53
GPU: Adreno 508
Talk time: 35 hours
Standby time: 37 days
GPS: A-GPS, GLONASS, GALILEO, QZSS, SBAS
Wireless: NFC, GSP/HSPA/LTE, Bluetooth, FM Radio, WiFi 802.11 a/b/g/n/ac
Size: 5.91″ x 2.99″ x 0.51″
Price: $999 USD
So far, it looks like your average high-dollar premium smartphone circa 2018. But the first hint, aside from the thermal camera, that you're looking at something really different is the insane amount of talk time and standby time.
I don't know that I've spent 35 hours of talk time with the device, but I can vouch that the standby time is measured in weeks, not days. I'm on T-Mobile LTE, and I can easily get over two weeks of standby out of this thing without running it all the way down, depending on what I leave running and how I configure the other wireless radios in it.
The insane battery life, the price of which is the device's overall bulk, is one of the main selling points.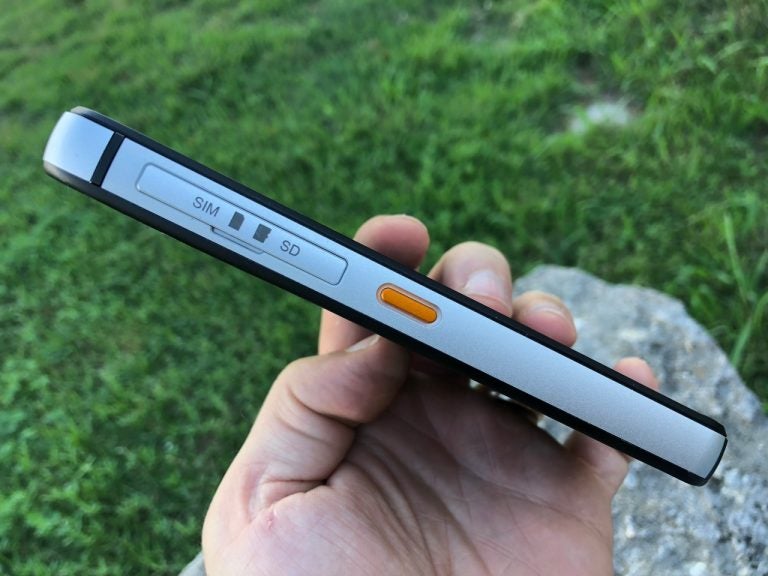 The phone's ruggedized aluminum case is another; it's MIL SPEC 810G certified, and can survive a drop onto concrete of up to 2 yards. The ruggedization also extends to temperatures, as the phone can keep working in temperatures from -13 F to 131 F.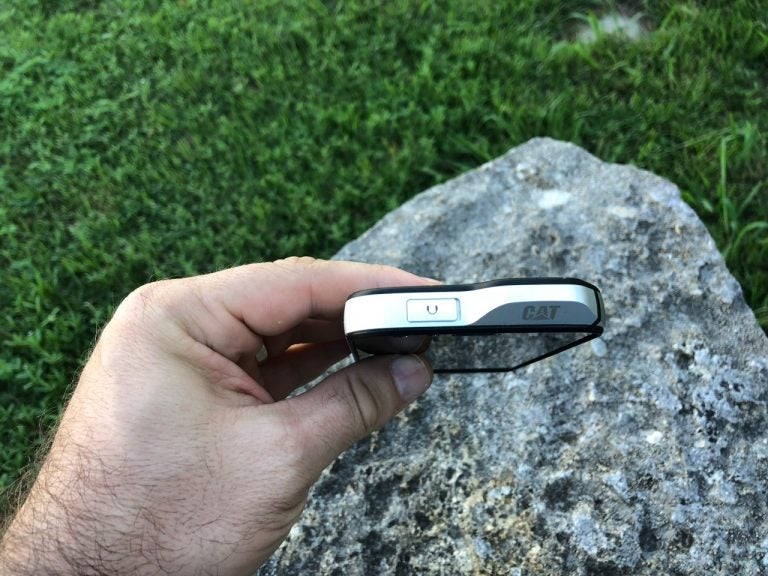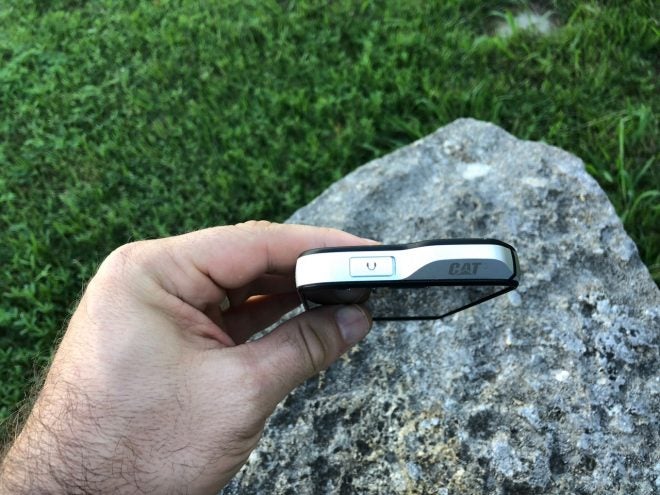 CAT is also touting the phone's water resistance. More and more smartphones are okay with a brief dunk, but the S61 is sealed off by default and can survive up to 60 minutes submerged in up to 3 meters of water.
There is also an ingress protection rating (IP68 &IP69) — this means the phone is dust- and sand-resistant — along with category 4 shock resistance, and resistance to humidity and salt mist.
What all of this adds up to is a phone that's well-suited for outdoors use, even in extremes of summer or winter. It's just not going to choke if you drop it in sand or snow.
FLIR Camera
One of the main attractions of this phone for me is the FLIR thermal camera. Thermal imagers, which you can rent at Home Depot, have a ton of uses in construction and manufacturing. You can locate leaks in a building, do pest control, or measure the amount of heat being put off by a machine (regarding this last, the S61 can measure temperatures up to 750F).
The camera works really well in the day, and uses the regular camera to provide an outline/edge view that maps onto the thermal view and makes it easier to tell what you're looking at.
There are also some new night-optimized filters for using the camera to see in the dark. This lets the phone replace a dedicated hand-held thermal unit for a number of close-range hunting and tracking situations, i.e. spotting a downed animal in the brush, or following a warm blood trail in the dark.
The FLIR camera works very well, and while I couldn't manage to get any deer on it at night I did take it out to look at my horses in the dark. At one point I turned on a flashlight and the camera used the regular light input to overlay the outlines of the fence and another structure onto the image.
Again, this is a relatively close-range affair, so it's not going to replace a multi-thousand-dollar handheld unit. But it has plenty of outdoor uses within the range in which it works.
Laser Measurement & Air Quality Detection
Two of the other major features of this phone don't have obvious outdoors uses, but I'll mention them, anyway.
The first is the laser measurement feature, which is sort of like a short-distance rangefinder that can measure distances of up to a few feet. This is easy enough to use, though you do need to calibrate it. I'd love to see this morph into a real long-distance rangefinder for shooting, but at present about the only way I could think of to use it outdoors would be in measuring game.
The indoor air quality monitor is intended to warn you when a job site has become unsafe. The sensor measures volatile organic compounds (VOCs), which per the EPA are found in the following types of places:
paints, paint strippers and other solvents
wood preservatives
aerosol sprays
cleansers and disinfectants
moth repellents and air fresheners
stored fuels and automotive products
hobby supplies
dry-cleaned clothing
pesticide
building materials and furnishings
office equipment such as copiers and printers, correction fluids and carbonless copy paper
graphics and craft materials including glues and adhesives, permanent markers and photographic solutions.
I can see this being a useful prepper tool in a bunker scenario, but not really as an outdoors thing. But it's a nice value-add, and there is a corner of my house where this thing keeps going off, prompting me to look deeper and figure out what I need to fix.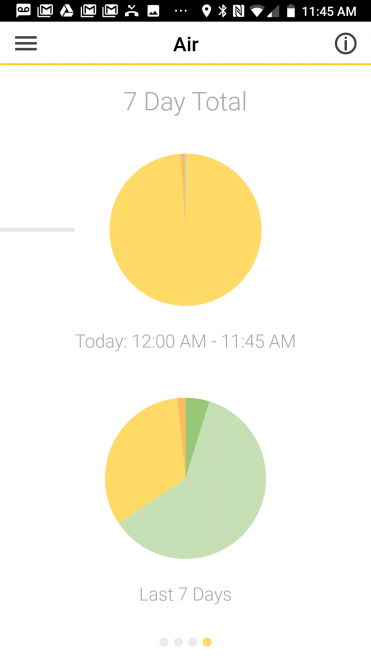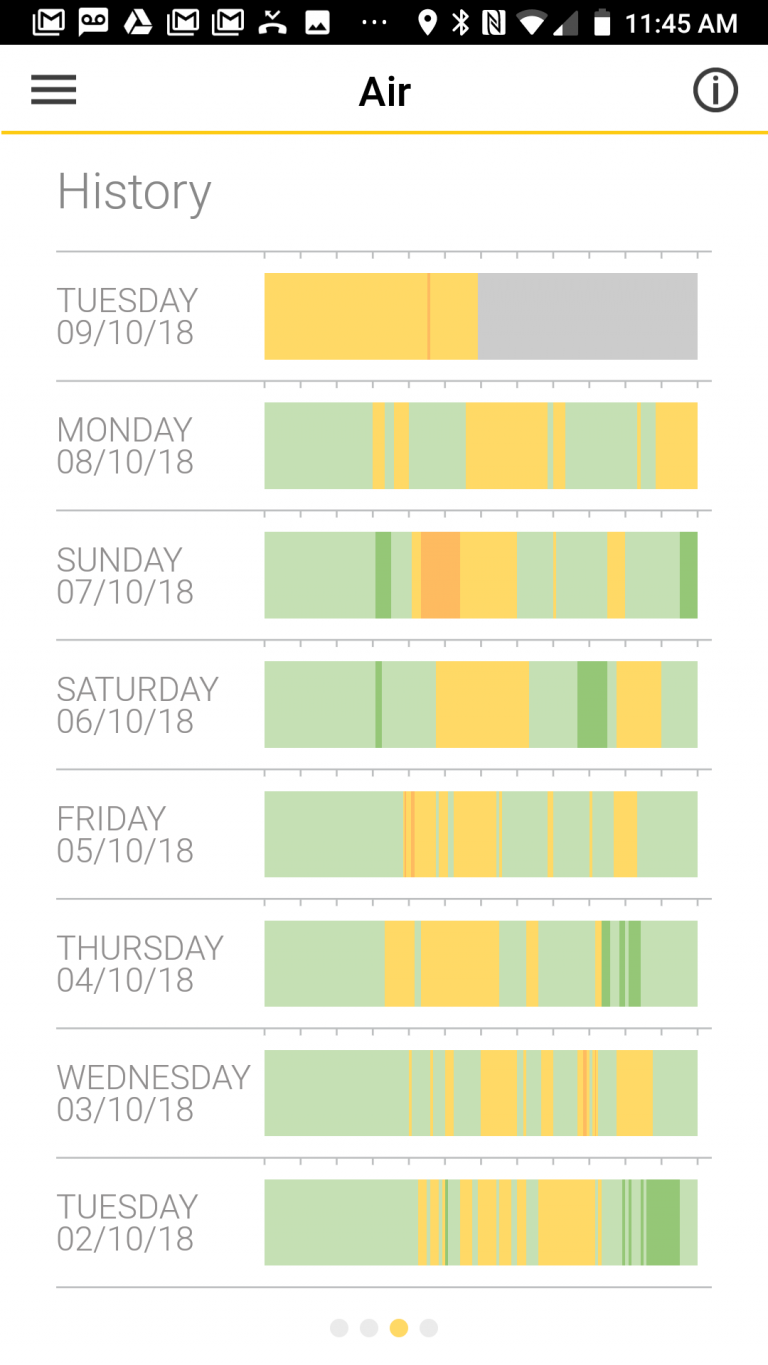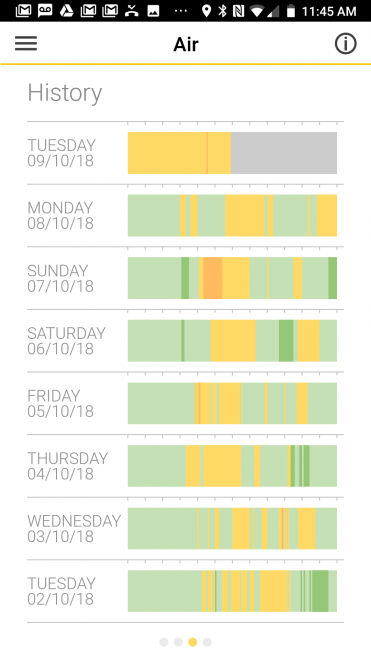 Software
One of the many places this phone shines is that it gives you a vanilla install of Android, with zero garbageware and a specially-curated CAT app store. Unlike my Samsung Galaxy S8+, this phone is not constantly interrupting me in order to get me to sign up for some set of cloud services that I want no part of, or to enable some barely-functional voice assistant I couldn't care less about, or to otherwise rob me of my privacy and sanity. The phone just leaves me the heck alone to do my thing, which is exactly what you want from a device that pitches itself as a working tool (vs. a lifestyle gadget).
Back in my gadget-reviewing days, I used to like the Google Pixel phones for this exact reason — they were just stock Android installs, and stock Android is pretty good.
The UI is responsive, and the CAT-curated app store features a growing array of apps that make use of the device's unique array of sensors and are aimed at working users.
The curated CAT app store is nice — it helps with discovery of new apps, and will probably keep getting better. Most of what's in there right now is construction- and farming-related, with a smattering of outdoors apps. I looked for a ballistic solver app and couldn't find one, and I consider that an oversight if they're trying to pitch outdoorsmen. Overall it's a good resource, but if you're like me you'll probably end up using the Play store a lot more.
Normal phone usage
The call audio quality is good, and the speaker is plenty loud. The audio quality via the headphone jack is also good — I couldn't tell a difference between it and my Galaxy S8+.
The phone gets great reception — the aluminum case doesn't seem to hurt the signal.
The rubber back is grippy without being obnoxious, and all of the buttons are sturdy and sensibly laid out.
The camera is solid — it's not on the level of a new iPhone camera, but the pictures are good: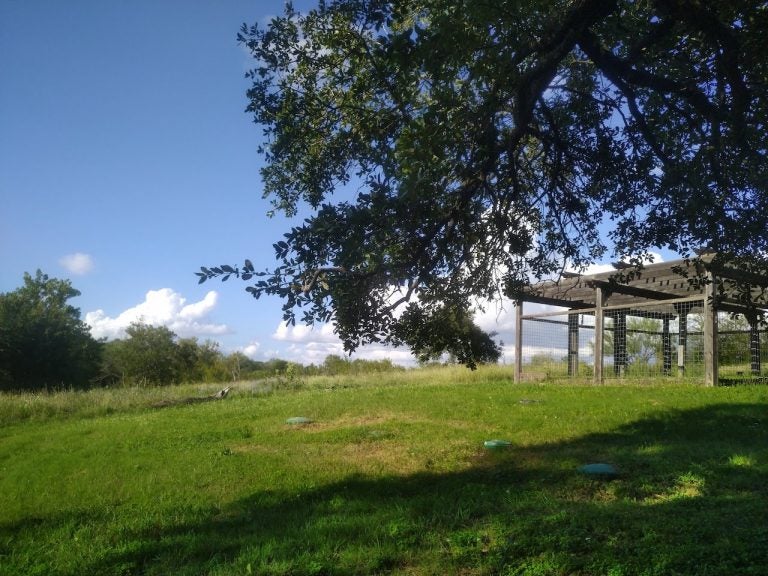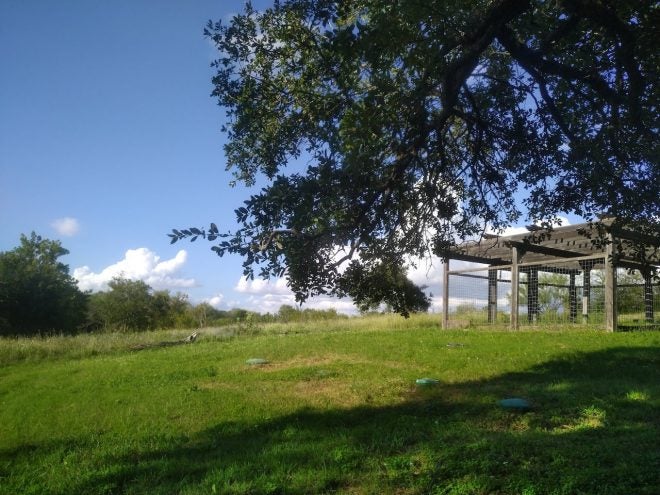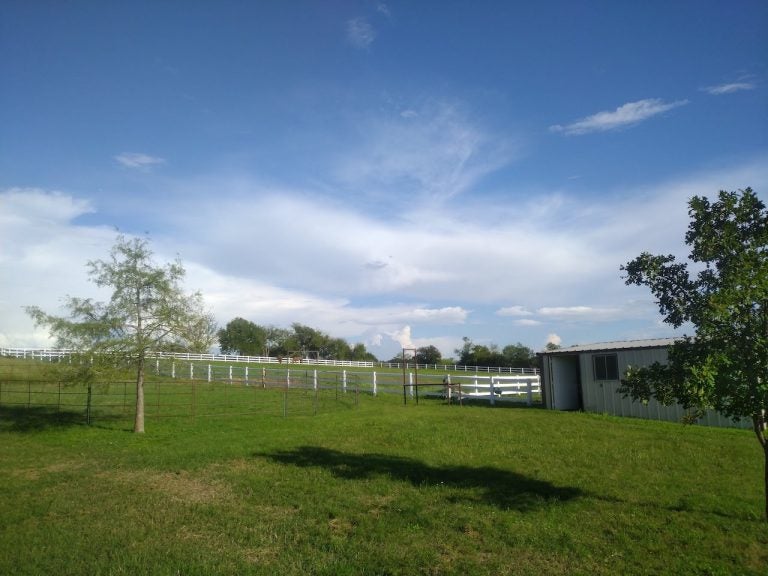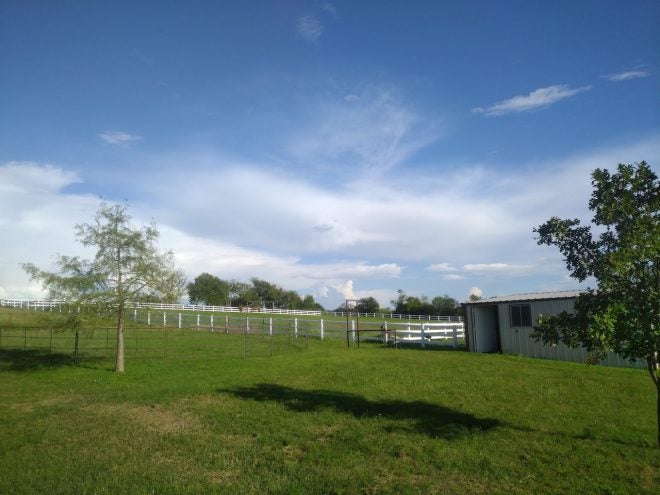 I really like the ability to add storage to the Android phones; I was able to insert, format, and use a 256GB microSD card with no problems.
The screen on this is quite good. It's not on the level of the new OLEDs, but it's definitely competitive with other smartphones in the mid-range to higher end. I get the feeling that CAT had to sacrifice a tiny bit of clarity and crispness to get the level of indestructibility they were going for, but it's not noticeable unless you're holding it next to something like an iPhone X.
I really like the fact that the phone supports NFC for contactless payments and hardware authentication. I'm going to be taking a look at this as a prepper phone soon, and I'm planning to get my YubiKeys working with it. So I'll be able to report on that when I get it going.
Conclusion
Unfortunately, I'm locked into the Apple ecosystem thanks to iMessage, the Photo stream sharing feature, and iTunes music — as a parent, I use these tools to make and share pictures with my 100% Apple-using family. But if I weren't, I'd drop the iPhone for this in a heartbeat. This phone does everything I typically need a phone for, plus a whole bunch of extra stuff I need when I'm outside in the woods or on a hunt.
Apart from the features, battery life, and durability, the thing that's most exciting to me about the CAT S61 is what it represents — that there are whole categories of users that at least somebody is taking seriously as a market. This is a maturing of the smartphone market, in that it's expanding to encompass usage scenarios beyond the usual communication, games, fitness tracking, and productivity apps.
This trend could be greatly expanded with some new products in this space, for which I'm happy to spitball ideas because I'd love to buy any of these:
One of the products I'd love to see from CAT is a rugged iPhone case that takes the sensor bundle, battery capacity, and durability of the S61 and grafts it onto an iPhone model. I think that with a bit of engineering, they could wrap what is essentially an S61 around Apple's mobile line and add a ton of value for workers, first responders, outdoorsmen, and preppers.
The other thing which occurs to me is that this phone isn't that far from being able to totally replace a Kestrel Elite. Why have the Kestrel as a separate device that's linked to a smartphone, when you could pack just a few more sensors and a wind attachment onto the phone and only carry one thing? With a Kestrel-type version of the S61, you could pick with ballistics solver you want to use with the sensor array — so Applied Ballistics, Hornady 4DOF, or whatever.
For prepping purposes, I can't imagine it would be too complicated to pack a radiation sensor into the phone — something small and compact, like the Nukealert keychain sensor, would be great to have in a radiation emergency and wouldn't add much bulk or cost. You could pair this with an app that keeps track of dosage.
Ultimately, if you're looking for a phone that doubles as a hard-use jobsite tool or an outdoors companion, there really is nothing on the market in late 2018 that comes anywhere close to the CAT S61. CAT has this entire space all to themselves for now, but it's hard to complain about the lack of competition when they're doing this good of a job with it.
In my 15 years as a features editor at a major online tech publication, I've reviewed plenty of smartphones and gadgets, but it has been a very long time since I've seen a smartphone come across my desk that defines a totally new product category this authoritatively. So bravo to CAT — I hope they keep these phones coming.