Michigan Hunters on the Lookout for Infected Deer
Russ Chastain 10.11.18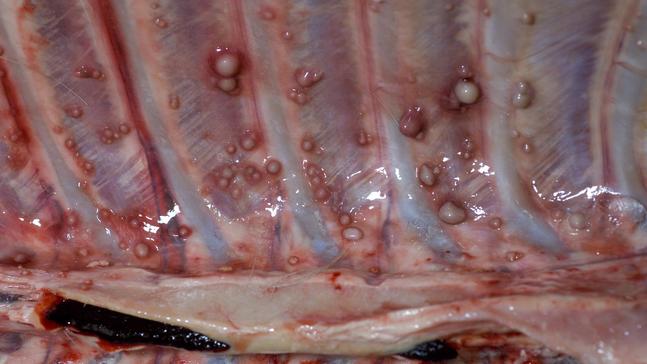 Michigan deer hunters are reportedly being warned to watch out for bovine tuberculosis in the deer they harvest.
Michigan is said to be the only state in which bovine tuberculosis is known to have infected wild deer herds. It's suspected that sharing a food source is the root cause of spreading the disease between cattle and deer.
Infected deer can appear as the photo above, which shows the interior of an infected animal's ribcage.
Bovine tuberculosis can spread to humans in a number of ways, and at one time this was more common due to consumption of contaminated, unpasteurized dairy products. For hunters, gutting or otherwise processing a deer may allow infection through a cut or open sore. Overall, the risk of a hunter becoming infected is quite small.
According to CDC:
Infection can also occur from direct contact with a wound, such as what might occur during slaughter or hunting, or by inhaling the bacteria in air exhaled by animals infected with M. bovis. Direct transmission from animals to humans through the air is thought to be rare, but M. bovis can be spread directly from person to person when people with the disease in their lungs cough or sneeze.
Michigan's wildlife managers are hoping to eradicate bovine tuberculosis from MI's deer herd, and are asking that hunters who take deer in the following counties to submit the head for testing at a game check station:
Alcona
Alpena
Antrim
Cheboygan
Crawford
Emmet
Huron
Iosco
Lake
Mecosta
Montmorency
Newaygo
Ogemaw
Osceola
Oscoda
Otsego
Presque Isle
Roscommon
Shiawassee
Locations of check stations can be found here.
As far as I can tell, it's perfectly safe to eat the meat of a deer infected with bovine tuberculosis, because the "bad stuff" is rarely on or in the meat itself. More on that here.
All in all, it sounds like a minor issue… all the same, I'm glad this is not happening where I hunt.