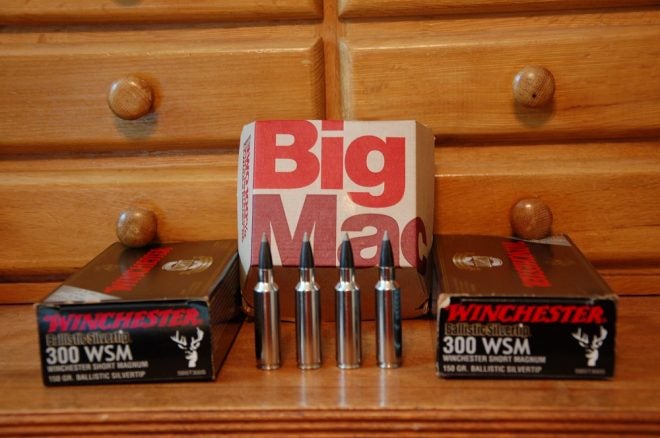 John J. Woods
Magnolia Outdoor Communications
PUT THE BIG MAC ON A WHITETAIL BUCK
Say what you want about the best rifle cartridge for hunting white-tailed bucks, but my vote is for the .300 Winchester Short Magnum every time. Sure, the white-tailed deer is considered a thin-skinned game animal, but their tenacity for life is unparalleled. It takes not only an accurate shot placement in the "boiler room" as they say, but it takes a cartridge capable of delivering a hammer blow bullet with good expansion not pass through. The .300 WSM is it.
I have hunted the white-tailed deer for 47 years now, and during that long span of time I have tried many different rifle cartridges for deer hunting. That long list of field trials included the 30-30, .270 Winchester, .257 Roberts, .44 Magnum, .260 Remington, 7mm-08, .358 Winchester, 7mm Remington Magnum, .300 Blackout, 6.8 SPC, .45-70, .38-55 Winchester, .35 Whelen, .308 Winchester, as well as some others I have probably forgotten about over the years.
Back in 2001 I read an article about the newly introduced .300 Winchester Short Magnum and I was totally intrigued. I had to have one. That very day I drove 40 miles to the largest gun dealer in the state to ask about a rifle in the new .300 WSM. The guy laughed and said they just got one in that week in a Browning A-Bolt, black synthetic stock and matte finish. Sold.
I proceeded to mount my favorite scope on my new "deer gun", a Leupold VX3 with a lighted reticle. I bore sighted the rifle and later ran it through its paces at our deer camp 100 yard range. This rifle and scope has been the most accurate set up I have ever owned. The rifle just seems to have a perfect chemistry.
They say it isn't bragging if you can do it, or did it, but this rifle/scope combo using Winchester Ballistic Silvertip, 150 grain bullets in 20 shots has thus far accounted for 18 deer harvests, 14 of them bucks. Yeah, I missed twice and one of them was a good buck, too. In each case not one of those 18 deer walked off. Each shot was a dead kill.
So, why the .300 WSM? It is the .300 Winchester Magnum shorted to an overall cartridge length of 2.86 inches so it fits in a short action rifle. The 150 grain Winchester load hauls out the muzzle at 3300 fps with 3628 pounds of energy. The .300 WSM is the ideal balance of power and terminal ballistics to deliver effective kills on deer. It is not overpowered and easy to shoot in a good rifle set up. It's a deer cartridge you should try.