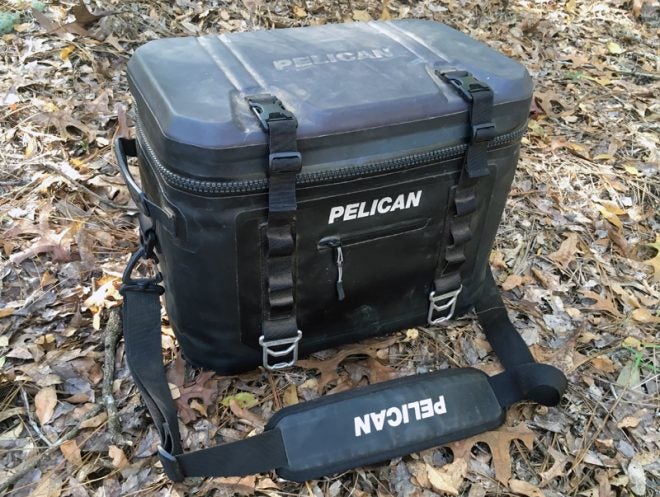 Like most folks who enjoy the outdoors, I often use a cooler to keep stuff cold. And cooler performamce is especially important to me, as I'm a hunter and I live in the southern USA, where the weather can be warm or hot for most of the year… and allowing that to keep me indoors is just not an option. I need to get outside, where I belong! And to that end, I've been testing a Pelican soft-side cooler for several months.
Mine is the 24-can model, which is the middle model… there's also a 12-can and 48-can version.
I'll start off with a rundown of Pelican's claims for these soft coolers:
TZIP® zipper makes Pelican soft Coolers 100% leak-proof.
The detachable strap is designed for an all-day comfortable carry.
840 durable double coated fabric — rugged construction fabric to take everyday wear and tear.
Dual-Lock buckle system offers quick access.
Food-grade liner is FDA approved material.
Stainless steel tie-downs double as built-in bottle openers on 24- and 48-can models.
Compression molded anti-slip base.
And their specs for this 24-can model:
Exterior dimensions: 17″ x 13.5″ x 10″
Interior dimensions: 15″ x 8.5″ x 8″
Volume: 25 quarts (23.66 liters)
Can capacity: 24 cans
Weight: 5.00 pounds (Mine weighs 5.3 with the strap)
Body: Double-Coated 840D TPU
Latch: Polypropylene
The Nitty-Gritty
This is a good quality cooler, and it's well-built. I found it to be just as good at ice retention as the Otterbox Trooper 20, which I tested alongside it. A notable difference is that the Pelican is indeed soft, whereas the Otterbox relies on some hard plastic parts. If softness matters to you, Pelican wins.
The Zipper
Getting into this Pelican soft cooler is something of a challenge. The zipper is large, heavy-duty, waterproof, and difficult to pull. I assume this is the reason for the two straps with quick-release buckles located at the front of the cooler; they allow you to sorta-kinda hold the lid closed without actually zipping it.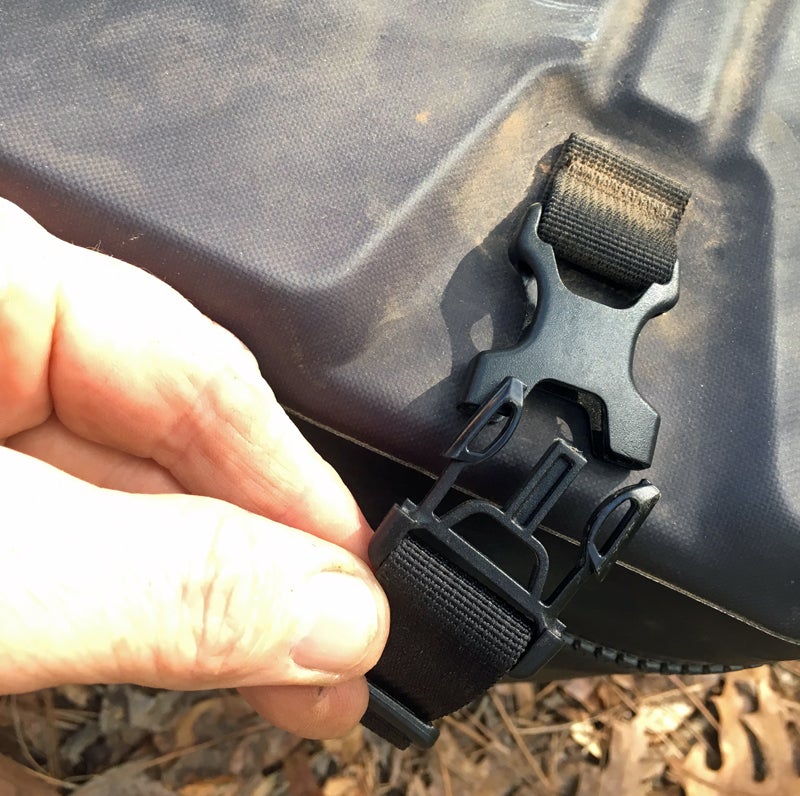 The zipper is TIZIP brand, which is known for quality and watertightness. In fact, this one is even airtight. That's right — I zipped up the empty soft cooler and stood on top of it, and it easily supported my 220+ pounds. I didn't bubble-test it for leaks, but it held me for a little while with no "sinking feeling" or telltale hiss of air leakage.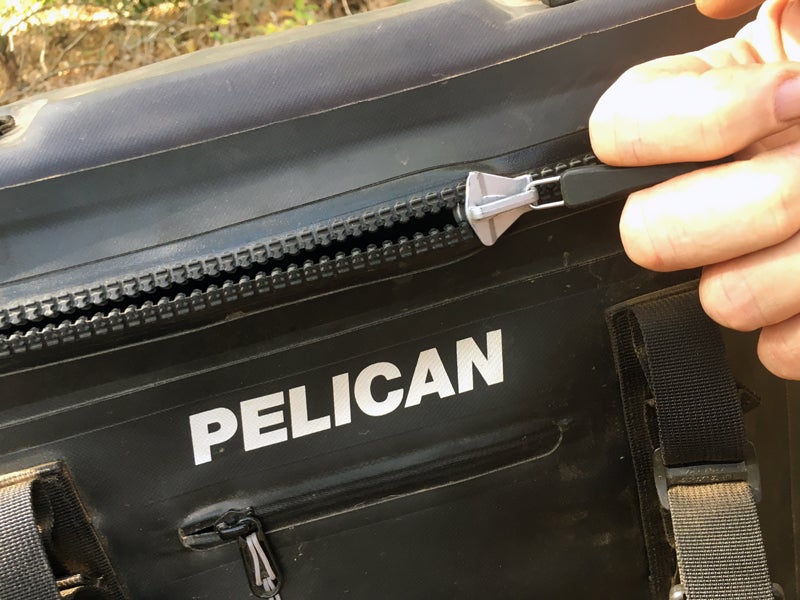 This bodes well for keeping cold air in and hot air out, and when the cooler is fully zipped you won't have to worry about it leaking. But this assurance comes at a price, and that is convenience. Even after applying the included zipper lubricant, opening and closing this cooler is a two-handed operation that's not for the faint of heart.
Interior
The interior is a flexible rubbery liner, which they say is FDA-approved food grade. It's lighter in color than the black exterior, which is helpful when you're digging around in low light hunting for a beverage.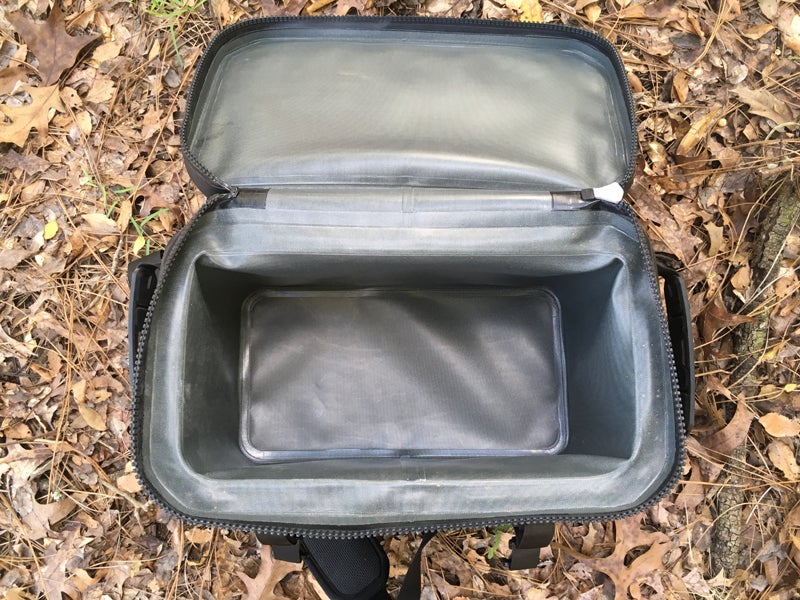 This lining feels quite tough, and I fully expect it to last for a good long time.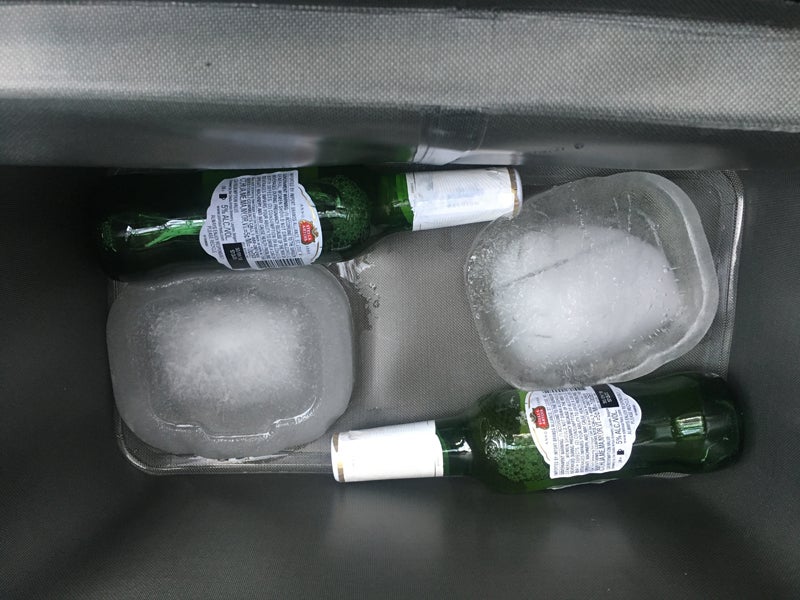 Bottle Opener/Tie Downs
The 24-can Pelican soft cooler has four tie-down points; two are made of black plastic and are mounted to the rear of the cooler as seen below.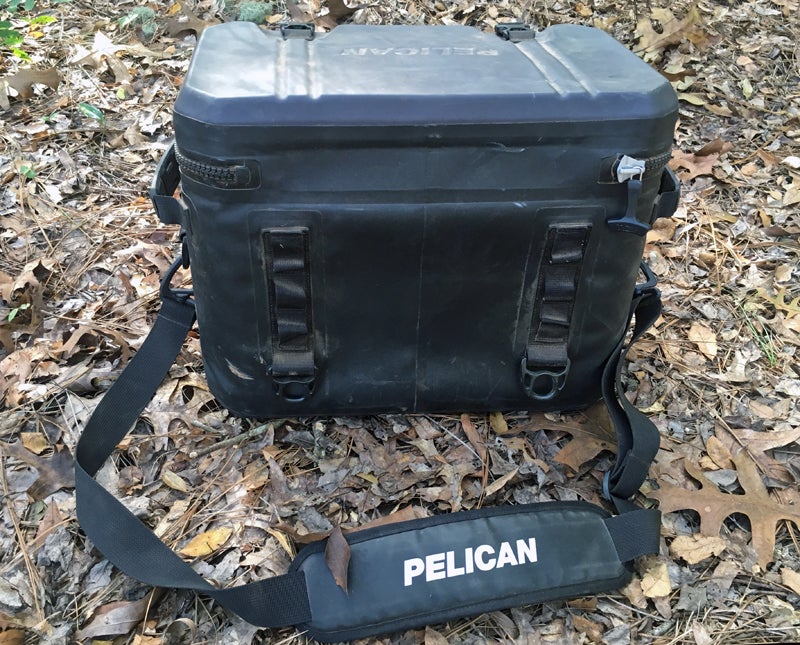 This helps me understand why the bottle openers are attached so low on the front of the cooler. Mounting them that low is not really convenient; to open a bottle, you need to get it below the opener, which is attached to the cooler just three inches above its base. But at that height they should do fine as tie-downs.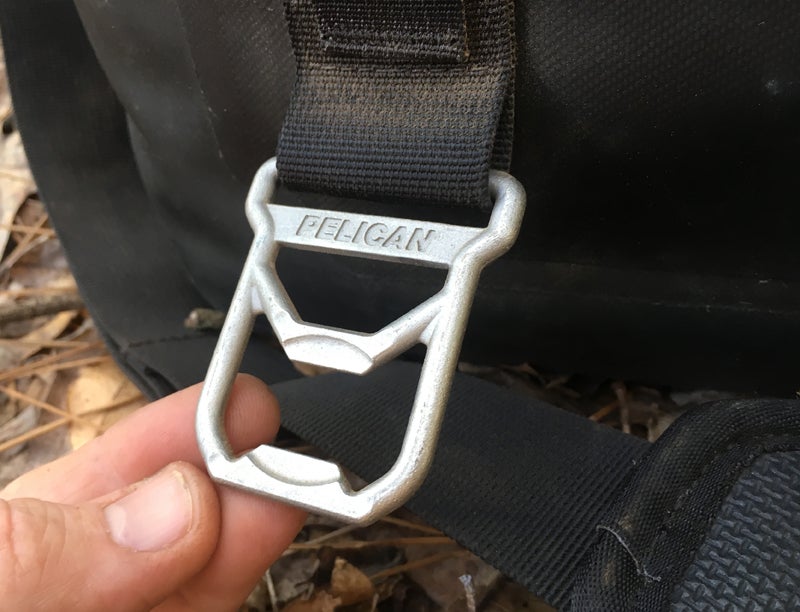 The openers are made of some type of non-steel alloy (they won't stick to a magnet).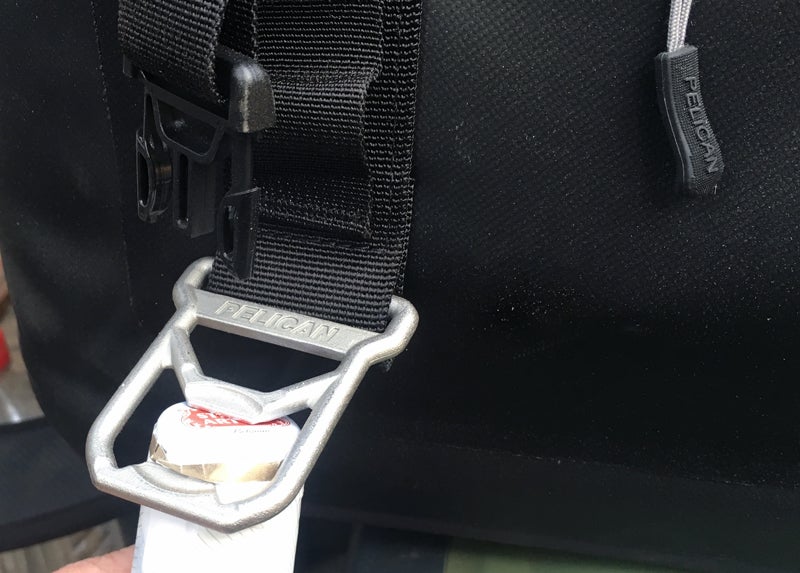 You can open a bottle in one of two ways… the one shown below allows a little more room for the bottle, but requires you to tip the bottle as you open it, usually spilling some of your drink on the cooler.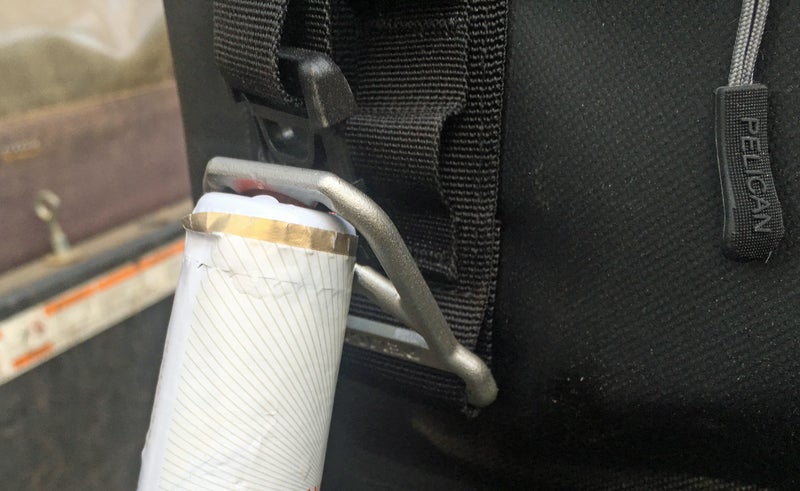 So the bottle openers will open bottles, but they're less-than-ideal for the job. As tiedowns, they should work fine.
The Base
The Pelican soft cooler's base and top appear to be made of the same material, which is tough and flexible but slightly less-flexible than the sides. It's also a little more "grabby" when you rub it. In other words, the sides are smoother than the top and bottom, which should help prevent it from sliding around when you want it to stay in place.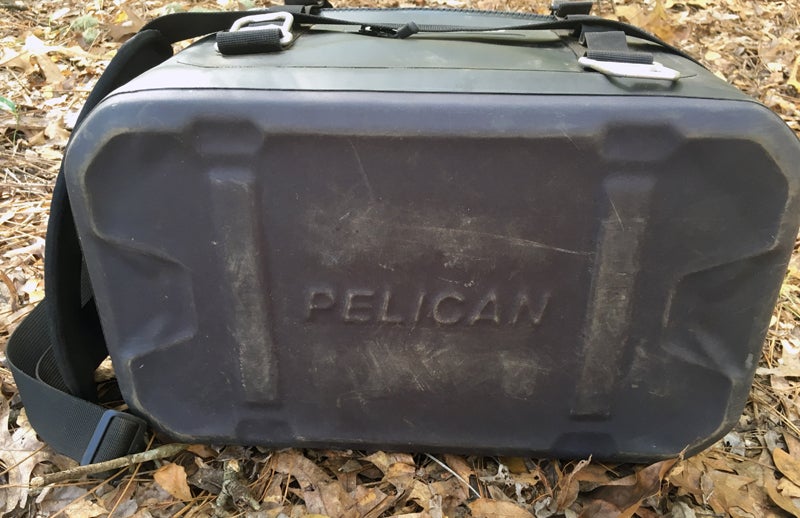 And if it still slides, you always have those tie-downs.
Exterior
The exterior of this cooler is tough, and offers pretty good resistance to attempted cuts with a sharp knife. This should allow it to stand up to all kinds of accidental encounters with sharp and abrasive stuff in real life.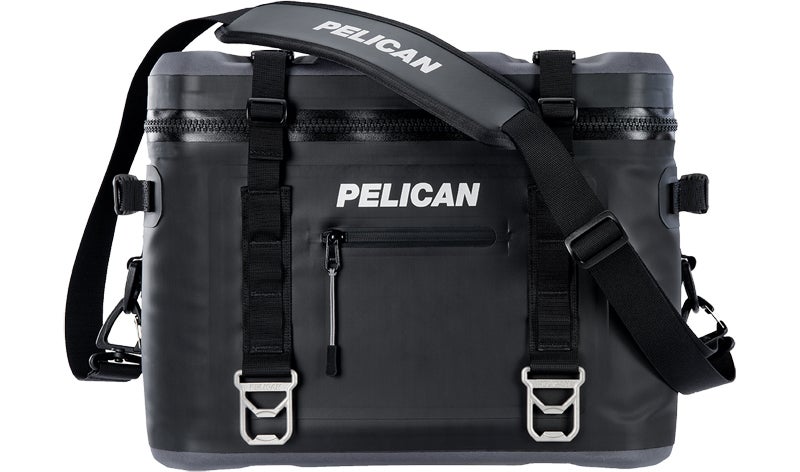 There is a zipper pocket on the front of the cooler, but it's almost useless. It's completely flat, so it would work fine for storing flat stuff like ID cards or other small items, but digging in there to retrieve them was no fun with my large hands.
Oh, and it's black — possibly the worst possible color for a cooler.
Handles and Strap
The adjustable shoulder strap is well-made, plenty tough, and has a good comfortable sliding shoulder pad on it. The clips and D-rings are Duraflex UTX-Flex, and seem to be durable and well-made.
The only bummer about the strap is that it attaches to the cooler a bit too low… so when I shoulder the cooler, it's top-heavy and wants to roll over. Measurements confirm the D-rings are mounted roughly 1/2″ to 3/4″ below the halfway point of the cooler's height.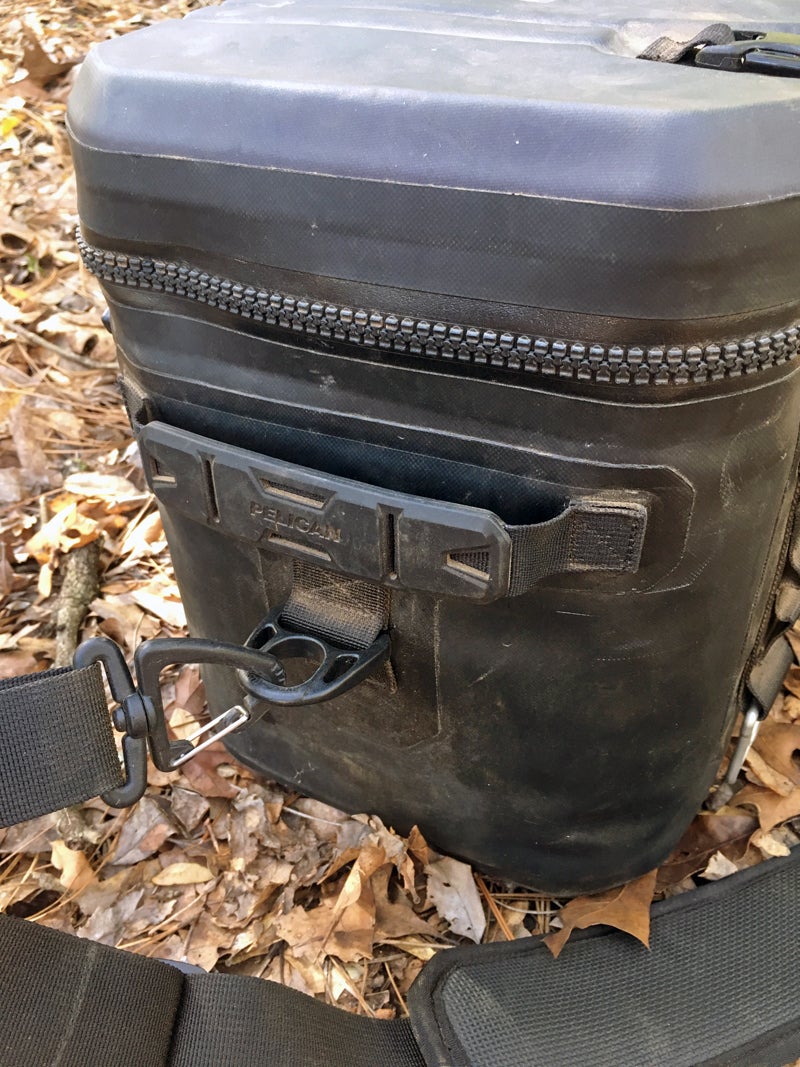 You can route the straps through the side handles to help lessen the tendency to roll, but then the strap's hooks obstruct the handles.
The handles are superb. They are easy to grab even with large hands, and the molded-on rubbery grip makes them plenty comfortable.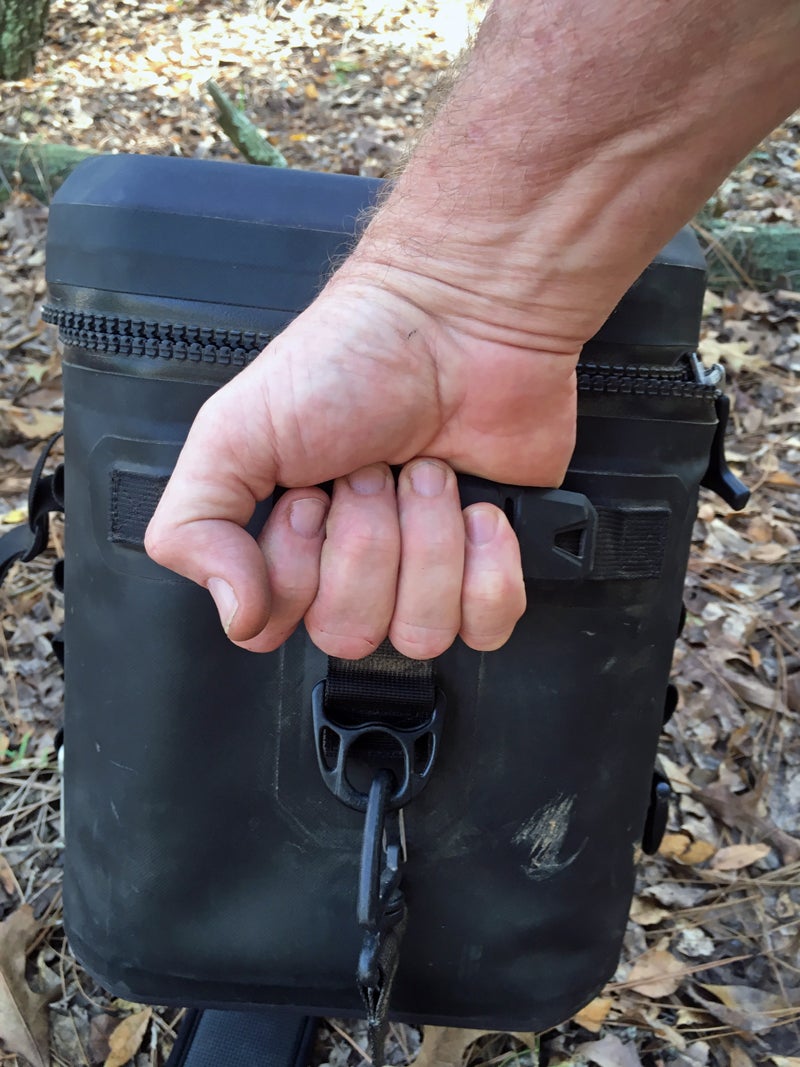 Both the strap D-rings and handles are stitched onto a reinforced area, with no loose threads or any other indication they will ever come loose.
Conclusion
The Pelican 24-can soft cooler is of good quality and should last for a long time. And this is good, considering its hefty MSRP of $279.95.
It's easy to tie down, but tough to open. The side handles are great, but the shoulder strap attaches too low. It keeps ice well, but you need two hands and some strength to operate the zipper.
As you can tell, I found this cooler to be a compromise. I would use it often if it wasn't such a struggle to open and close.
You can get yours here.