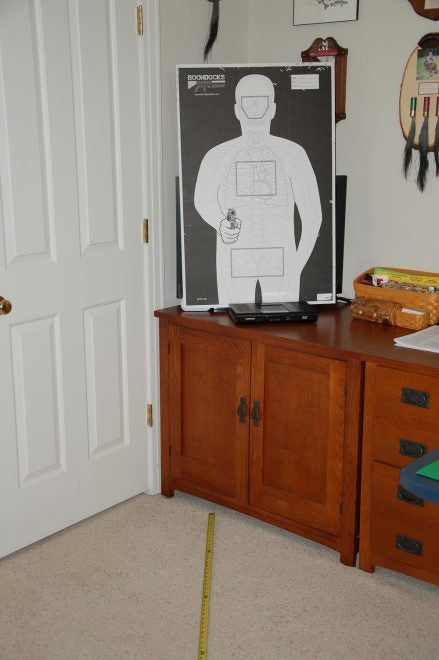 John J. Woods
Magnolia Outdoor Communications
HEAD SHOTS AT 10 YARDS
Well, for sure, that sounds easy enough. I can do that. I think? Well, maybe. Some of the time. Chances are…..not that good. What looks easy, sounds easy rarely is especially when it means making a near perfect shot on a small target while under stress. And the target is likely moving as well, toward you, fast.
The FBI crime statistics generally indicate that armed encounters occur at the very short distances of 7 to 10 feet. Take a tape measure and mark off 10 feet in the room where you are. Pretty darn short distance isn't it? Imagine a threat coming fast at three feet shy of that range. You job is to deter it, stop it, terminate it. These are shooting goals for self-defense.
It is scary at best to think about being involved in any kind of an armed self-defense situation when a threat to your life or the lives of others may be imminent. Generally speaking the consensus advice is to get away from such threats if you see them unfolding. Escape and evasion is your best bet.
But, what if you have no choice? What if you are literally face-to-face with a life threat and there is nowhere to go, no escape route, nothing but a corner to back into? If you prepare yourself for such an event however unlikely in reality, then you should be carrying concealed. The bigger question now though is have you been prepared and trained to respond. If not, that should be the next item on your self-defense to-do list.
For the average citizen, even a shooter, even a once or twice trained or drilled shooter, we still don't really shoot all that well. Want proof? Go out to the back 40 somewhere it is safe to shoot. Set up a lifelike target with a human form outline. Now, to start things off step back ten yards. It's the distance a football team offense gets to go for a first down. It's not far.
Prepare to draw your weapon. Stare down that target. Get the image in your mind how large that torso is and then how much smaller the head is. Draw your firearm and with a concerted effort, empty the full magazine into that target. I said concerted effort. That means as fast as you can aim and empty the gun. How did you do?
This is a drill to practice on your own or in a shooting course designed to coach your shooting skills. If you want to be proficient at self-defense, then all those rounds need to be in that target's kill zone, maybe some in the head, too. No, it is not as easy as it sounds is it?