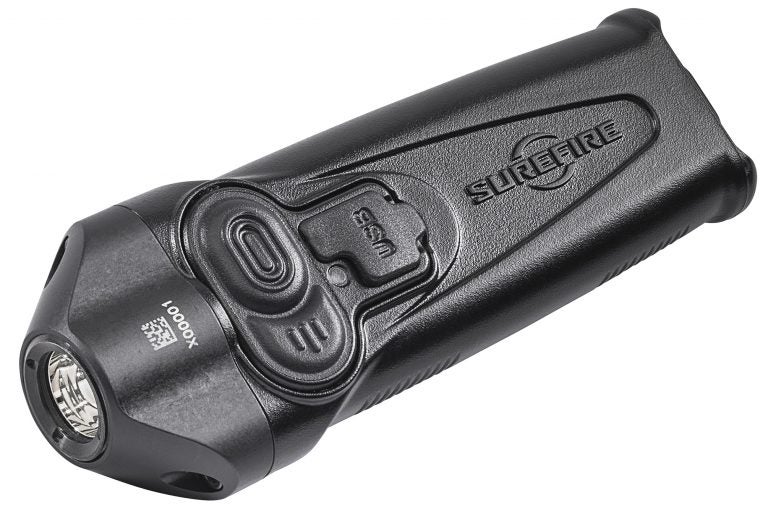 Surefire has, at one and the same time, been a leader in the flashlight market and been a laggard. They were the first to make really excellent reflectors and mil-spec lights. But they were so late in switching to LEDs that it almost ended interest in Surefire. They pioneered new emitter arrays, with both flood and throw emitters in a single light, but fell behind on the battery game, refusing to make lights that ran on rechargeable cells. Surefire is largely the vision of a few brilliant designers and so their preferences tend to dominate the product line even when consumers are clamoring for something a bit different.
So now, when the flashlight market is really being taken by storm by micro-USB lights Surefire has been a bit slow in adopting this latest tech. They put out the Surefire Sidekick, but its bland looks and lack of output meant that it was almost instantly outclassed by import micro-USB rechargeable lights. But Surefire is nothing if not tenacious. They have consistently (even if slowly) met and beat every challenge posed by the market. And the Stiletto is no different.
The Surefire Stiletto is a small to medium sized, polymer bodied, micro-USB rechargeable light. It has two switches, a rubber boot covered micro-USB port, a pocket clip, and a 650 lumen emitter. The light is about four and half inches long. Its about an inch thick but considerably wider, giving it a nice flattened oval shape. There is a flair out at the top and bottom given the light a look reminiscent of a stiletto knife handle (hence the name). The light also has a built-in LED fuel gauge indicator. On high the light runs for about two hours. There is a 250 lumen medium and a 5 lumen low that runs for 30 hours. The entire light, battery included (its built-in) weighs under 3 ounces.
On paper the light seems like a real winner, a perfect entry into a boring flashlight market. By going with a polymer body and a built in battery, Surefire freed itself to make an ergos-first body. With that freedom they produced a light that looks like no other and appears to be perfect for in-hand use. Give this, and the light's paltry weight, it is clear that Surefire wanted the Stiletto to be tempting for folks looking for an EDC light. The fact that it has a "tactical" switch to turn the light on in high is a nod to Surefire's past. In all, this is a very promising looking torch and at $109, its not too pricey either, especially given Surefire's pricing in the past.
One thing has me a bit concerned and it is the fact that the light's clip holds the torch in a bezel-up position, which is not my favorite. It is also considerably bigger than most internal-cell lights. Nonetheless, this is really interesting and unique entry into the flashlight market.
Important Info
What: Surefire Stiletto Rechargeable Flashlight
When: Available now
Price: $109.95
Specs: 4.45 inchs long, 3 ounces, 650 lumens high, 5 lumen low
Made in the USA: Yes
Highlights: Ergo-first polymer body, LED fuel gauge, Surefire beam pattern