Planting Dunstan Chestnuts as 'Food Plot Trees'
Russ Chastain 11.14.18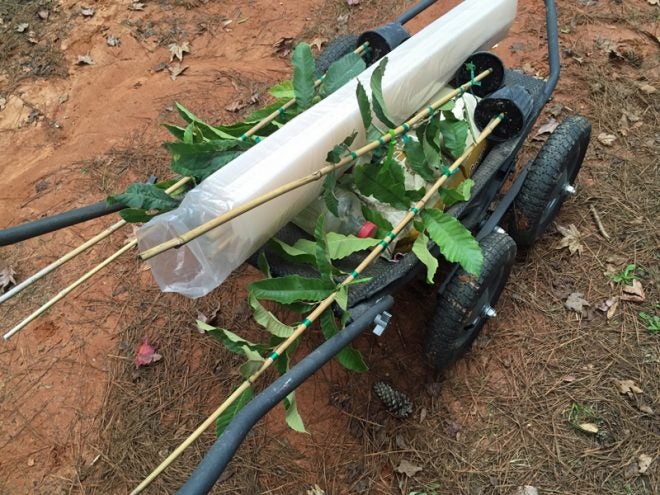 Some time ago, I became aware of "food plot trees," which are trees you plant with the expectation of them producing a fruit or nut to attract and feed wildlife. The source is Chestnut Hill Outdoors, and as the name implies, they focus largely on chestnut trees — specifically "the patented blight-resistant Dunstan Chestnuts, the most widely grown chestnut tree in America."
I was able to get in touch with Kim at Chestnut Hill Outdoors, who let me know what was available. They have quite a few varieties of "food plot trees" available, including chestnuts, persimmons, oaks, and pears, but they say the very best food plot tree is the Dunstan Chestnut. This version is resistant to blight and is known to produce "heavy annual crops of very large, sweet nuts." Oh, and they say deer prefer chestnuts to acorns 100:1!
Chestnuts are chosen by deer over all other nuts because of their taste and nutrition. They are high in carbohydrates (40%) and contain up to 10% high quality protein. This provides the critical easily-usable energy source over all other available foods during the rut in the fall. Chestnuts have no bitter-tasting tannin — and a deer's taste buds are 1,000 times as sensitive as humans. Deer prefer white oak acorns over red oaks because they contain less tannin, and this is why deer prefer chestnuts over all acorns.
So when I got the opportunity to plant some of these trees on our hunting land in Georgia, I eagerly accepted. On my way to the club a couple weeks ago, I stopped by their large farm in Alachua, Florida and soon drove away with 4 small Dunstan chestnut trees and a package including grow tubes and other accessories designed to protect the young saplings while they develop their roots and begin to grow into trees.
Each of the small pots contained a light leafy whip of a tree about 3 feet tall, supported by a bamboo stake.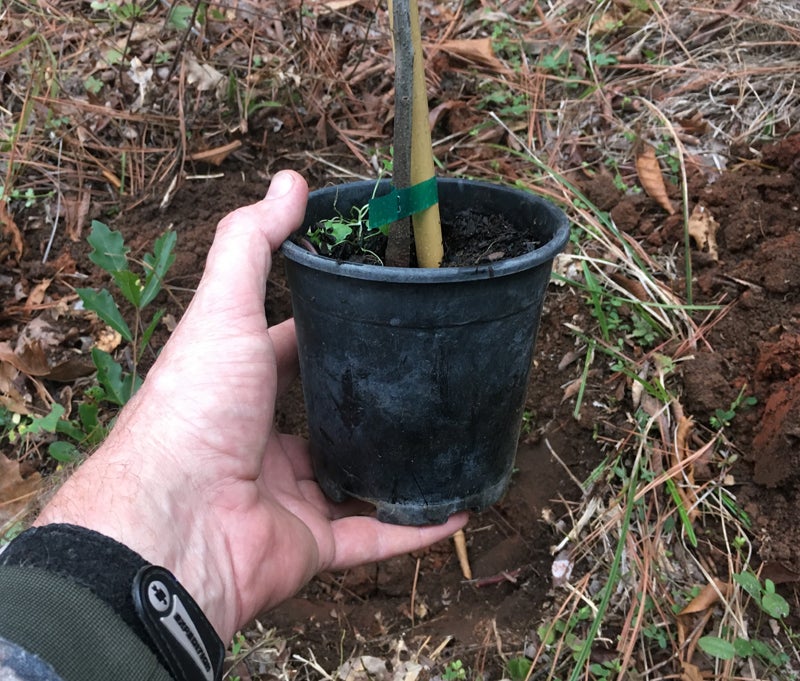 I selected a lightly wooded area near a permanent deer stand, adjacent to a traditional food plot. I keep these woods fairly open and parklike, and the acorn-producing oaks have been known to attract deer… but with so many other oaks on the property, it's not exactly a deer magnet, and this place is not among our best deer hunting stands. I'm hoping the addition of delectable Dunstans will change that.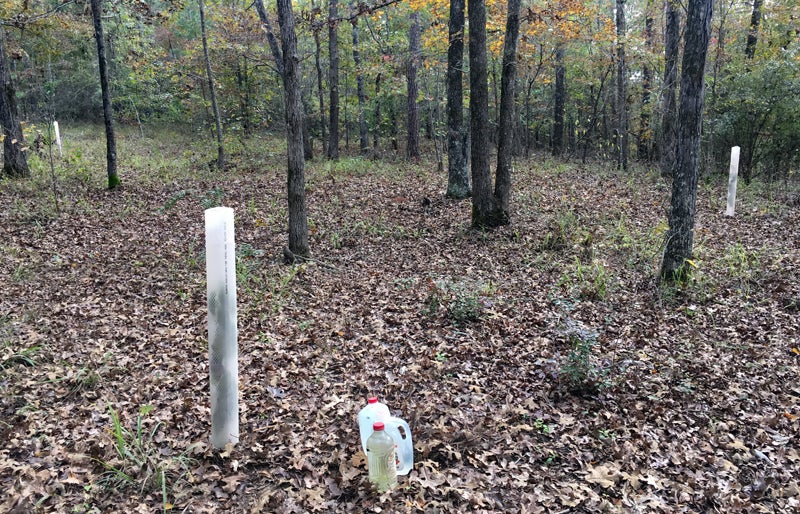 After planting, I added one of the included bamboo stakes and slipped the corrugated plastic "grow tube" over the tree, snugging the tube down into the soil a bit. The tube is then attached to the stake using large plastic-coated twist-ties.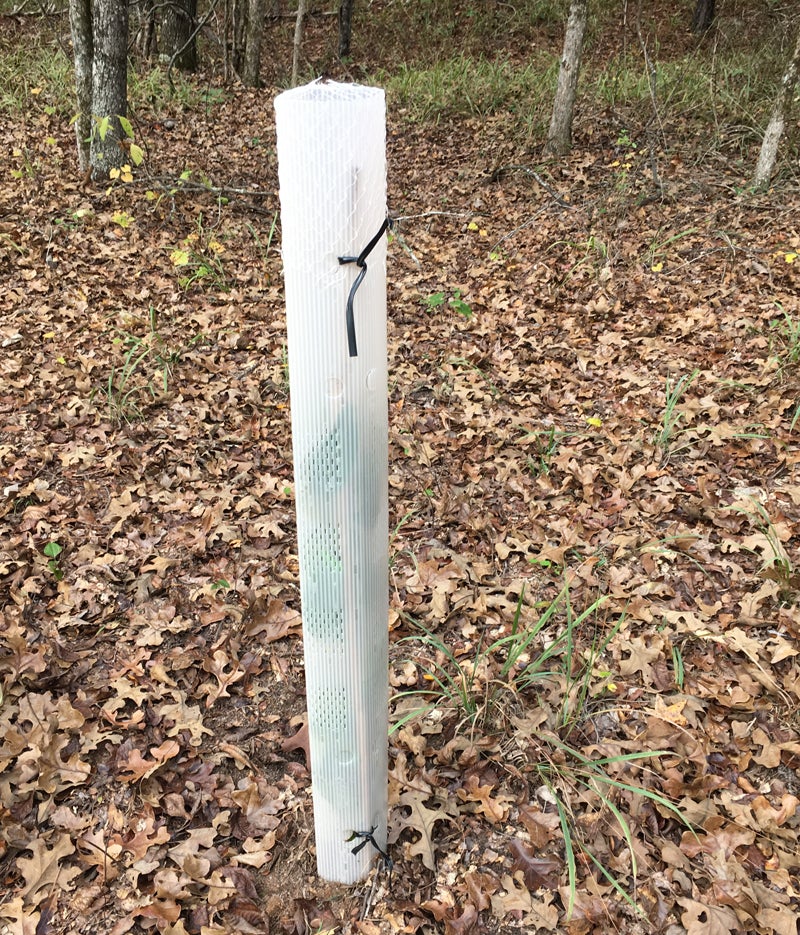 Grow tubes help protect the young trees from rodents and even deer — you wouldn't want your deer attractant killed by a buck using it as an antler rub before it can ever produce nuts!
Each grow tube comes with a mesh attachment to keep birds out of the tube. Simply expand it, stretch it over the top of the tube, slide it down a bit, and secure with one of the heavy-duty twisters.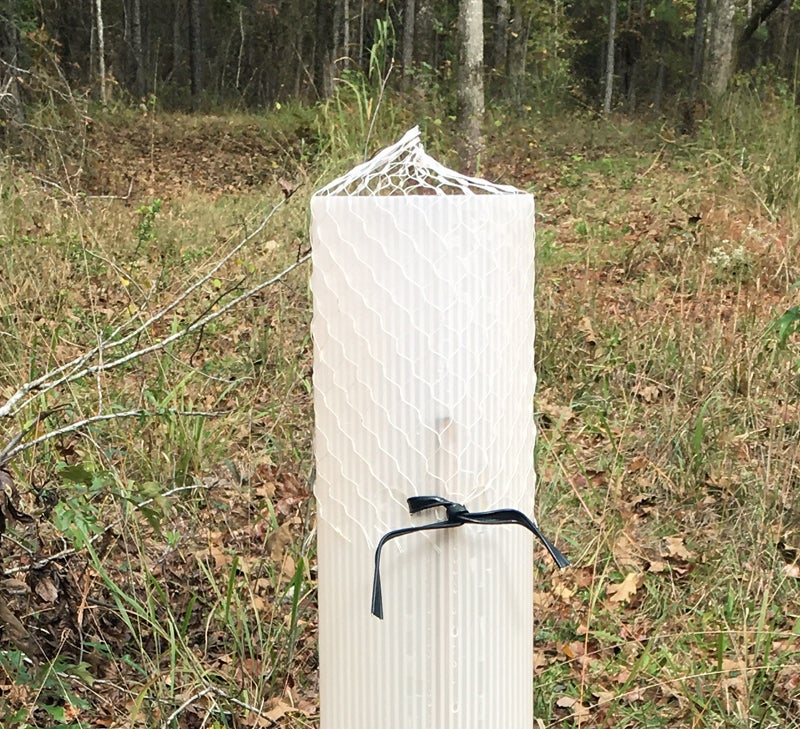 I did my planting in the fall, when trees in the area of the planting are going dormant. Watering at this time is necessary, but not as vital as it would be if planted in the spring. Fortunately, regular rains at the site have been keeping my trees well-watered for the most part, since I can't be there every day or even every week.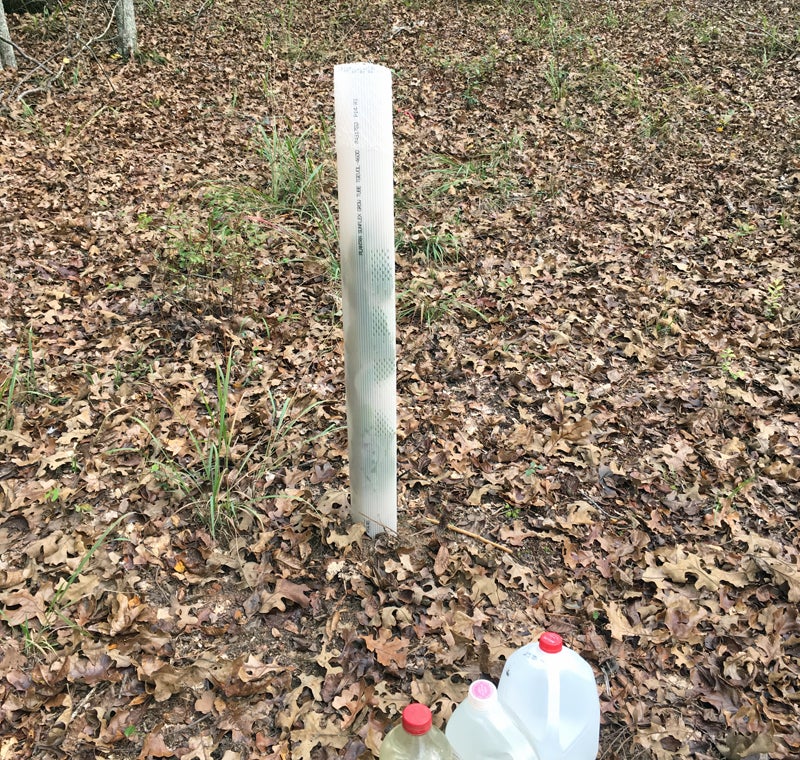 I'm looking forward to these trees improving my hunting spot, because up to now it hasn't been very productive in comparison with other places on the property.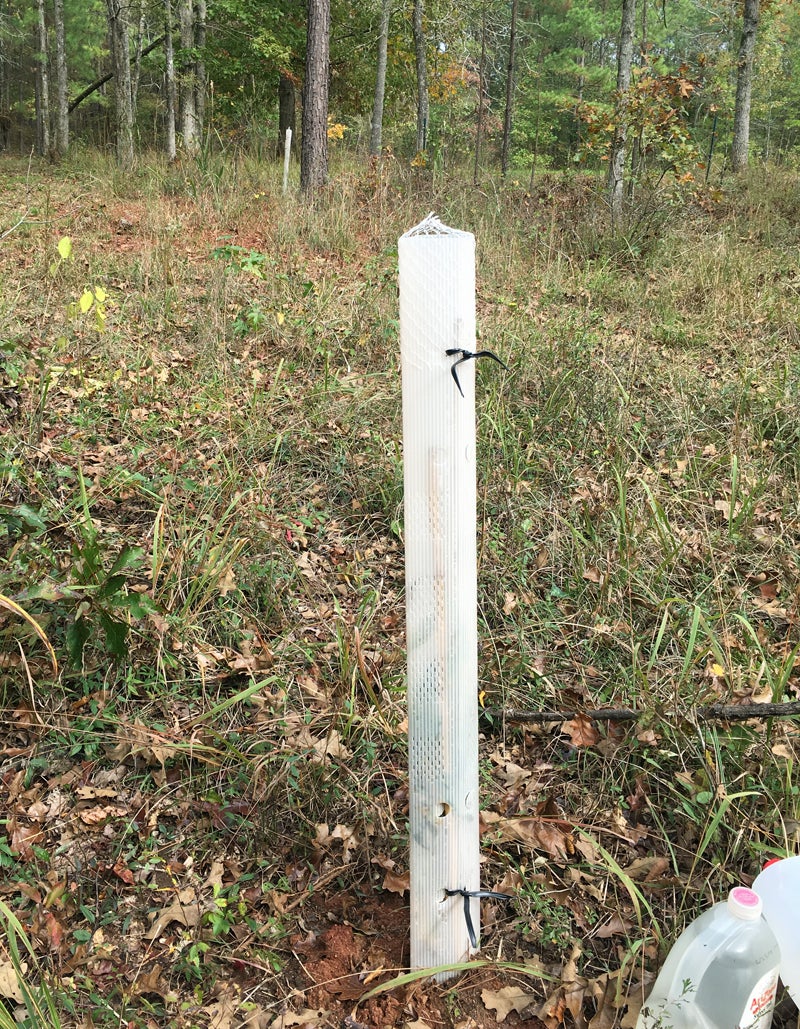 It will be a few years before I can expect these trees to produce a crop, but once they do I feel confident I will see more — and better — deer than ever before.