Was Richlite Really Developed from WW2 Fuel Tanks?
Russ Chastain 11.15.18

I recently received an email from White River Knife & Tool, which contained a good story. It claimed that the paper-based material Richlite, which the company uses as a knife handle material, was originally developed to make auxiliary fuel tanks for fighter aircraft in World War 2. This allowed the Allies to produce tanks without using metal, which was needed to make many other war materials. The new tanks allowed fighters to escort bombers all the way to targets in Germany, and when dropped they were useless to Germany, whereas discarded aluminum tanks could have easily been recycled by the enemy.
In 1943 this particular laminating technology was brought to the United States and the rest is history. All American made Richlite handles on all American made White River Knives are seriously tough–proven thousands of times in combat far above Europe!
This was interesting enough, but a visit to the Richlite website failed to back it up. According to them, the material was originally used "for industrial tooling and pattern making."
Here's what Richlite says about their product:
Richlite is Paper

Richlite is an incredibly durable, extremely versatile, and highly sustainable material made from resin-infused paper. Originally developed over 70 years ago for industrial tooling and pattern making, Richlite has expanded into a premium surface material used in the aerospace, marine, action sports, culinary, architecture, and design industries, and in machine shops and automotive manufacturing. Handmade from many layers of high quality custom craft paper, Richlite's surface texture comes from the natural variation in the way fibers lay within the paper. Composed of approximately 65% FSC®-certified or recycled paper content and 35% phenolic resin, Richlite's color comes from a combination of the paper and the amber tone of the resin.

A signature mottled appearance and warmth complement Richlite's range of interior and exterior applications including furniture, cabinetry, cladding, skateparks, consumer products, signage, retail displays, restaurant tables, bar tops, and worktops, and for industrial use in die stock, silent gears, and foundry patterns. Dense and durable, yet easily tooled, pleasing to the eye, and with its smooth, natural aesthetic, Richlite has become a choice material for a wide range of architects, designers, industrial manufacturers and product developers. From guitar fret boards, culinary cutting surfaces, skateparks, mobile phone cases, industrial tooling molds, and router blocks, Richlite can be found in a wide range of products and industries.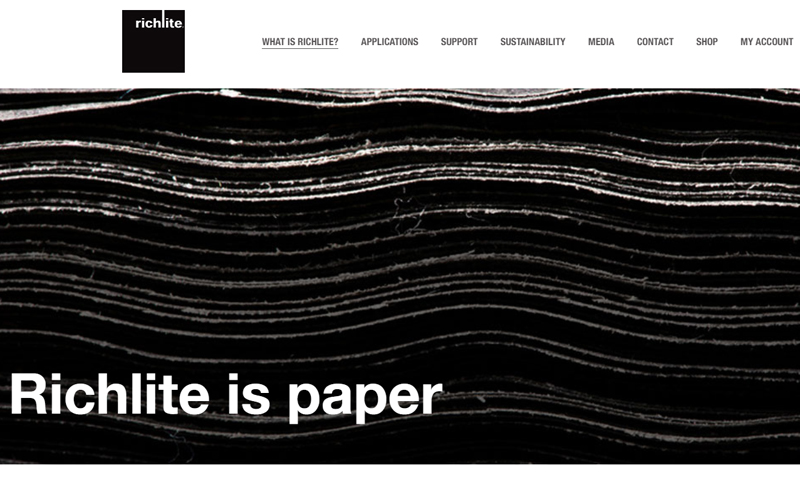 This alone doesn't mean Richlite wasn't based on the paper fuel tank developed in England during WW2, but it did cause me to dig deeper. And I found this article, written by the son of the man responsible for creating the fuel tanks. The development process was described in detail, and in the end we are told that the fuel tanks were lined with animal glue in order to prevent fuel from soaking through during flight — and that they eventually would leak after lasting just long enough to get the job done.
The process and product described in this article bear little resemblance to the tough, durable Richlite material.
This page at ecosupply claims a different WW2 heritage for Richlite:
First used in 1943, the U.S. military made drop boxes out of Richlite. Because these boxes were dropped from supply planes, they needed to be durable and waterproof.
As you can see, the evidence I've found is inconclusive. I've sent an inquiry to White River asking for more information, and will update this article when/if I learn more.
Whether you believe Richlite was developed as a result of the WW2 fuel tank development (which I find doubtful), the fact remains that Richlite is a tough, durable, and attractive material for knife handles and other applications. Whereas micarta is made of resin-impregnated cloth, Richlite uses paper instead of fabric. This generally produces a denser material that's more stable and easier to machine.
So, Richlite is certainly a great knife handle developed in 1943. But was it born in battle during World War Two? That's harder to say.