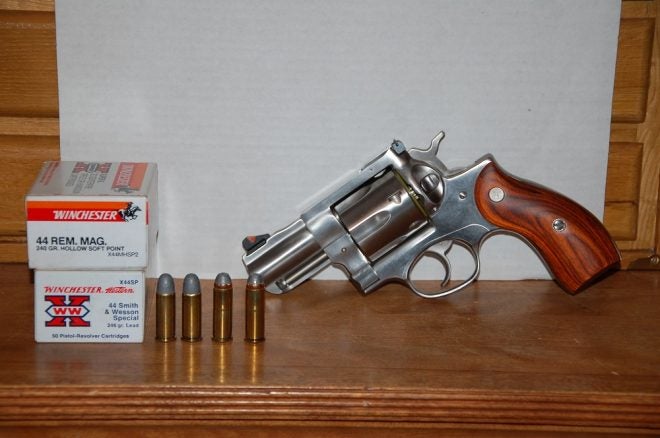 John J. Woods
Magnolia Outdoor Communications
THE LETHAL FLAMETHROWER
The term "hand cannon" is often used to describe a heavy magnum handgun. To that end the Ruger Redhawk Kodiak Backpacker Talo Model in .44 Magnum fully deserves that label. This revolver is a handful by any description easily proven by just picking one up. But really, what is it for, what is its utility as a firearm?
First the specs. The Ruger Redhawk Kodiak Backpacker is a stainless steel, 6 shot revolver, with a 2.75 inch heavy barrel sporting a red insert front sight and an adjustable rear sight. Unloaded the gun weighs 46 ounces. That's 2.875 pounds. The revolver is double action and has a round butt covered with a nice set of laminated wood grips in a light walnut finish.
Some ask about the Talo designation. Talo is the name chosen by a number of firearms distributorships that have formed a buying agreement that allows them to special order various firearms models like this Redhawk. Such Talo guns are exclusive to these distributors and not available elsewhere. Search Davidson's Gallery of Guns for their Talo Rugers. The title Kodiak Backpacker is the marketing name given to this particular Ruger Redhawk.
So, what use is a heavy, short-barreled revolver chambered for the powerful .44 Magnum? One friend suggested roasting hot dogs with a single shot. I have yet to shoot this handgun at night, but my friend might well have a point. Undoubtedly at dusk this short pipe would emit a heck of a flame. I'll have to verify that. Such is a result to be expected from a 2.75 inch barrel throwing full house 240 grain bullets.
Then, understand that the Kodiak Backpacker though close to ideal for packing into bear country as a backup, it can also be used to shoot the much more mild .44 Special ammo. The .44 Special often described as anemic, it is far from that. It fires a 180 grain bullet at about 900 fps with an energy rating of 324 foot lbs.
By contrast the standard .44 Magnum throws a 240 grain bullet at around 1350 fps and 971 ft. lbs. This is roughly three times the power of the .44 Special. The full throat .44 Magnum can be used for dangerous game or threats, while the .44 Special is good for practice shooting as well as close quarters self-defense or perhaps for finishing wounded big game.
This ammo combo makes the Ruger Redhawk Kodiak a dual purpose revolver. Heavy, yes, but easy to tote in a Galco DAO194 leather holster. The Redhawk Kodiak fits for self-defense, and hunting backup in a very affirmative package.