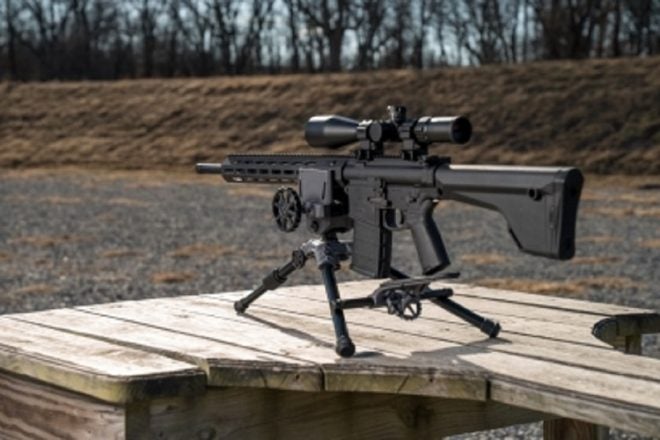 John J. Woods
Magnolia Outdoor Communications
CALDWELL'S LEAD SLED #3
Any shooting aid at the range that makes sighting in a rifle easier is certainly worth every ounce. If you have ever tried sighting in a high powered game rifle off a rolled up jacket or vest then you know what I mean. Even two or three bags of sand do not get the job done as well as a steady rifle holding platform. For that purpose, the Caldwell Lead Sled No. 3 is ideal.
Order this Lead Shed and it comes partially assembled in a box. It takes just a short span of time to fully assemble the unit and everything is provided. Caldwell even includes the box end wrench plus three Allen wrenches to put the shooting platform together. Though complete assembly instructions are included, the put together steps are nearly intuitive it is that simple. Just look at the photos on the box and instruction sheet.
So, why use a shooting benchrest device like the Caldwell Lead Sled? Have you ever sighted in a new hunting rifle like a .300 Winchester Magnum or even patterned a 3.5 inch shotgun off a bench with just a bag to prop the gun up? How about firing 50 rounds of even a .308 Winchester at one setting? If you have, then your shoulder felt it I bet.
First and foremost, a shooting rest like the Lead Sled is designed to tame the recoil from a rifle or shotgun. If you reduce the felt recoil, then the sighting-in process will be much more efficient, accurate, and indeed enjoyable. The Caldwell Lead Sled is designed with advanced shock eliminator technology that helps to reduce recoil by up to 95 percent. That is a significant reduction in felt recoil.
Also a device like the Lead Sled allows the shooter to "set" the rifle or shotgun into the device that cradles it for precision shooting. The buttstock fits into the rear pad and cradle to hold the firearm steady. The forearm sits into the front soft rubberized rest. The gun's height and the scope or sight on the target can be easily adjusted by raising or lowering the front rest with the turn of the elevation wheel. This permits a precision sight-in.
The Lead Sled can be further weighted for recoil by adding weights such as a bar bell weight, or Lead Sled Weight Bags. The weight tray is adjustable for length and the platform is held firm by the three rubber feet on the bottom. The rear rubber foot also screws in or out to adjust unit elevation. Check out all the details at Caldwell.
We are committed to finding, researching, and recommending the best products. We earn commissions from purchases you make using the retail links in our product reviews. Learn more about how this works here.