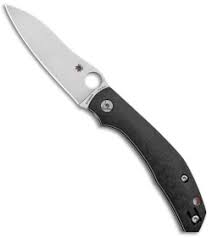 Spyderco's history is replete with ergonomic masterpieces. From the Dragonfly to the Caly3, time and again Golden seems to nail that in-hand feel. Clearly their collaborations are chosen with an eye towards innovation (Spyderco Smock) and ergonomics (Spyderco Junior). But it is rare for a collab to possess the same level of ergonomic mastery that an in-house design does. That's not a slight to anyone, it just happens that Spyderco's in-house crew is about the best in the world when it comes to making ergonomic knives. With Sal and Eric Glesser and Ed Schempp on staff, ergonomics is what they do. With the Spyderco Kapara, a new collab with an Australian, we might finally have a collab that rests comfortably with the ergonomic winners that come from the in-house crew.
But a recently released blade, the Spyderco Kapara, just might have the magic mix of materials, size, and design to let it hang ergonomically with the best from Spyderco's back catalog. The Kapara was designed by Australian knife maker Alistair Philips. It sports a thin handle, contoured scales, and a blade significantly lower than the handle. All that makes for a great knife when cutting. The forward finger choil helps too. Its also clear that Spyderco intends for the Kapara to be a slicer, as the blade is relatively tall, thin, and flat ground.
The interesting thing is that the Kapara still carries a few of its custom touches—a blood red backspacer, embellished pivot screw and carbon fiber handles. All of this goes back to an older knife, known as the "Redback." The Redback, in turn, was named after an infamous arachnid from Australia, the Redback Spider. This spider is a member of the widow family and while an anti-venom has been available for decades, it is largely considered no better than placebo (leading to the Redback being responsible for a large percentage of serious bites on the continent). Despite being "corporatized," all of these little things show that the Kapara is still very much a unique and quirky design—the hallmark of a good collab.
In converting the design to a Spyderco, Golden Colorado added the always welcome deep carry, over the top, wire clip and an extra large thumb whole.   All of this is topped off with the build being done by the always excellent Taichung, Taiwan factory. They have, for years now, made some of the very best Spydercos and, in fact, knives, in the world. The ratio magic is also there—this is a knife that has a longer blade in inches than it weighs in ounces (3.6 to 3.4). This knife also sports the excellent Spyderco Compression lock and thanks to a larger handle the cramping and hotspot that can occur on some Compression locks is likely absent.
Important Info:
What: Spyderco Kapara
When: Out Now
Price: $190
Specs: S30V steel, 3.6 inch blade, 3.4 ounce weight
Made in the USA: No, Made in Taiwan
Highlights: Thin, slicey blade, excellent ergos, light in the pocket.