Wise Outdoors Bird & Buck Swivel Hunting Seat Review
Russ Chastain 12.03.18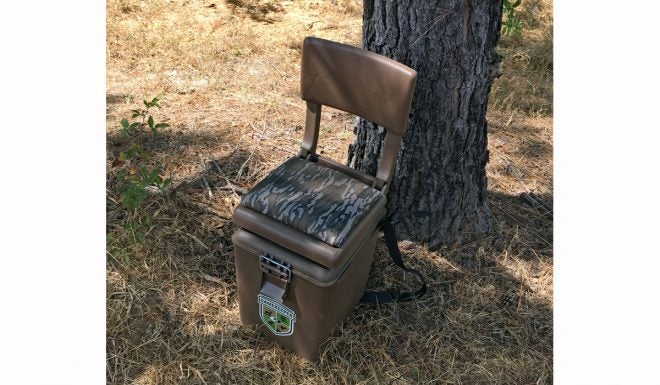 I'll wager the Mossy Oak name is recognized by all hunters, whether they're camo snobs or not. This handy little hunting stool not only features Mossy Oak Bottomland camouflage, it's also got the GameKeepers logo on the front.
What is GameKeepers, you ask? Well, so did I. Turns out, it's a club for folks who are, essentially, gamekeepers. If you manage land for fish and/or wildlife, you're a keeper of game, and a GameKeepers membership might be for you. But back to the subject at hand! Specifically, the Wise Outdoors 5613-GK Sport Seat: Gamekeeper Edition.
What we have here is a nice upgrade to those swivel-top "bucket seats," which are essentially 5-gallon plastic buckets with a swivel top and styrofoam cooler insert. This one has a large square 10-gallon base with a hinged latching lid and a back rest on the padded swiveling seat.
Specs
Model: 5613-GK
Heavy Duty Plastic 10 Gallon Square Bucket
Folding Seat with 360° Marine-Grade Swivel
1″ Thick Foam Padding w/ 1200 Denier Cordura Covering
Weight rating: 350 pounds
Includes Removable Insulated Foam Cooler
Cooler lid is reversible: Accommodate tall bottles in cooler or use as secondary storage tray.
Includes Adjustable Carry Strap System
MADE IN THE USA (tag says "proudly assembled in the USA")
5 Year Warranty on Frame / 1 Year Warranty on Upholstery
Dimensions: 18″ tall (from ground to top of cushion). Size of base viewed from top = 12″ x 14.5″
Back rest about 13″ tall (measured from top of cushion)
MSRP: $54.99
In the Field
I got this stool only a day or two before our annual dove hunt, so I put it to use right away. Here in the south, our dove hunting is usually hot and sweaty, which makes the cooler a valuable asset. I attached the included shoulder strap and loaded the cooler with ice and some beverages, then tossed in some extra shotgun shells and headed to the dove field.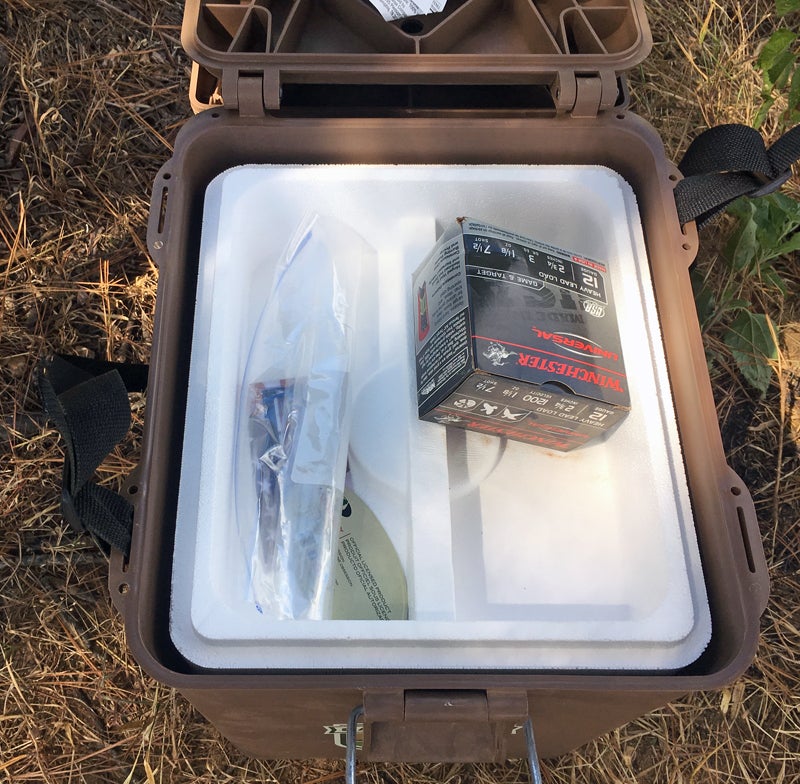 It wasn't exactly a light load considering the ammo and ice, but I had no regrets. I loved having the cooler there so I could grab a cool drink as needed, and each time we bagged a bird we added it to a ziploc bag and tossed the bag in the cooler. This keeps the birds fresh (and ant-free) while keeping blood and feathers out of the ice. Gotta love it.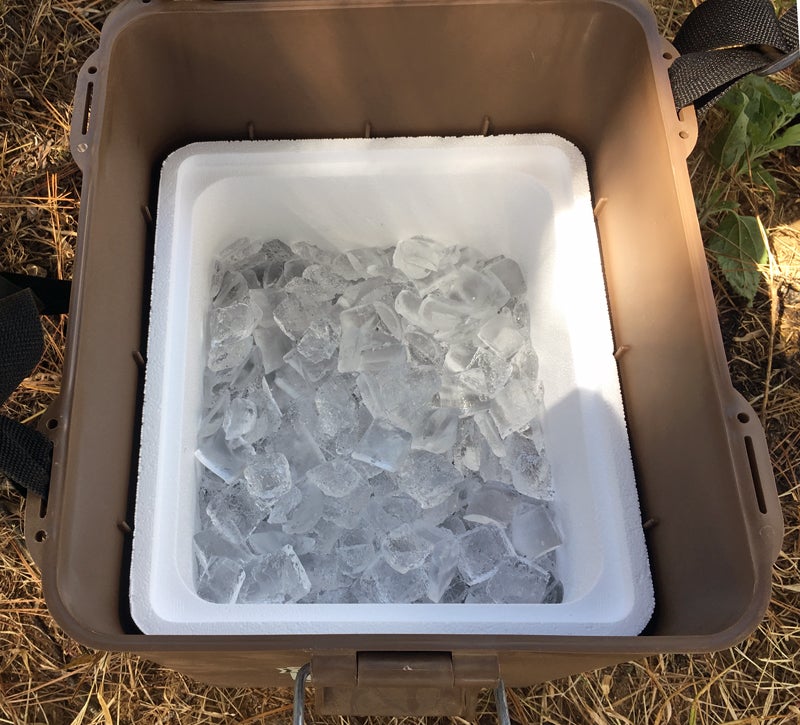 Beats a Bucket
While it's technically still a bucket, this seat is considerably better than a round five-gallon version. It holds more stuff and it's more stable, and it's great to have a back rest. Plus the latched and hinged seat top means the lid will never fall off and get lost during transport.
That said, if you're one of the cursed few like myself who own a bony butt without much natural padding, the cushion on this seat might get old after an hour or two. There's only an inch of foam, after all.
Quality of Construction
This Wise Bird & Buck Outdoors Sports Seat is made well. The plastic is molded well, the styrofoam cooler insert & lid are sufficient (cooler lid is reversible), and the hinges and latch are solid.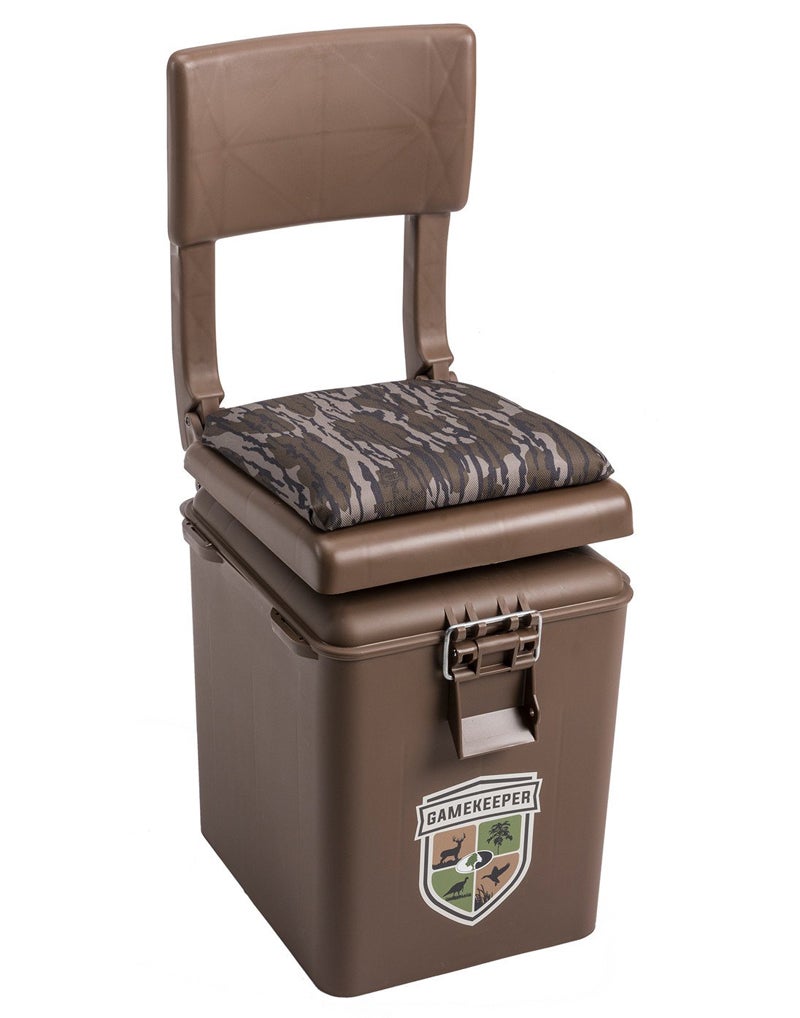 The ball-bearing seat swivel is heavy-duty and marine-grade, with stout screws securing it to lid and seat. The folding backrest is sturdy, and when folded it can act as a handle.
This quality is to be expected on a product that's made (assembled) in the USA and carries a 5-year warranty on the frame (one year on upholstery).
Conclusion
If you want a durable hunting stool that can store your game and gear as well as some cold beverages, look no farther than the Wise Outdoors Bird & Buck 5613-GK Sport Seat. Aside from hunting doves and other birds, it'll also make a good chair to use in a ground blind for hunting deer & turkey.
Perhaps best of all, the brown & Mossy Oak Bottomland camo color scheme is nice and drab and doesn't stand out on a dove field. You can order yours here, if you'd like.
We are committed to finding, researching, and recommending the best products. We earn commissions from purchases you make using the retail links in our product reviews. Learn more about how this works here.