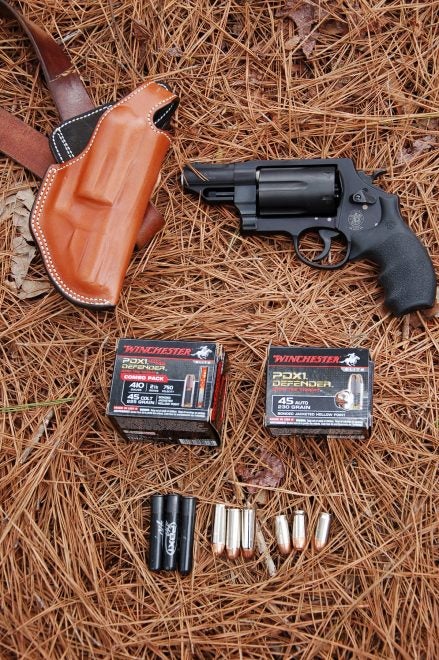 John J. Woods
Magnolia Outdoor Communications
EH THERE GOVVNUR, WHAT ABOUT IT?
The Smith and Wesson Governor revolver can be a formidable self-defense handgun. Beauty and utility is in the eyes of the beholder, but the Governor is a handgun designed for a number of proposed uses from snake control, small varmints at close range, and even larger varmints at intermediate ranges. For that, this revolver was well designed.
Introduced in 2011, the Smith Governor has seemingly sort of languished in the back pews of the shooting world, but it is still a very viable handgun for a variety of practical uses. Given the Governor is a bit off the beaten track when it comes to Smith and Wesson revolvers, but in many ways that makes it a stand out gun.
Built on the new "Z" frame, this six shot revolver fires the powerful .45 Long Colt, the .45 ACP (with clips), and interchangeably .410 shotshells from the same cylinder using 2.5 inch shotshells. The handgun has a 2.75 inch barrel, SA/DA action, a fixed rear sight with a tritium night front sight, a black matte finish with black synthetic finger grooved grips.
The Governor is now also available in stainless steel with a red ramp front sight and synthetic grips, though I have yet to see one. There is also a version equipped with Crimson Trace Lasergrips making it perfect for self-defense work.
The handgun weighs in at 29.6 ounces. The standard frame is a Scandium alloy with a stainless steel cylinder. With the elongated cylinder the handgun has an equally unique appearance, that being all business.
Though the Governor sounds like a handful, it is quite controllable, thus its application in the self-defensive role. This is not a pocket gun or a concealed weapon by size, but one to wear on the waist in a Hunter holster with bullet loop belt, or a gun to have at the house, work, or in the vehicle as a bug out weapon. The tritium sight makes it useful in low light or darkness.
With the advent of specialized ammunition produced just for this type of revolver, such as the Defender .410 shotshell loads from Winchester, the Governor becomes an effective defense weapon. These shotshells come in a combo pack that includes .410 and .45 Colt loads. The shotshells use a combo of 3 DD disks, and 12 BB sized shot in one load. The Governor can also use .410 game loads, too, for prepper food pot hunting.
If you're looking for an easy to operate six shot revolver that can tote the power of a .45 Colt or a mixed cylinder with .410 shotshells, check out the Smith Governor.