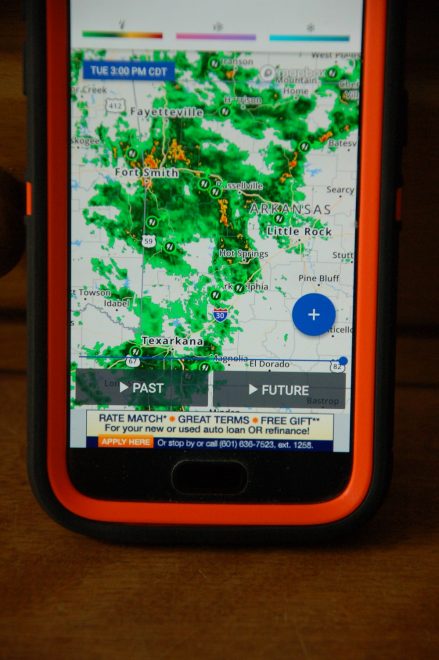 John J. Woods
Magnolia Outdoor Communications
DO TECHNOLOGY APPS DEFER REAL HUNTING SKILLS?
Once thought of as a generational thing by the millennial hunters, high technology device applications and other gizmo devices are now widely used by lots of hunters. But, is that really a good thing? Are these tech apps really helpful information resources to make hunting tactics more effective or are they simply crutches that some hunters use to cut corners?
Are today's hunters losing critical woodsman skills that our forefathers used to hunt and traverse habitat terrain? Can today's millennial aged hunters use a compass and find their way out of the woods or to an unknown stand location without an electronic GPS? Can they assess range distances to game targets without a rangefinder? Can they summarize traditional weather data, precipitation and wind to know how to hunt a particular area, or do they rely on their handheld devices to tell them? These are current debates and arguments discussed in many hunting circles these days.
This is a tough debate, because modern technologies have impacted everything we do including this computer to type this article. Are we just supposed to ignore ways to give us more information at the click of a button? Well no, but today's hunters become so dependent on these data applications and other devices that they have forgotten how to figure it out on their own.
Cutting edge trail cameras monitor everything in the deer habitat. A buck or doe nearly cannot move around on some properties without the hunters knowing it. This has gone so far on some places that the hunters completely pattern the bucks well enough to even assign them names to put on "hit" lists. At least on hunting television shows anyway.
And if that weren't bad enough, the latest trail cameras can even transfer the photos and data electronically right to the hunter's iPhone or other handheld device. They don't even have to go into the woods or field any longer to physically check a camera with boots on the ground for scouting. And what about drones? Why not just set up electronically controlled guns to shoot the deer without having to actually go hunting? Some would probably favor that.
It is a sad reality that many deer "hunters" can't tell anything about a set of deer tracks coming or going? Is that a bedding area or are they headed to a place to feed? What are the true signs of trail use? Do they understand the biological dynamics behind tree rubs and ground scrapes. What do they mean? How do you hunt them? An app cannot tell them that. Oh, can they even set an alarm clock anymore?